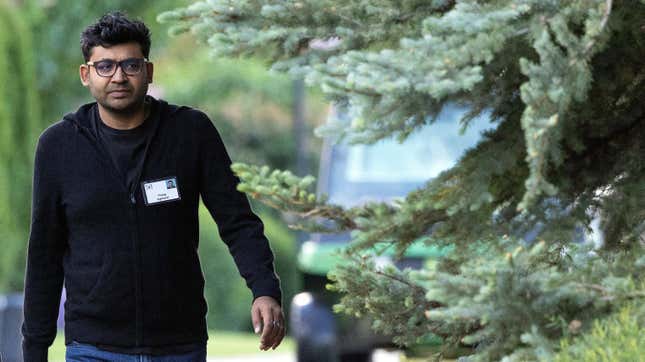 Twitter's ex-CEO Parag Agrawal is suing Elon Musk's Twitter for the enormous amount of legal fees Agrawal argues he had to pay out of his own pocket. Agrawal is joined by the company's former Chief Legal Officer Vijaya Gadde and former Chief Financial Officer Ned Segal in seeking repayment.

NPR Is Going Dark on Twitter | Future Tech
As detailed by The New York Times, the lawsuit, which was filed in a Delaware chancery court, argues that Agrawal, Gadde, and Segal are entitled to the $1 million in legal fees the trio claims to have paid on their own while they were involved in shareholder lawsuits and government investigations. One of those investigations includes an inquiry by the Department of Justice, the goal of which is unclear and not elaborated upon in the lawsuit. Agrawal, Gadde, and Segal argue that Twitter has ignored its responsibility to reimburse them for their legal fees.
"Plaintiffs have incurred significant expenses, including but not limited to attorneys fees and costs, in connection with several proceedings in which Plaintiffs are involved by virtue of their former roles as officers of Twitter, and Plaintiffs accordingly are entitled to advancement of those fees and costs," the lawsuit argues.
Agrawal and Segal incurred legal expenses from an inquiry by the U.S. Securities and Exchanges Commission in 2022, the lawsuit claims. Agrawal and Segal provided testimony to the SEC and their legal counsel is continuing to engage with the federal government as of the time of filing the lawsuit. Meanwhile, Gadde was a defendant, alongside Twitter, in a 2021 lawsuit and earlier this year testified at a hearing before the House Committee on Oversight and Accountability after receiving a subpoena.
Billionaire Elon Musk officially bought Twitter for $44 billion in October 2022, and one of his first steps as owner was to clean house and install himself as CEO. Agrawal, Gadde, and Segal were some of the first employees to be cut, with the three having been let go that same month. In that time, Musk has instituted several cost cutting measures in a feverish bid to make Twitter profitable, including charging users for basic security features like verification.