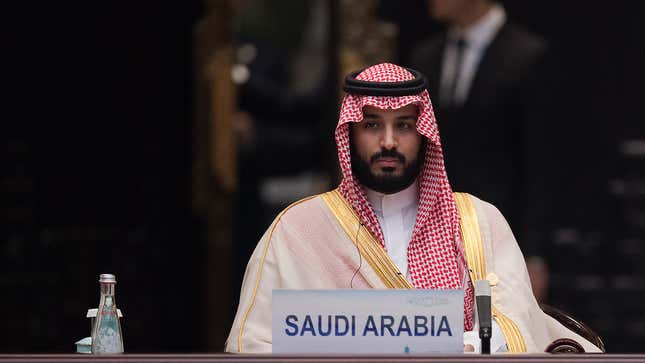 An explosive new lawsuit alleges Twitter acted as a member of a "Saudi criminal enterprise" when a handful of its former employees sent names and other data to the Saudi Arabian government revealing the identities of political dissidents. Saudi agents allegedly used that data to kidnap and torture at least one dissident and to enlarge the kingdom's international surveillance network. Defendants in the case say security failures at Twitter let the paid informants to obtain company secrets, endangering dissidents' lives. Twitter, according to the suit, violated its own policies and "became a participant tool of transnational repression to silence voices of dissent."
Mr. Tweet Fumbles Super Bowl Tweet
The lawsuit, filed under federal racketeering statutes, centers around Abdulrahman Al-Sadhan, a Saudi-born man who was allegedly kidnapped, tortured, and arrested in 2018 for operating an anonymous Twitter account posting content critical of the Saudi royal family. Abdulrahman al-Sadhan was one of an estimated 6,000 users whose names and other personal data were provided to Saudi Arabian agents by a pair of former Twitter employees working on behalf of the government. Those Twitter spies received around $300,000 and luxury gifts in exchange for handing over IP addresses, birthdates, and other personal information of royal family critics tweeting from anonymous accounts, according to the suit. One of the spies, Ahmad Abouammo, was recently sentenced to three and half years in prison for espionage.
"Twitter gave my brother's identifying information to the government of Saudi Arabia, which blatantly violates its terms and conditions," Abdulrahman al-Sadhan's sister, Areej Al-Sadhan said in the complaint. "This puts every Twitter user at risk. As a result, Saudi Arabia kidnapped, tortured, imprisoned, and—through a sham trial—sentenced my brother to 20 years in prison, simply for criticizing Saudi repression on his Twitter account."
Areej Al-Sadhan, who filed the suit on behalf of herself and her brother, says she has not heard from Abdulrahman since 2021 and has no idea whether he's dead or alive. Now, Areej Al-Sadhan says Saudi Arabia's online harassers have directed their attention toward her for speaking out about the case. She claims the agents have "stalked her openly," threatened her life, and forced her to endure a "living nightmare." Areej Al-Sadhan, who is based in California, says she has to carefully craft travel plans to minimize chances of being kidnapped.
"After I began to speak out against Saudi repression, my life became a living hell," she added.
How is Twitter implicated?
The lawsuits cites several alleged security failures over the years at Twitter which the defendants claimed enabled Saudi Arabian agents to crush political dissent. The suit claims Twitter repeatedly violated its own terms of service ensuring users it would not share private user information. The suit also claims Twitter violated another one of its own policies telling users it would preserve their personal information if it believed it necessary to protect a users' safety. The former Twitter employees turned Saudi spies allegedly accessed the users' data 30,892 times.
"Each time they accessed this user data, they committed a racketeering act in aid of the Saudi Criminal Enterprise's goal of transnational repression," the lawsuit alleges. "Twitter became a participant tool of transnational repression to silence voices of dissent beyond Saudi Arabia's borders in the United States and abroad, all in an effort to monetize its commercial relationship with Defendant KSA [Kingdom of Saudi Arabia.]" Twitter did not respond to Gizmodo's request for comment.
Twitter's foreign spy problem
Twitter's struggles with rooting out foreign government spies in its ranks span multiple years and several different executive leadership roles. Last year, during a Senate committee testimony, former Twitter head of security turned whistleblower Peiter Zatko claimed the Chinese government had placed at least one spy undercover as a Twitter employee. Prior to that, Zatko alleged a separate Indian government agent had also worked inside of Twitter.
Zatko spent much of his 200-page whistleblower complaint sent to Congress lambasting Twitter for a series of serious security issues. In the complaint, Zatko accused the company of longstanding and basic failures that made it more susceptible to exploitation. Employees, he said, also simply had too much access to user data.