Twitter's latest move in the war against the companies which helped build it up is to no longer acknowledge when users are tweeting from the clients of all those third-party developers. It's no secret Twitter wants to eradicate all third-party clients and funnel everyone into its own creations. And in theory, that should be great. Users would get a uniform experience, and Twitter would be able to introduce new features at breakneck speed.
But one glance at Twitter's own clients—some neglected, some ill-conceived—and this decision suddenly looks downright annoying. Before Twitter starts trying to tear down the competition, it needs to first right its own ship.
The main problem that Twitter faces is that no two of its clients feel the same. The secondary problem is that many of those clients haven't been given major updates to handle the new ideas Twitter is pushing forward. Looking back, the first signs of this erosion popped up when Twitter started acquiring developers.
Case in point: Twitter's 2010 acquisition of Atebits. It was largely seen as a positive pick-up at the time, since the Tweetie apps for iOS and Mac were the best available on each platform. There was a small concern about what would happen to those apps, but Twitter did the smart thing and just slapped its own name on future, improved iterations. All Twitter had to do then was push the basic concepts behind the Atebits apps onto its non-Apple clients.
G/O Media may get a commission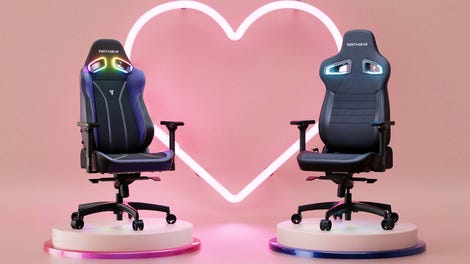 Up to $150 off
Vertagear Gaming Chairs
Then in 2011, Twitter bought TweetDeck, a move which mostly left people scratching their heads. How would the all-encompassing, Frankenstein-like ideas of TweetDeck co-exist with the streamlined approach that the Atebit team was taking with the original app? That was the first indication that Twitter was walking down a precarious path with no clear end to it.
Since last year, Twitter has continued to roll out new features—lists, notifications, interactions, discovery, etc.—but no two apps make use of those features in the same way. To make matters worse, the only apps to really receive any sort of major update or overhaul amid all these new features are the mobile apps. Need examples?
The iPad and Mac Twitter clients, while still two of my favorites, have gone virtually unchanged since their release in late 2010 and early 2011, respectively. They do a masterful job of letting you breeze through your main feed and the individual feeds of others. But the second you try and dive into lists, or track your notifications or interactions (they only track @replies and DMs), using the app becomes nothing but frustration.
TweetDeck, while available on OS X, is the official Windows client by default. It has many powerful features, like being able to follow multiple lists (or even other people's feeds) at once, and does a good job of keeping you up to date on who has retweeted, favorited or tweeted at you, but trying to dive into the past tweets of any one user is an exercise in futility. Furthermore, trying to follow a conversation or dive into a user profile or even following another user is such a fundamentally different experience from every other app that you wonder what, exactly, Twitter is trying to do with it. Or, rather, why they haven't improved it.
The mobile apps are probably the best of them all, and closest to the platonic ideal of what a Twitter client should be, but if you follow a lot of people go more than a few hours without checking your phone, trying to catch up on the torrent of tweets is simply not doable as the app will only load the last few hundred tweets from those you follow.
That Twitter wants to close up its ecosystem a bit is not necessarily cause for outrage. Dickish, maybe, but it's Twitter's creation, and not a public utility. But common sense dictates that it's not a good idea to take something away from users in the process. Realistically, this move is probably related to the company's foray into sponsored tweets and advertising. It's the reality of being a free service, but at least give the user something to be excited about.
Twitter should have made sure its own apps were first up to snuff, and really, it should still be concerned primarily with that. If it doesn't fix the disjointed experience of using its apps before it snuffs out every other client, it is going to face nasty backlash from users who are forced into an alien experience.