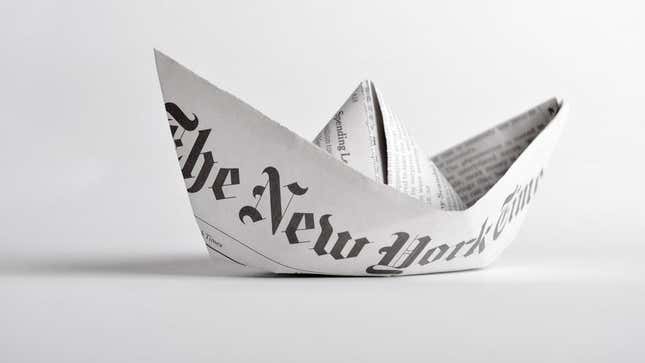 X, the platform formerly known as Twitter, has apparently shadowbanned The New York Times, preventing users from seeing tweets that link to the newspaper's coverage. The move smacks of a particular irony, given that the Times is one of X's major advertisers and is currently running campaigns to promote its new sports site, The Athletic.

NPR Is Going Dark on Twitter | Future Tech
That's according to a new report in Semafor, which compared engagement on tweets with links to the New York Times' website to tweets that link to competing news services, including the BBC, CNN, Politico, the Wall Street Journal, and the Washington Post. Engagement on tweets about the Times dropped dramatically in late July, and continued to fall throughout August. During the same period, engagement on posts about other news sites rose or stayed about the same.

It appears that X singled out the Times, specifically, to limit users' access to its coverage. X and The New York Times did not immediately respond to requests for comment.
Elon Musk isn't quiet about his disdain for the world's most popular newspaper. The billionaire said it delighted him to remove the Times' verified badge on X in a recent interview.

The data used in the Semafor report came from NewsWhip, an analytics firm that tracks engagement on social media. NewsWhip found that the Times' engagement was consistent compared to other news sites on Facebook, which suggests the problem is on X alone.

For example, former president Barack Obama posted two links to the New York Times on X over the last week. The two posts were both seen by fewer than 900,000 users, dramatically lower than any other tweets by the former president since X added data about views earlier this year. By contrast, one of Obama's tweets to a story on Politico, for example, garnered 13 million views alone.

This isn't the first evidence that Musk—celebrated by his army of blue-checked devotees as a champion of free speech—uses his social network to limit the speech of people who bother him often. In reality, a mountain of evidence suggests that Musk is a champion of censorship. Congress has taken notice. In August, tests showed that X throttled Musk's rivals by adding a delay to slow down page loads when users clicked links to other websites. The problem affected competing social media platforms such as Facebook, Threads, and Bluesky, as well as news sites including the New York Times and Reuters. Other websites in similar categories were unaffected, suggesting the issue was a targeted attack.