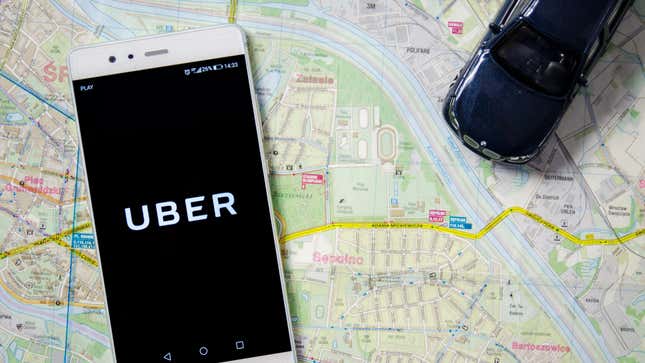 If you can book a car, you can book a plane. In its quest to dominate every step of your trip planning process, ride-hailing and food ordering tech giant Uber has unveiled a new feature for its UK users: flight booking.

The company began to roll out the feature to UK users this week, allowing them to book domestic and international flights on the app. Uber has partnered with travel booking company Hopper to make securing flights a reality. According to the Financial Times, Uber will take a commission of each sale, and booking fees may come in the future. The UK is Uber's largest market outside of the United States, according to the outlet, and Uber has already rolled out a similar booking feature for train tickets.
Uber UK's general manager Andrew Brem said in a press release that the new functionality will be helpful for both business travelers and tourists. Adding the feature "will make the booking and managing of air travel simple and stress-free, with the booking process taking as little as one minute in the Uber app. Over the last 12 months with the addition of rail, coach and now flight bookings, Uber is truly a one-stop travel solution." 
The venture into the flight booking market is a long-awaited move from Uber. In 2018, Uber CEO Dara Khosrowshahi said at a conference that he wanted Uber to be "the Amazon of transportation" and that the company's "core business will be getting you from point A to point B," as quoted by CNET. These plans were obviously derailed by the pandemic, but Uber has seemingly bounced back as the company reported earlier this year that Uber drivers had completed 2.1 billion trips in the last quarter of 2022.

Uber has already cornered the market on booking cars and trains, obviously, but has also even laid claim to booking e-bikes, scooters, and rickshaws in participating areas. Last year, Uber even tackled the famous New York City yellow cabs. In an agreement between the company and the New York City Taxi and Limousine Commission, users can hail New York taxis on the Uber app. These travel-related business moves come despite the company's own claims that it's a tech company and not a transportation company.
Hopper says the new feature will be available to all UK users this summer.