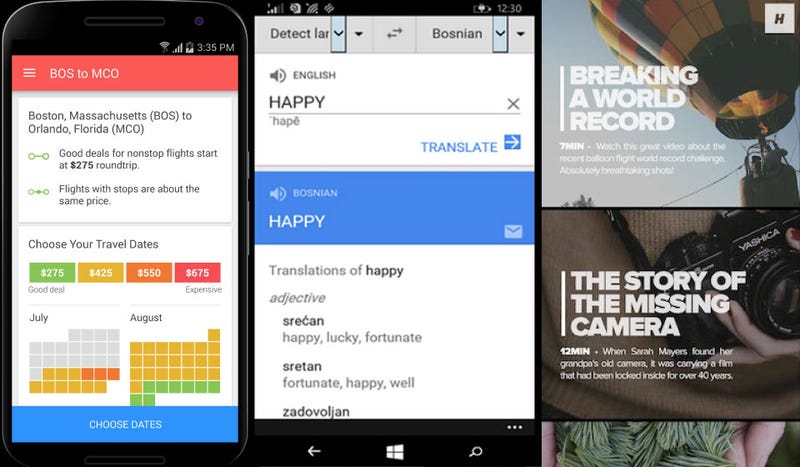 This week's favorite apps have you covered for a lot of different scenarios. You need to book a flight for cheap? Check. Or maybe you've got some down time and want to watch a bunch of great videos that were picked out by professionals— there's an app for that. We've also got an old favorite that's being beta tested…
They promise to keep your food and drinks cold while you're away from a fridge, but sometimes carrying a giant cooler is just overkill. For those times when you're only gone for a day, or just need to feed yourself, YETI has created a soft-sided cooler called the Hopper that's engineered to keep ice frozen for days,…
Dish's Hopper DVR is awesome precisely because it makes it so easy to skip ads. The WSJ reports that the company will be scaling back the awesome auto-skipping feature on some Disney programming. It seems that consumer choice Dish has been claiming to protect for years goes out the window, presumably when it gets a…
Dish's Hopper, long the king of DVRs, just zoomed even farther ahead: it's introducing a new SuperJoey, an improved version of their client receivers to its main DVR the Hopper. The improvements? It'll be possible to record 8 shows at once. That's insane. DISH has also introduced a Wireless Joey along with the ability…
The DISH hopper is probably the slickest DVR that's ever been made. It's so good that big TV corporations like CBS are suing DISH over it. Well now the Hopper is going to be even more convenient for owners of LG Smart TVs because the new Dish App builds a Hopper directly into the TV. No external hardware necessary.
Dish, which introduce the king of DVRs last year, has updated the Hopper DVR to include Sling. Previously, using Sling with Hopper required an adapter. Now, you get to watch live and recorded TV from any tablet, smartphone and computer for free with Dish's Anywhere App.
Dish Network's new DVR was already the king of DVRs when it was first announced at CES and it's even better now: there's a new "auto hop" feature that'll allow users to skip all the commercials of a TV show.
During today's Dish Network event, CEO Joseph Clayton used a live kangaroo to introduce the companies new Hopper DVR system. The little guy didn't freak out when everyone started taking pictures. But he didn't look happy either.
Dish Network just introduced its new multi-room DVR, weirdly named Hopper, which can record three shows at one time (while playing back a fourth show), has a 2TB hard drive which can store 250 hours of HD programming, a Slingbox adapter, which will let certain users watch what's on Dish Network from anywhere in the…
The Kyosho Robo Hopper beats los pantalones off other similar flying toys like the RC Helicopter or the WowWee Dragonfly because it reminds us of a Japanese Inspector Gadget. Check the guy out in full motion as he whirls around a Japanese office space complete with snazzy Japanese soundtrack. Go Go Gadget Decapitation…