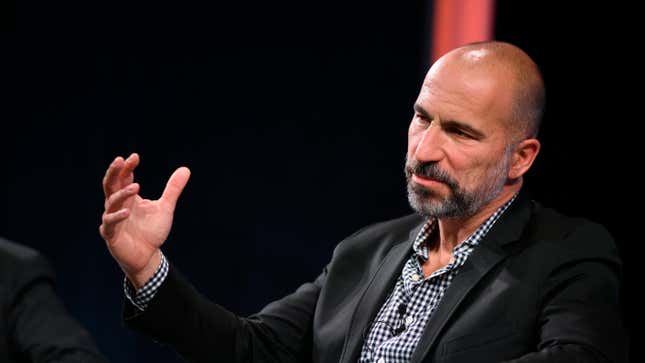 Uber is reportedly pursuing an unorthodox approach to performance reviews at the ride-share company. While Uber says it has no plans for broad layoffs, so to speak, it does have plans for upcoming performance reviews to include potential cuts to the company's workforce.

Cops Pull Over Self-Driving Car
As detailed by Insider, the cuts are not layoffs, and Uber is echoing CEO Dara Khosrowshahi's comments at Davos 2023 where he claimed that the company had no plans for layoffs. An Uber spokesperson told Gizmodo that those comments are still true, as upcoming cuts to Uber's workforce will be a part of performance reviews, and that the company plans to backfill any positions that are left empty after the reviews.
"This year, we've taken an even more rigorous approach to our performance review process to ensure our talent bar remains very high," an Uber spokesperson said to Gizmodo in an email. "We plan to backfill these positions and will continue to invest in attracting and retaining top talent at Uber."  
Khosrowshahi said earlier this month in the company's Q4 earnings report that Uber had its "strongest quarter ever" with the company earning a reported $8.6 billion in revenue in the last three months of 2022. The company also racked up 2.1 billion trips in the final quarter of last year, up from 1.7 billion trips from the year prior
With that, Uber doesn't appear to be in dire straits, but the company did conduct layoffs in its Uber Freight division. On Tuesday January 24, Uber announced it would be laying off about 150 employees at Uber Freight—approximately 3% of its workforce—amidst a tumultuous economic environment. These apparently don't count as an Uber spokesperson clarified in an email to Gizmodo that Khosrowshahi's comments at Davos referred to company-wide layoffs.
"There has been no change in that regard," Uber's spokesperson said.
The past few months have been brutal on tech companies that saw a huge boom in revenue fueled by the worst of the covid-19 pandemic. Massive tech companies like Google, Microsoft, Amazon, have decided to reduce headcount while citing economic uncertainty.
Update February 22 11:55 am EST: This article was updated with additional comment from Uber on the company's plans for job cuts and clarification on CEO Dara Khosrowshahi's comments on layoffs. An earlier version of this article was published with a headline that indicated Uber was "trimming" its workforce, while an Uber spokesperson told Gizmodo via email that the company will backfill open positions in order to keep headcount level.