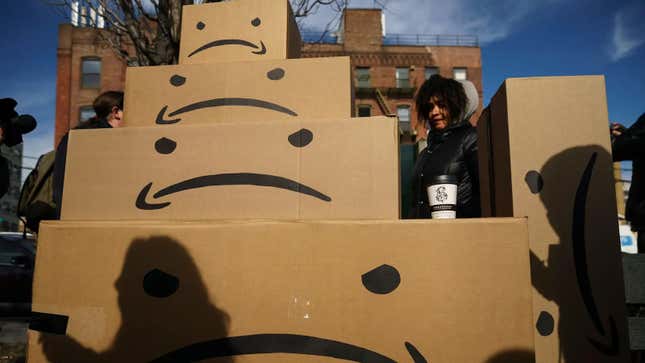 Layoffs are never easy regardless of the circumstance, but they are particularly bad when they come in waves. That's exactly what's happening at Amazon.

Prime Day Ain't That 'Green'
On Wednesday, less than two months after the U.S.' second largest employer reportedly moved to cut around 10,000 employees in its devices and books divisions, CEO Andy Jassy says it will now scrap an additional wave of workers bringing the total layoff count to 18,000. The newest round of layoffs makes Amazon amongst the worst hit companies in terms of headcount by a yearslong tech downturn that's razed more than 91,000 jobs and touched just about every corner of the technology industry.
Jassy revealed the layoff news in an email to employees shared online titled, "Update from CEO Andy Jassy on role eliminations." In it, Jassy said he decided to make the additional cuts after meeting with leaders in the company to discuss ways to reduce costs amid a shaky economy and prioritize, "what matters most to customers and the long-term health of our businesses." The cuts touch several business segments, though Jassy says the majority of the downturn will impact the company's Stores and PXT organizations.
"Amazon has weathered uncertain and difficult economies in the past, and we will continue to do so," Jassy said. "These changes will help us pursue our long-term opportunities with a stronger cost structure; however, I'm also optimistic that we'll be inventive, resourceful, and scrappy in this time when we're not hiring expansively and eliminating some roles."
In his note, Jassy revealed Amazon felt compelled to publicly reveal the layoffs sooner than expected because a team member leaked the information. Amazon, according to Jassy, will provide workers with severance, transitional health insurance, and job search support, though the CEO did not provide any specific details. Amazon did not respond to Gizmodo's request for comment.
"Companies that last a long time go through different phases," Jassy added. "They're not in heavy people expansion mode every year."
The nearly 20,000 layoffs mark an abrupt shift for Amazon which went on a massive hiring spree to fuel unprecedented e-commerce demand during the onset of the covid-19 pandemic. At its height, Amazon reportedly hired 427,300 workers in 10 months to deliver self-isolators and home workers just about any product they could imagine. Like many other tech firms experiencing a pandemic boom, however, Amazon overestimated the stickiness of that short term explosion in e-commerce demand. That miscalculation, mixed with rising inflation, and uncertain economic conditions, have taken a toll. At the end of last year, Amazon became the first company in history to lose more than $1 trillion in value, dropping from a $1.882 trillion valuation on June 21 to $878 billion in November.