Travis Kalanick's "brother from another mother," Anthony Levandowski, has officially stepped down from leading Uber's self-driving car division. Levandowski is a key player in a lawsuit filed by his former employer, Google, that claims he stole tech that Uber is incorporating into its cars. This isn't a minor legal proceeding. It could prove to be fatal for the ride-sharing startup.
Business Insider was the first to report the news of Levandowski's demotion based on an internal email that Uber confirmed is authentic. In the email, Levandowski explains that he will no longer be involved in the unit of Uber's Advanced Technologies Group that develops the LiDAR system that is crucial for self-driving cars. "I want to let you know that Travis and I have decided that I will be recused from all LiDAR-related work and management at Uber, through the remainder of the Waymo litigation," he told his colleagues. "Going forward, please make sure not to include me in meetings or email threads related to LiDAR, or ask me for advice on the topic." Eric Meyhofer, a co-founder of Carnegie Robotics before he joined Uber, will be taking over as the head of the Advanced Technologies Group.
 
One specific line in the email really stands out: "As you know, I currently don't provide input on detailed LiDAR design choices." So far, Levandowski and Uber have tried to downplay his involvement with the LiDAR unit. A casual mention that he isn't really part of the day-to-day anyway raises suspicion that the email was leaked intentionally. The decision to move Levandowski out of the area of development that's being litigated comes just a week before a San Francisco court is scheduled to rule on a preliminary injunction filed by Google. If the court rules in Google's favor, Uber could be barred from further development of the disputed technology until the lawsuit is resolved.
Technically, it's not Google that's suing Uber—that's just the easiest way of saying it. Google's newly created parent company Alphabet Inc. is suing Uber over technology designs it claims Levandowski stole from its self-driving car company, Waymo. Levandowski was previously working for Waymo before he decided to start his own self-driving car company, Otto. The suit alleges that before he left, Levandowski illegally copied 14,000 files from Waymo's servers. Otto was only an independent company for about eight months before Uber bought it. Alphabet claims that Uber's new LiDAR designs are based on its engineers' proprietary work. How do they know that? According to a blog post by the Waymo team:
Waymo was recently – and apparently inadvertently – copied on an email from one of its LiDAR component vendors. The email attached machine drawings of what purports to be an Uber LiDAR circuit board. This circuit board bears a striking resemblance to Waymo's own highly confidential and proprietary design and reflects Waymo trade secrets.

As this email shows, Otto and Uber are currently building and deploying (or intending to deploy) LiDAR systems (or system components) using Waymo's trade secret designs. This email also shows that Otto and Uber's LiDAR systems infringe multiple LiDAR technology patents awarded to Waymo.
G/O Media may get a commission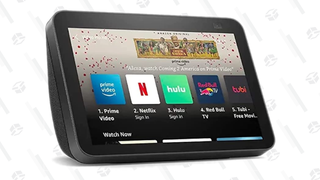 Damn. That could be a multi-billion dollar cc fuck up.
Another intriguing detail in the case is that Levandowski isn't named in Alphabet's suit. That may be because his contract with Waymo stipulated that any future litigation would be handled through arbitration. Uber desperately wants to take this embarrassing case into arbitration but Alphabet doesn't. Today, Uber's lawyers begged the court, once again, to move the case into arbitration. Uber's attorney, Hamish Hume, told the court:
They are clearly trying to game this. The agreement says 'any dispute' about the relationship goes to arbitration. If Levandowski had a problem [with Google], it would be arbitrated. They want to come to court against Uber. But Uber hired Mr. Levandowski and hired the companies he created.
Waymo's lawyer, Charles Verhoeven, icily responded, "We're suing a third-party competitor [Uber], who we didn't have any agreement with."
It's unknown when the judge will make a decision on arbitration but the ruling regarding the preliminary injunction is scheduled for May 3rd. Uber CEO Travis Kalanick has called self-driving cars an existential issue for the company, so you can rest assured that this lawsuit is one of the most important things going on in his world right now. Raj Rajkumar, professor of engineering at Carnegie Mellon University, tells The Verge, "If Waymo prevails after a long suit and a sequence of appeals, the nature of the compensation and fines could be staggering." And it's not just what Uber might have to pay out. According to Rajkumar, if the company is found guilty, "I don't see how Uber can attract additional large institutional investors." When you're bleeding money the way Uber is, that could be a death sentence.
[Business Insider, Washington Post, Bloomberg, Ars Technica]