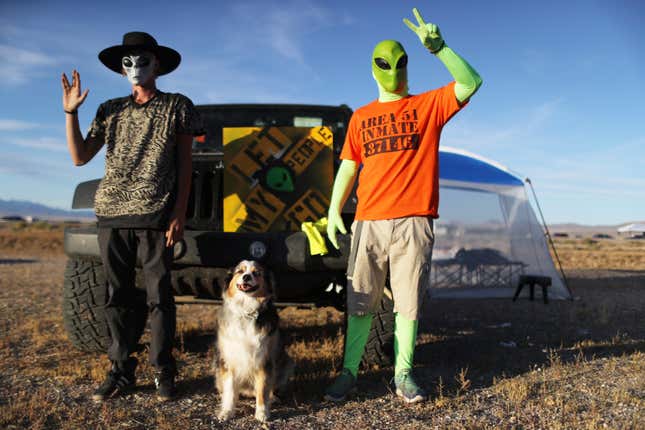 It's a bird! It's a plane! No, it's an unidentified aerial phenomenon. A newly published report from the Office of the Director of National Intelligence says that it's received a total of 510 UFO reports over the last 17 years, and the majority of those reports, more than 350, have been filed since March 2021.

Meet Microsoft's New Surface Laptops
The Office's report makes the plain and simple claim that unidentified aerial phenomenon (UAP) reporting is increasing, which is "enabling a greater awareness of the airspace and increased opportunity to resolve UAP events." According to the report, the office received 366 reports since March 2021, bringing the total of recorded UAP sightings to 510 since the office began collecting these reports in 2005. The sightings are widely coming from the U.S. Navy and the U.S. Air Force service members, who report the phenomena through official government channels.
"[The Department of Defense's All-Domain Anomaly Resolution Office] and [the Office of the Director of National Intelligence] assess that the observed increase in the UAP reporting rate is partially due to a better understanding of the possible threats that UAP may represent, either as safety of flight hazards or as potential adversary collection platforms, and partially due to reduced stigma surrounding UAP reporting," the report reads. "This increased reporting allows more opportunities to apply rigorous analysis and resolve events."
The report further explains that several of these reports lack enough evidence to clearly connect the reported sighting to a UAP, and the All-Domain Anomaly Resolution Office and the Office of the Director of National Intelligence also say some of these incidents could be a result of sensors malfunctioning.
Over half of the 366 sightings mentioned in this document had explainable origins. The Office of the Director of National Intelligence says that 26 were characterized as uncrewed aircraft or similar entities, 163 were balloons, and 6 were attributed to various objects and animals like birds, weather, or debris. 171 sightings are unexplained, and some of these have "demonstrated unusual flight characteristics or performance capabilities, and require further analysis."
Last spring, the Pentagon held the first public hearing on UAPs in nearly 50 years after the number of reports from U.S. Navy officials grew to nearly 400. This stands in contrast to the 144 UAP reports documented in the Office of the Director of National Intelligence's 2021 report.