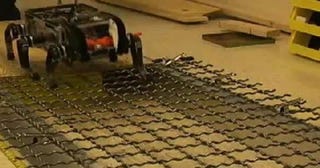 Note: you will be killed by the innocent-looking robot pictured above. Using a combination of the stable low profile of a cockroach and the terrain-adapting spine legs of a spider, this SuperCockrochSpiderBot (our name) can somewhat easily walk over wire mesh.
Slow motion video taught scientists that spiders were only 22% slower while running over mesh because when their initial footing failed, the spine bent, providing another point of contact. Cockroaches succeeded due to their horizontal legs and general invincibility.
In other words, cage fences cannot contain the invasion. Arm yourselves immediately.
Leg Spines Make Robots... [new scientist]