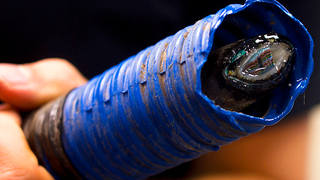 Earlier this month an underground fire knocked out cable for a big chunk of the East Village in NYC. Remember that whole #fixcable thing from this summer? Well this is what it looks like when they literally fix cable.
Basically, what happened on October 6th was a steam pipe sprang a leak, which shorted out some electrical wiring, which caused a fire, which melted the bejeezus out of Time Warner's fiber-optic cable and knocked out cable services for over a hundred nodes. Considering a single node provides services to 300 to 600 customers, that's no small outage. Time Warner's Untangled blog has a cool photographic tour of the crazy, twisted world of underground cable, and it's definitely worth the quick read.
Service was restored later that day, which seems somewhat miraculous considering splicing fiber-optic together is described as "re-connecting a severed ponytail" one hair at a time. I feel like I have tendonitis just thinking about it. [TW Untangled]
---
You can keep up with Brent Rose, the author of this post, on Google+ or Twitter.