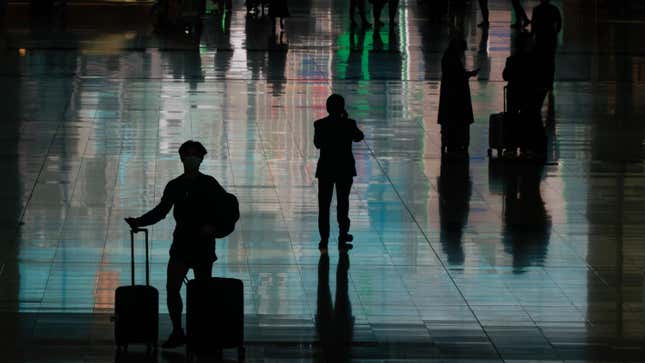 Traveling has been an absolute nightmare for many over the past few weeks, to put it mildly. Flights have been cancelled, airports have been mobbed, and luggage has been lost—or has it? A traveller's lost luggage journey has gone viral on Twitter after she documented her belongings moving across Washington D.C. with an Apple AirTag, contradicting United Airlines' claims to her.

Vizio's Latest TVs Go All Quantum
According to her Twitter thread, Valerie Szybala claimed on January 1 that United Airlines lost her bag and was lying to her about its whereabouts. Szybala's Apple AirTag that was attached to her luggage led her to an apartment complex where she found other bags (but not her own) from United Airlines flights near the building's dumpsters, as seen in photos she shared on Twitter. After reaching out to United's customer service via Twitter DM's, and explaining that she tracked her back to a random apartment complex, Szybala was told to "calm down" and that United would deliver her bag to her since it was sitting "at the delivery service."
In an update that same day, Szybala says that her luggage was moving for the first time since December 30 and was sitting near/in a McDonald's outside of downtown Washington D.C. The AirTag then moved from the McDonald's back to the apartment complex Szybala was first led to.
Yesterday morning, Szybala reported that her AirTag was moving again and was located 16 miles outside of Washington D.C. downtown, where she suspected it could be a part of a delivery from United. However, the AirTag did return to the same apartment complex again. Szybala says that after she returned to the apartment complex—with news crews who were documenting her story—she finally got her bag back, albeit under odd circumstances.
"Hello Valerie, I hope you re [sic] having a happy and blessed holiday season," a text message Szybala received said from a person who claims to be associated with a company called DCA Couriers United. "I'm delivering the luggage missing from your flight with AA/UA. I want to apologise [sic] for the inconvenience that you've had with your bag. Imma deliver it to you today. The issue was that the bag was given to me under a different passenger and I delivered your in a different address and had to go back to that place and pick it up."
After calling the number associated with that text message, Szybala says she was greeted by a man that "looked a little surprised" to see her with the news crews. While skeptical of the circumstances around the text message, Szybala was excited to have her bag back, but is still interested in answers around why the bag spent so much time moving around the Washington D.C. area while returning to a residential apartment complex.
A United Airlines spokesman told Gizmodo in an email: "We've been in touch with this customer to discuss this situation and confirm she has received her luggage. The service our baggage delivery vendor provided does not meet our standards and we are investigating what happened to lead to this service failure."
Szybala did not immediately return Gizmodo's request for comment. This lost luggage debacle comes as many travelers have started using AirTags to help keep track of their bags.
Updated January 3 1:30 p.m. ET: This article was updated to include comment from United Airlines.