Porte-parole
I am late. Paris's decaying public-transit system almost strands me at Gare du Nord and I arrive at Le Pantalon out of breath, panicked, terrified that Lazar Kunstmann has left. I slip past students in this noisy bar, searching for the face I have seen in a handful of photographs. I crossed the ocean to meet him and I may not get another chance.
Lazar Kunstmann is stocky, in his late 30s. He has a shaved head. He is friendly. Too friendly, almost – the eagerness in his eyes seems utterly unclandestine. This is not the mystery man I envisioned: Kunstmann is warm, cheerful and talkative.
He first came to public notice in 2004, the mouthpiece for a group called La Mexicaine de la Perforation (LMDP). Though it literally translates as "the Mexican of the Drilling," their moniker is best understood as something like "The Mexican Consolidated Drilling Authority." The organization was named for a bar in the arrondissement's Place de Mexico. LMDP, Kunstmann revealed, were responsible for the cinema under the Trocadéro.
"2004 was the first big discovery," Kunstmann admits. "We were really caught in flagrante delicto."
I was living in Scotland at the time. The French and British press were enraptured with the underground cinema and so was I. The appeal wasn't just in the breadth of the cinema-builders' imagination but in their meticulous follow-through. "We covered our tracks," Kunstmann reassured The Guardian. "Short of digging up every cable in the district there's no way of knowing where we took [the electricity] from."
G/O Media may get a commission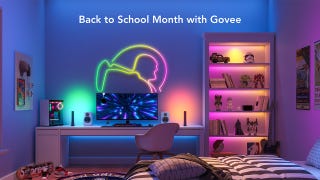 Back to School
Back to School Month with Govee Sale
Giddy and well-spoken, Kunstmann was at the center of every article. He had spent decades going where he wasn't supposed to: climbing onto roofs at age seven, sneaking through the subway at 12, delving into the Paris catacombs at 14. He and his coconspirators met at school in the 80s, when many Latin Quarter colleges still had basement access into the tunnels. Although Parisians have been sneaking into the catacombs (known as carrières) for centuries, Kunstmann and his friends had no taste for the usual "cataphile" hijinks. Too young to drink, not interested in drugs, they instead began to explore, map and expand the underground network.
Eventually, Kunstmann tells me, they entered a "post-postexploration phase." After "you go, you survey – then it's time to do something."
Five years after the discovery of the cinema, Kunstmann has written a book exposing the full scale of this "something." L'UX: La Culture en clandestins, published by the French imprint Hazan, reveals LMDP as just one wing of a larger clandestine organization called UX. UX (pronounced "oo-eex," like the French letters) has more than 100 members, split into more than ten teams. While LMDP are dedicated to events, other branches are devoted to maps, restoration or key-making. "[We] are determined to make these abandoned places a theater for new experiences," Kunstmann explained in his book. This means more than it seems. In French, the word expériences connotes both "experiences" and "experiments." UX itself, an acronym for Urban eXperiences, borrows the double-meaning.
The Arènes de Chaillot were built over a period of 18 months. Starting in 1999 and continuing every summer until the cinema's discovery, the tunnels hosted Urbex Movies. It was a festival combining careful programming and an unusual locale to present discrete visions of urban life. Shorts and features were grouped by unstated "intention," to allow for each 20-30 person audience "to discover, or merely to feel." A similar philosophy dominated LMDP's other major film festival, the Sesión Cómoda. Whereas Urbex Movies screened films like Eraserhead and Dziga Vertov's Man With a Camera, the Sesión Cómoda had a narrower focus on the underground – showing The Third Man and Jacques Becker's Le Trou. These screenings took place nearby, but aboveground - in the famous Cinémathèque of the Palais de Chaillot. Which isn't to say that the Sesión Cómoda were part of the Cinémathèque's official programme. No – LMDP snuck in, week after week, year after year, entering (they claim) from a passage beneath the projectionist's chair.
For both festivals, audiences were drawn from among UX's friends, associates and members of the public who stumbled across scattered fliers. "The LMDP are simply interested in holding events in a free way," Kunstmann explains. "Clandestinity is really a detail."
It's the detail that allows them to continue what they are doing. UX slip past the functionaries, under the cordons, across miles of red tape. Their high-concept installations use secrecy as a cover – but it's not their raison d'être. "We don't seek out the forbidden," Kunstmann murmurs over radio-pop. "We just repudiate any notion of authorization."
At the same time, UX's anonymity is a major source of their allure. We are drawn by their gall, their pluck, but also the burnished gleam of a mystery. The Arènes de Chaillot would not the same treasure if they were sanctioned, public-funded. Kunstmann is surely aware of this, yet he balks at being part of "something 'plugged in,' elitist, VIP." UX do not wish to be a "secret society," he insists. "When I say secret society, you imagine, I don't know, like, in Eyes Wide Shut. But it's more basic than that. It's the patronage system. It's taking 5 advantage of a hidden alliance." The group's operational need for clanestinity is offset by this distaste for old boys' clubs. And so UX leave avenues for strangers to stumble across their works, they have published a book revealing certain details, and years ago they resolved to never hide what was in plain sight. This is why LMDP revealed themselves in 2004. Once the Arènes de Chaillot were discovered, with speculation mounting – "In that instant," Kunstmann says, "we had to clearly explain." They didn't divulge everything.
< 1 | 2 | 3 | 4 | 5 | 6 | 7 | 8 >
Note: If you'd like to comment, please go to the last page. Thanks!