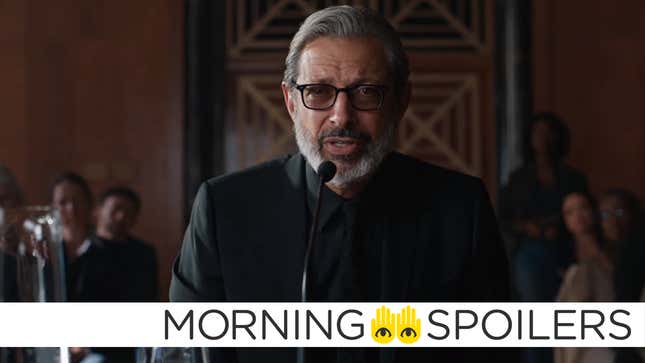 Steven Spielberg says a Tintin sequel is in the works. Jeff Goldblum talks about returning as Ian Malcolm in Jurassic World: The Fallen Kingdom. Jed Whedon teases how Infinity War opens up a new world for Agents of SHIELD. Plus, get a look at Riverdale's musical episode, and Mark Hamill wants to be a spooky force ghost. Spoilers!

Taylor Lorenz Talks "Extremely Online"

The Adventures of Tintin 2
During his press tour for Ready Player One, Stephen Spielberg revealed a sequel to the Adventures of Tintin is still in the works.
Peter Jackson has to do the second part. Normally, if all goes well, he will soon start working on the script. As it takes two years of animation work on the film, for you, I would not expect to see it for about three years. But Peter will stick to it. Tintin is not dead!
---
The LEGO Movie Sequel
THR reports Tiffany Hadish has joined the cast of The LEGO Movie Sequel in an undisclosed, but "lead" role.
---
Star Wars: Episode IX
Mark Hamill hopes he gets to play the first "frightening" force ghost in Episode IX.
Well I thought, if he's a Force Ghost I'd love to see him used in a way that hasn't been done before. I mean let's use the word ghost! That implies that it's frightening. What if he… even in some other form, I think it'd be funny… well, I don't want to give it away. I do have ideas; most of them are so terrible that they don't consider them at all! But like I say, I don't know if I am going to be back.
---
Jurassic World: The Fallen Kingdom

Appearing as a guest on Variety's Playback Podcast, Jeff Goldblum discussed returning to the role of Dr. Ian Malcolm.
I enjoyed getting a chance to dress up in black again and say a couple of things about science and being a proponent of science. The human curiosity and investigation and fact-based storehouse that we have is deeply valuable and must be esteemed and celebrated, but those who would use the animal kingdom and our scientific achievement and knowledge for profit or cheap entertainment or ticket sales or, heaven forbid, militaristic power or leverage, 'woe be to them.' So I liked getting another crack at that.
---
Friday the 13th
Arrow in the Head recently spoke to Platinum Dunes producer Brad Fuller about the current status of the Friday the 13th franchise.
One of the biggest heartbreaks of the last couple years was that we were about to make that movie and it fell apart. That still hurts. The fans reach out to us; Andrew doesn't really engage because he's not on Twitter, but I am and I hear from the fans and that's all they ask about. We get asked about that more than anything else."

Fans think it's so simple, that if we want to make the movie we can go make it, and that's just not the case. There are rights issues; originally, Warner Bros. owned the rights, then Paramount had them for a couple of years, and now I think the rights are reverting back to Warner Bros. At the same time, there's this on-going lawsuit with Victor Miller. If there's a lawsuit hanging over the rights, it's problematic, you can't really make the movie until that gets settled. And now the movie is at New Line, and we've made a lot of movies with those guys, but that's not our home studio anymore."

So the question is, [does New Line] want to make the movie with us? If they want to make that movie with us, we will drop what we're doing to make that movie. We had such a great experience making Friday the 13th, it was a dream come true to watch those movies as a kid and then be a part of it. So I don't really have a clear answer.
---
Alita: Battle Angel
In addition to playing Alita, Rosa Salazar revealed at SXSW she also appears as one of the film's extras.
---
The Predator
Sterling K. Brown hypes The Predator in a set video posted to Instagram.


---
Avengers: Infinity War
Spider-Man joins the Avengers and Vision warns the world is out of time in two new TV spots.

---


Ready Player One
IMAX has a behind-the-scenes featurette.
---
Teen Titans GO! To the Movies
Nobody wants to talk about the Green Lantern movie in a new TV spot.
---
Moon Knight
Speaking with IGN, Steven S. DeKnight stated he's interested in developing a Moon Knight TV series.
There are so many characters that I love in the Marvel universe. Really, for me, it would be about schedule. My schedule these days, as you imagine, is a little tight. God, you know, when I signed onto Daredevil, I expressed an interest in Iron Fist and the Punisher, which I both loved. I'd love to see Moon Knight get a little bit of love. Great, great character.
---
Agents of SHIELD
During a recent panel at WonderCon, Jed Whedon stated Infinity War will "open a new playground" for the series to explore (if it returns).
The movies blaze a path. When Doctor Strange came out it introduced us to magic, which gave us Ghost Rider; when [Guardians of the Galaxy] came out, we were introduced to space. We are waiting for that movie to come out so it can open a new playground for us.
[Deadline]
Meanwhile, episode seventeen of the season is titled, "The Honeymoon," according to Spoiler TV.
---
Lost in Space
Coming Soon has a report on the sneak peek of Lost in Space presented over the weekend at WonderCon. In the clip, Maureen breaks her leg as the Robinson's crash land onto the icy terrain of an alien planet. Realizing the desperation of the situation, Judy dives into a frozen lake to retrieve "something" that has fallen off the ship, only to become trapped beneath the ice, herself.
---
Star Trek: Discovery
During a panel at WonderCon, executive producer Aaron Harberts revealed CBS has ordered thirteen episodes for Star Trek: Discovery's second season. Production begins next month. [Trek Movie]
---
Riverdale
Entertainment Weekly has images from Riverdale's upcoming musical episode, "Carrie: The Musical." More at the link.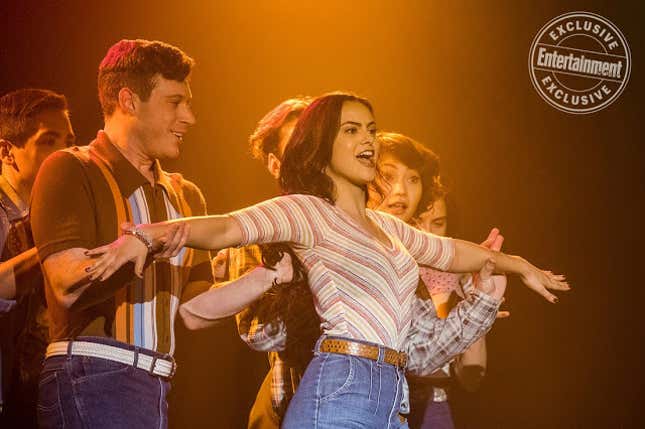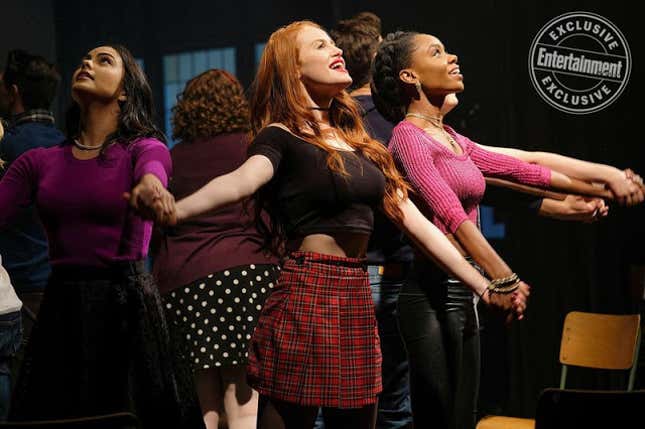 ---
The Magicians
Spoiler TV has a gallery of images from the season finale of The Magicians, "Will You Play With Me?" Click through for more.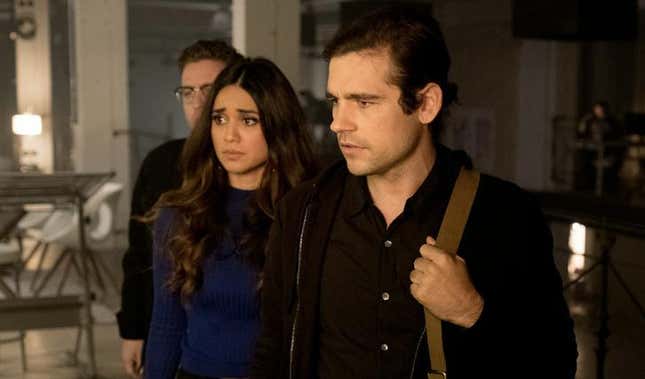 ---
The 100
KSiteTV spoke to Eliza Taylor about the fifth season of The 100.
---
The Walking Dead
Finally, the survivors reveal they're out of bullets and wonder, "Can we maybe get more bullets?" in a clip from next week's episode.
---
Banner art by Jim Cooke.