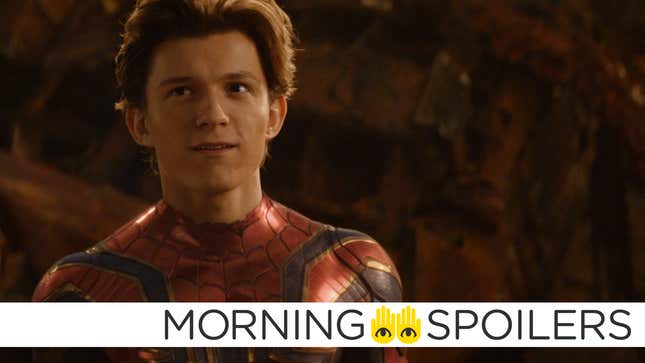 Don't expect one Infinity War team up to make another appearance in Spider-Man: Far From Home. The new Child's Play movie reboot won't feature the classic voice of Chucky. There's more casting rumors for DC Universe's Titans and Doom Patrol shows. Plus, updates on the Doctor Who Christmas special, and what's to come on Cloak and Dagger. Spoilers, away!
IMDb Changes Rating System After Little Mermaid Review-Bombed | Future Tech



Child's Play
Bloody-Disgusting reports neither series creator Don Mancini, producer David Kirschner, or actor Brad Dourif as the inimitable voice of Chucky will be involved in MGM's upcoming reboot of Child's Play. Instead, the trio will continue to develop both sequels and a television series at Universal set in the original film's continuity.
---
The Nutcracker and the Four Realms
Speaking of dolls coming to life, THR reports Lasse Halstrom and Joe Johnston will share directorial credit on Disney's new live-action adaptation of The Nutcracker.
---
Spider-Man: Far From Home
Despite filming in London, Kevin Feige confirmed Doctor Strange does not appear in the sequel to Spider-Man: Homecoming.
I could be coy about it but no.
[/Film]
---
Patient Zero
Regrettably, Screen Gems' rabies thriller starring Matt Smith, Natalie Dormer, and Stanley Tucci is heading straight-to-video October 23rd, 2018. Here's the synopsis:
An unprecedented global pandemic of a super strain of rabies has turned the majority of humankind into highly intelligent, streamlined killers known as 'The Infected.' One victim, Morgan (Matt Smith), who is asymptomatic and can communicate with the infected, leads the last survivors on a hunt for Patient Zero and a cure.
---
Titans
Fandom Wire reports Seamus Dever is slated to play Raven's demonic father, Trigon the Terrible.
---
Doom Patrol
Meanwhile, The Hashtag Show reports Crazy Jane, the Doom Patrol member with dissociative identity disorder will be reimagined as a "sexy," "Harley Quinn-esque character."
---
Doctor Who
Doctor Who News reports an entry in series editor Edel McDonnell's CV reveals he'll working on a Christmas special this year with Wayne Yip, director of the season 10 episodes The Lie Of The Land and Empress Of Mars.
---
Black Summer
Syfy's Z Nation is getting a spinoff series titled Black Summer, according to Spoiler TV. Though no further details on the series are available at this time, a Z Nation prequel comic also titled Black Summer was released early last year. Here's the synopsis:
A prequel set in the world of Syfy and Asylum's #1 scripted hit zombie series Z Nation, Black Summer is as bad as the apocalypse gets. A worldwide drought and famine when most of the surviving population dies and turns zombie. As the remnants of humanity cling to existence, fan favorite Charles Garnett returns to send a new team on a desperate new mission: Retrieve a possibly untouched cache of the food substitute Soylent Z from Galveston, Texas. But when mission leader Israel Johnson and his small team arrive in Galveston, they'll face a threat unlike anything ever seen before in the zombie genre.
---
Stan Lee's Lucky Man
Den of Geek reports season three premieres July 20 on Sky One.
In season three, DI Harry Clayton (Nesbitt) is in Hong Kong, looking for answers about his 'lucky' charm, where he comes up against some nasty underworld characters who have their eyes on more than just his bracelet.
---
The Walking Dead
TV Line has a poster for season nine, debuting Rick's new "hey I'm totally ready to peace out of this series" look.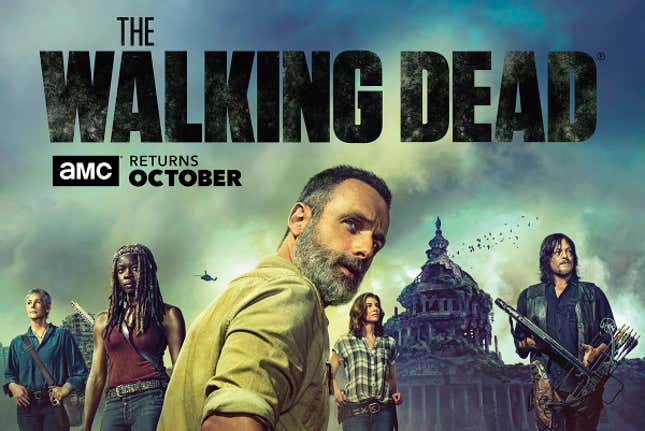 ---
Supernatural
Spoiler TV reports episode 14.01 is titled "Stranger in a Strange Land" while Episode 14.02 is "Gods and Monsters."
---
Black Lightning
Meanwhile, Black Lightning's season premiere will be a three-part episode with the unusual title, "Rise of The Green Light Babies."
Episode 2.01 - The Book of Consequences: The Rise of The Green Light Babies: Chapter One

Episode 2.02 - The Book of Consequences: The Rise of The Green Light Babies: Chapter Two

Episode 2.03 - The Book of Consequences: The Rise of The Green Light Babies: Chapter Three
---
The Outpost
Talon struggles to control a "murderous creature she has summoned" in the synopsis for episode three, "The Mistress and the Worm."
Talon (Jessica Green) struggles to command a murderous creature she has summoned. Garret (Jake Stormoen) and Janzo (Anand Desai Barochia) work to uncover the cause of the plaguing disease. Talon and Gwynn's (Imogen Waterhouse) unlikely friendship grows as Talon continues to search for more of her family's murderers. Michael Flynn, Robyn Malcolm, Andrew Howard and Philip Brodie also star. Jason Faller & Kynan Griffin wrote the episode, directed by Kurt Knight (#103). Original airdate 07/24/2018.
---
The 100
Clarke learns more about the plight of Wonkru in the synopsis for the July 24 episode "The Dark Year."
As Clarke (Eliza Taylor) races to save Abby (Paige Turco), she learns more about the trials and tribulations Wonkru faced in the bunker, and the impossible decisions they were forced to make in the dark year. Bob Morley, Henry Ian Cusick, Marie Avgeropoulos, Lindsey Morgan, Richard Harmon, Chris Larkin and Tasya Teles also star. Alex Kalymnios directed the episode written by Heidi Cole McAdams (#511). Original airdate 7/24/2018.
---
The Originals
Klaus travels to Mystic Falls in the synopsis for July 25th's, "The Tale of Two Wolves."
With Hope (Danielle Rose Russell) facing a life-threatening affliction and deteriorating quickly, Klaus (Joseph Morgan) travels to Mystic Falls to seek help from Caroline (guest star Candice King). Tasked with keeping Hope preoccupied in Mystic Falls, Elijah (Daniel Gillies) comes to a heartbreaking realization about his niece. Meanwhile, at the Salvatore School for the Young and Gifted, a run-in with Alaric Saltzman (guest star Matthew Davis) throws a wrench into Klaus' plan. Charles Michael Davis also stars. Rudy Persico directed the episode written by Carina Adly MacKenzie & Julie Plec (#512). Original airdate 7/25/2018.
---
Cloak & Dagger
Finally, Tandy and Tyrone appear to be caught in a time loop in the trailer for next week's episode, "Lotus Eaters."
---
Banner art by Jim Cooke.