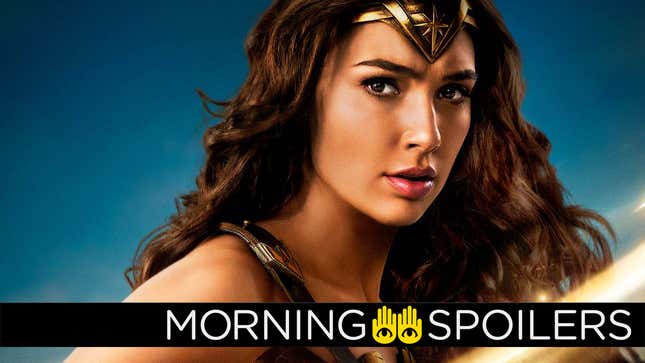 It: Chapter 2 casts another adult incarnation of the original cast. Kevin Feige is just waiting to hear when Marvel can finally use the X-Men and Fantastic Four again. Ram Bergman says it's going to be a while before we hear about Rian Johnson's Star Wars trilogy. Plus, what's to come on Westworld and Wynonna Earp. Spoilers, roll out!


Pale Blue Dot
Ellen Burstyn has joined the cast of Noah Hawley's astronauts-in-love movie, Pale Blue Dot. [Variety]
G/O Media may get a commission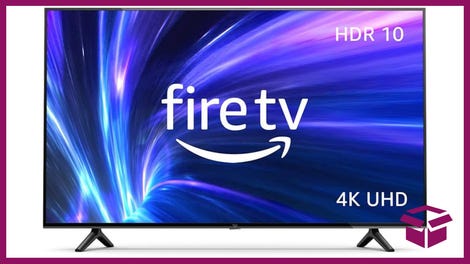 42% Off
Amazon Fire TV 50" 4K Smart TV
---
It: Chapter 2
Actor Chosen Jacobs revealed on Instagram that Isaiah Mustafa (yes, the Old Spice guy) will play the adult incarnation of his character, Mike Hanlon.
---
You Should Have Left
Kevin Bacon and Amanda Seyfried will star in the latest supernatural horror film from Blumhouse and writer David Koepp. According to THR, You Should Have Left is "the unsettling story of a wealthy man with a younger wife and a six-year-old child. Mistrust and suspicion characterize their marriage while they are in a remote location that may or may not be obeying all the physical laws of the universe."
---
Rian Johnson Star Wars Trilogy
During an interview with From the Grapevine, Rian Johnson's producing partner, Ram Bergman, gave a tentative update on when you'll likely hear more about his proposed Star Wars trilogy.
I can't tell you because we don't know yet. Maybe in two years; it's just in the early stages.
---
The Fantastic Four/X-Men
During the Produced By Conference, Kevin Feige stated he's waiting to hear back if the Fox/Disney merger will grant the MCU access to the Fantastic Four and X-Men roster of characters.
I'm just sitting, waiting for a phone call to say yay or nay. But obviously it would be nice to have access to that entire library.
---
Wonder Woman 2
Some set pictures of vehicles in various states of distress hint at some Washington DC adventures for Diana.
---
Ant-Man & The Wasp
Scott brags he's an Avenger (and Hope is not) in the latest TV spot.
Meanwhile, another poster.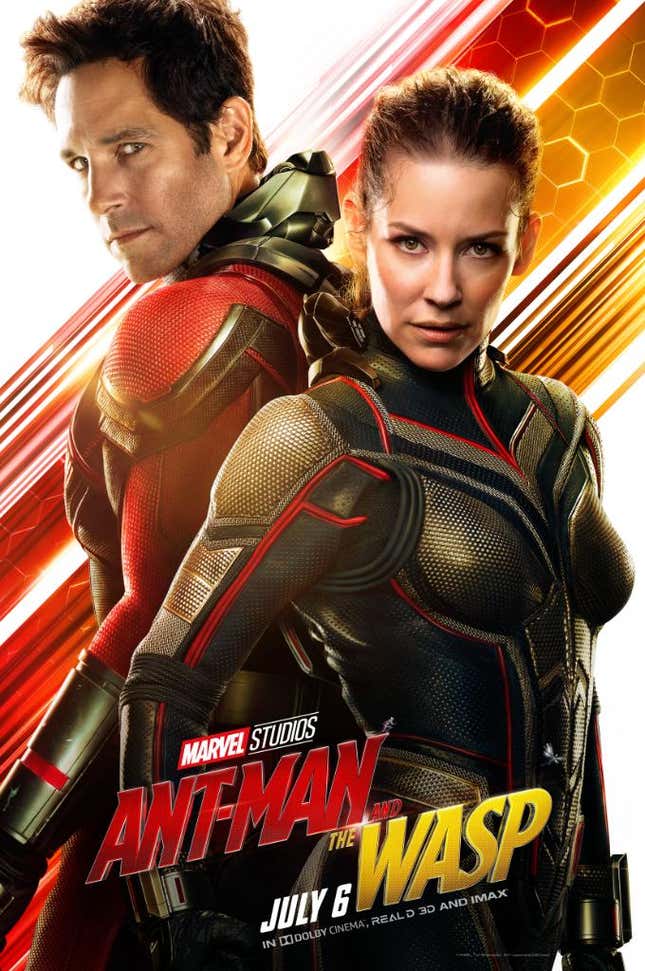 ---
Dr. Strange 2
Speaking with Deadline, Benedict Cumberbatch cautioned the world to just try and stop him from playing the character in future Marvel movies. You know, as long as he makes it out of the end of Avengers 4 in one piece.
Oh, Strange? Just try to stop me. That's all kind of lined up as far as I'm aware, but who knows? I mean, you know, the problem is, how does he get out of where he's at. But that's the only thing. I'm bits of dust at the moment as far as I understand. So you really have to ask (Marvel Studios president) Kevin Feige. But as far as wanting to do it, yeah, I would love to go back into that role.
---
First Man
Coming Soon also has the poster for First Man.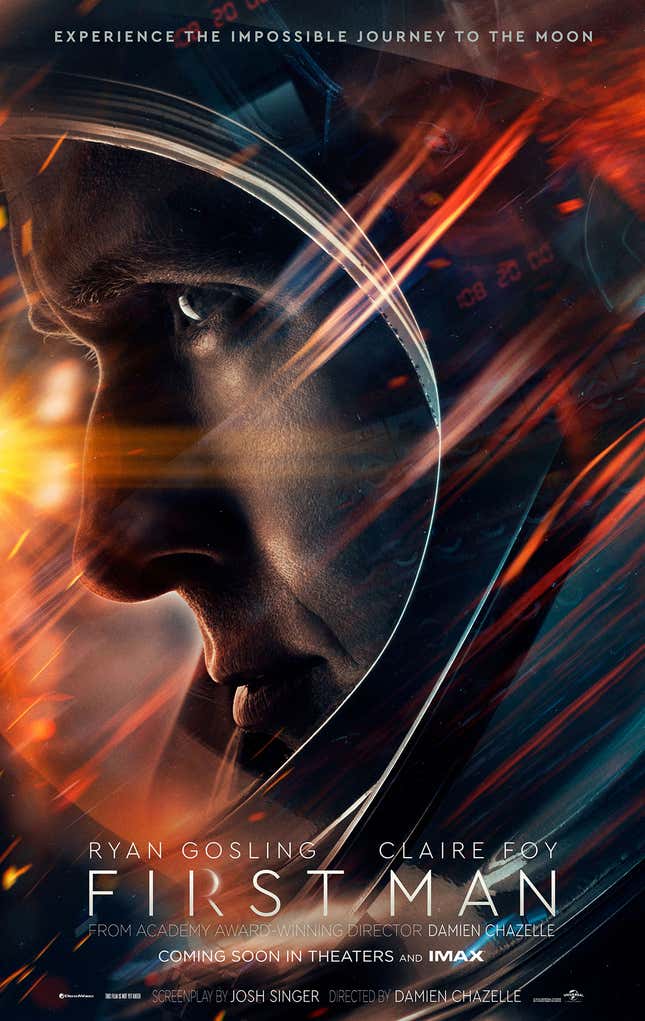 ---
Incredibles 2
There's loads of new footage in this two-minute featurette.
---
Star Trek: Discovery
Sonequa Martin-Green promises a sophomore season that's "higher and deeper."
We're just as excited [as we were for season one], but there is a blanket of peace in this sense of preparedness because we're familiar with it and because we have our experiential knowledge from last year. Now, we have a little bit more hold on what it is that we're doing, the universe we're in, the story that we're telling, the roles that each of us have within the story. We're hopefully very boldly, if I may say, going higher and deeper.
Meanwhile, Tig Notaro took to The Late Show to reveal a bit more about her new Engineer character, a human Starfleet officer named Jet Reno (and also about how she's wrangling with Trek's beloved technobabble).
---
People of Earth
Sad news — TBS has cancelled People of Earth.

---
KAOS
Netflix has ordered a new series from The End of the F***ing World writer Charlie Covell, described as "a darkly comedic and contemporary reimagining of Greek mythology, exploring themes of gender politics, power, and life in the underworld. [Spoiler TV]
---
Castle Rock
Executive producers Sam Shaw and Dustin Thomason revealed Allison Tolman has joined the cast as Melanie Lynskey's sister, "a realtor struggling to unload properties in the seemingly cursed town."
In related news, the duo also mentioned the series will follow the currently popular season-long anthology format, with future seasons "jumping around in time" to explore new characters. [Variety]
---
Agent Carter
During a recent Reddit AMA, Jeph Loeb encouraged fans to somehow "find a network" willing to produce more episodes of Agent Carter.
Wouldn't that be cool? Find us a network! Hayley has been so kind of saying she'd love to come back.
---
Cloak & Dagger
Cloak & Dagger finally get a chance to speak in the synopsis for episode four, "Call/Response." Head over to Spoiler TV for images.
Tandy and Tyrone come face-to-face as the two are able to sit down and talk. Having not been able to tell anyone else what they have been experiencing, both take the opportunity to finally confide in the one person who may truly understand what they are going through. Meanwhile, Otis reveals a secret side of himself and Greg seems to be onto something with Melissa's case against Roxxon.
---
Titans
The Bat-signal appears in a recent set photo.
---
Luke Cage
Misty looks quite happy (and ready to robo-punch some people) in a new video showcasing her bionic arm.
---
Wynonna Earp
Syfy has released a dramatic new trailer for season three of Wynonna Earp, replete with potato-licking, spectral eyeballs on a ceiling, and more gunplay than you can shake a gaffi stick at. 


---
Westworld
Finally, the Man in Black faces a dark night of the soul in the trailer for next week's episode, "One True Thing."
---
Banner art by Jim Cooke.