If you know any dog lover or you have a dog yourself, here are some very useful gifts that will improve the life of both best friends—selected by professional dog trainer and writer Anna Jane Grossman:
When it comes to the whole holiday gift exchange ritual, most dogs don't give a poop. Take my dog Amos: he has a yard to romp in, plenty of food, and hourly snuggle sessions. It's like Christmas all the time. He should be giving me a gift.
Still, I'm all for indulging pets. We force them to live by our rules in our world, and, in return, they give us unconditional love. Compared to that, a rawhide seems trifling. Too often, however, we give our dogs "gifts" they really might rather not have. Did you get those reindeer ears for him or for your own amusement? Are they increasing or decreasing his level of happiness?
As a dog trainer, I advocate mindful gifting. Here are some presents that might sincerely improve your dog's life — and the life of his best friend, too.
1. Petzen Dog Treadmill ($549) and 2. Walk4life Pet Pedometer ($14.95). Tons of behavior issues can be improved with proper exercise. A tired dog is a better behaved dog. Many dogs don't get nearly as much physical activity as they should because the owner often doesn't have time to walk them outside or just a walk is not enough for them. So, while a dog-specific treadmill might seem indulgent, think of it as an investment in his health and your sanity. If it can help him keep some weight off, all the better. A dog pedometer can also be useful in gaging how much exercise your dog is getting.
G/O Media may get a commission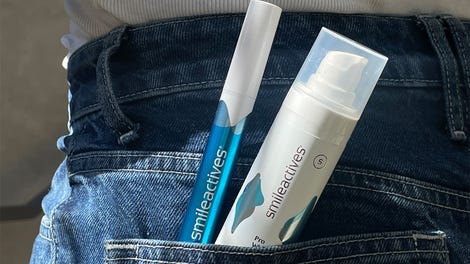 58% off
Whitening Powerhouse Pen & Gel Duo
2. Premier Busy Buddy ($3 to $40). Pet supply company Premier is now making an excellent line of toys that can keep your dogs occupied for hours on end as they try to figure out a way to dislodge the treats inside. Small yummies are stuffed into holes or screwed into containers, and then it's your dog's job to shake, squeeze, and chew his way to the goodies.



3. Solvit Waterproof Hammock Seat ($20). You are your dog's favorite person, so no wonder he wants to go with you when you're in the car. But a dog who sheds or tries to constantly make his way into the front seat (better view!) is not a good vehicular travel companion. My friend Amazon offers an array of dog car "hammocks" that hangs from the back of the front seat and the front of the back seat. It's basically a waterproof, well-designed blanket that can help keep your seats from dog fuzz—or puke, as the case may be. It also makes it hard for him to get into your lap while you're trying to text at the wheel.



4. Smart Yap Harness with outlast technology ($38). Made with smart fabric designed by Nasa, the Yap Wrap harness with Outlast Technology keeps your small dog warm in the winter and cool in the summer. It is available for pups from 3 to 13lbs. But wait! There's more! The thing has a handle on it so that you can pick up your dog in a jiff. Thanks to the simple design, ultra-sturdy velcro closure and snug fit around the dog's middle, getting lifted into the air via the handle is painless for him and easy for you.



5. Bellobox ($4). The most demeaning aspect of dog ownership? Poop scooping. German company Bellobox has developed a solution to the world's canine waste removal issues. Unfold the container, drop it over the poo, put your foot on it, pull up and voila! You have your own little takeout container of excrement. No dirty hands, no moist plastic bags. You don't even need bend down! Clever Germans.



6. BK Atelier Dog Carrier ($190 and up). A dog-carrier is not a simple item. We each have our demands: Amos wants something comfy and well-aerated. I'm more concerned that it be attractive and inconspicuous so that I can take him wherever I go. BK Atelier's line of dog bags meets all of our needs. Instead of the typical meshed area near the dog's head, these have little air holes stamped throughout in tasteful designs. This makes the fabric breathable but also keeps your dog well-hidden. The soft sides give him room to maneuver as needed. The fact that it is leather-free is an added bonus. I'm a meat eater, but feeding my dog liver snaps and then putting him inside the remnants of another animal is a little too turducken for me.



7. Brake-Fast Dog Food Bowls ($16). A dog that takes massive gulps of kibble at mealtime is likely a dog prone to depositing massive puddles of half-digested kibble on your carpet. Look ma! I made my own food! So, it's good news that the "slow food" movement has come to the canine world in the form of products such as the Brake-Fast Dog Food Bowls. These plastic bowls have pegs that stick out from the bottom in order to prevent your dog from eating too fast.



8. Premier Manners Minder ($90). The Manners Minder is a remote-operated treat dispenser and a great teaching tool. Put little Megabyte in a down-stay, go to the other side of the room, and then dispense a treat periodically. Have a dog that goes crazy at the doorbell? Keep the remote in your pocket and then, when the bell rings, distract him from his barking by having the Manners Minder dispense something so yummy that it trumps the excitement of yapping. You can also use it to fight doggie boredom: put it on a timer so that it periodically dispenses a treat for your dog when you're not home.



9. Dog Fighter Puzzle ($50). Product designer Nina Ottosson's specializes in making beautiful wooden interactive dog toys that require your dog to do some problem solving. This one requires he slide pegs through a series of channels in order to get to the hidden treats. Other favorites include her Tornado and Casino puzzles. They're basically like the dog equivalent of The New York Times' crossword puzzle. Except Will Shortz doesn't dole out Milkbones.



Anna Jane Grossman is a dog trainer and writer whose lifestyle articles have appeared in The Washington Post, The New York Times, Fortune, and Gizmodo, among other publications. She is also the author of Obsolete: An Encyclopedia of Once-Common Things Passing Us By.

She writes about her favorite species, positive reinforcement training and animal behavior—and a lot of fun canine-related things—in her new blog, thedogs. You can also follow thedogs on Twitter.