Months after Verizon Communications began issuing warnings to accused file sharers, the company has acknowledged that multiple offenses could result in a service interruption.
"We've cut some people off," Verizon Online spokeswoman Bobbi Henson told CNET. "We do reserve the right to discontinue service. But we don't throttle bandwidth like Comcast was doing. Verizon does not have bandwidth caps."
What this means is that Verizon, one of the country's biggest broadband providers, appears to have adopted an approach to illegal file sharing that sounds very similar to one promoted and pushed heavily by the music industry.
In December 2008, the Recording Industry Association of America stunned the digital-music world by announcing that it would no longer file lawsuits against individuals accused of file sharing. Instead, the RIAA said it had "agreements in place" from a group of major Internet service providers that would adopt a "graduated response" to copyright infringement.
The RIAA said a graduated response would start with a warning. A notice would inform a customer that he or she had been accused of illegal file sharing. If the person continued, the ISP would send more—perhaps more strongly worded—warnings. When it comes to chronic offenders, the RIAA has tried to convince ISPs to suspend or discontinue service.
G/O Media may get a commission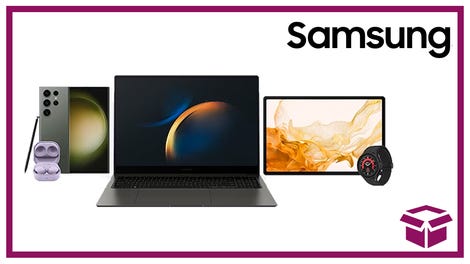 24 hour deals
Discover Samsung - Daily Deal
But a year after the RIAA made its announcement, not one major ISP had acknowledged supporting the RIAA's plan. The question raised by Henson's statement is whether Verizon has quietly signed on. An RIAA representative declined to comment.
While Verizon did not disclose how many customers' service it has cut off, Henson said the numbers are small. She added that litigation in this area is down significantly and that the number of subpoenas or court orders Verizon gets "are isolated and not at all widespread."
But Henson also noted that what's really important about this is that issuing warning letters is proving to be effective. Verizon has been sending letters to DSL and Fios broadband subscribers since last April and warning them that they—or someone in their household—may have been illegally downloading copyrighted content.
Can a simple scolding e-mail turn illegal downloaders into model Internet citizens?
"We've found that we don't have to warn most people a second time," Henson said. "Most people stop. Or they tell whoever is doing it to stop."
Henson said a lot of people are unaware that someone in their house is downloading copyrighted material—most notably music, movies, and games—until they get the warning e-mail. "You get a teenager doing it, and the parent gets the e-mail, and they tell them to cut it out."
Verizon says it isn't actually monitoring what its customers download on the Internet. Rather, copyright owners are capturing Internet Protocol addresses and requesting that Verizon send out e-mail warnings. Henson, who did not disclose how many such warnings Verizon has sent, was careful to note that her employer does not give information about its users to copyright owners without "due process," which means that Verizon must receive a court order before it would hand over any contact information. She also adds that if customers believe they've received a warning notice in error, they could contact Verizon.
Once a warning e-mail is received, just how many customers jump ship to another ISP or seek ways to mask their IP addresses (to circumvent detection) isn't known. But at least one reader who sent us his warning e-mail claimed that he's been scared straight.
I'm "stopping cold turkey," said the reader, who, not surprisingly, wishes to remain anonymous. "With Netflix at $10 a month, it's not worth it for me to risk a possible big fine. I'm going legit."
Below is the text of the e-mail the reader received, edited to protect the customer's anonymity:
Date: Sat, 16 Jan 2010 10:06:57 -0500
From: notification@copyright.verizon.net
To: XXXXXXXXX@HOTMAIL.COM
Subject: Notice of Claim of Copyright Infringement

Dear Verizon Online Customer:

We are writing to advise you that Verizon recently received a notification from a copyright owner of a possible copyright violation that appears to involve your Verizon Online account (the "Complaint"). The work(s) identified by the copyright owner in its Complaint are listed below.

We are contacting you because our records indicate that the Internet Protocol (IP) address provided to us by the copyright owner was assigned to your service on the date and time identified by the copyright owner. While this activity may have occurred without your permission or knowledge by an unauthorized user, or perhaps by a minor who may not fully understand the copyright laws, as the primary account holder, you are legally responsible for all activity originating from your account.

Copyright work(s) identified in the Complaint:

Copyright infringement level: 1
Notice ID: XXXXXXXX
Title: XXXX (XX)
Protocol: BitTorrent
IP Address: XXX.XX.XXX.XXX
DNS: pool-XX-XXX-XXX-XXX.XXXXXX.XXXX.verizon.net
File Name: XXXXXXXXXXXXXXXXXXXXXXXXXXXXXXXX
File Size: XXXXXXXXXX
Timestamp: XX-XX-20XX XX:XX:XX UTC

Copyright infringement is a serious matter that violates U.S. copyright law and subjects infringers to criminal and civil liability. It also violates our Acceptable Use Policy (http://www2.verizon.net/policies/acceptable_use.asp) and Terms of Service (http://www2.verizon.net/policies/tos.asp). If you, or someone using your Internet connection, are engaged in the conduct alleged by the copyright owner, we urge you to stop (and ensure that anyone else who might have access to your Internet connection also stops).

Protecting Your Privacy: The copyright owner has not asked Verizon to identify you, and Verizon will NOT provide your identity without a lawful subpoena or other lawful process. However, if the copyright owner does issue a lawful subpoena or other lawful process that seeks information about your identity or account, Verizon will be legally required to provide the requested information to the copyright owner.

If you have questions regarding this notice or would like to view Frequently Asked Questions about copyrights and piracy, please visit us at www.verizon.net/copyrightfaq.

We appreciate your cooperation on this matter.

Sincerely,

Verizon Online
This story originally appeared on CNET