We're at Verizon's Open Development Conference, where they'll be pulling back the curtain on their Any App, Any Device open network initiative, revealing all the gory specs and details for building your own superphone and lording it on Verizon's network. Update: The specs, we've got 'em, plus Verizon's open development site—hit the jump and scroll down.
Whoa: They've got a massive disclaimer about the FCC's anti-collusion rule on the 700MHz auction, saying they can't talk about it. Translation: They won something.
Open Development New Customer Choice
Customers will have:
•Freedom to download their favorite apps
• Various payment options
•Can choose extent of relationship with Verizon:No "equipment contracts or early termination fees"
The timeline is impressively brisk: "Open for Business" by the second half of 2008, with a certification process in place by the end of this quarter.
G/O Media may get a commission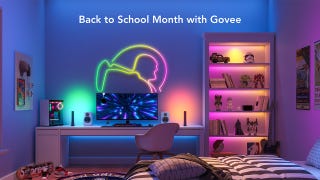 Back to School
Back to School Month with Govee Sale
They can't talk about enough about just how awesome Verizon's network is.
Hardware developers have a few ways to get their wares into your hands:
Retail Model: Developers on their own for advertising and distribution—Verizon will "activate" customers and get them onto the network "easily." They're also on the hook for most of the technical support. Data plans are totally separate from voice plans to accommodate data-only devices. Electronic bills only, no paper! Three pieces of hardware Verizon gives as "examples": Ruggedized PDA, digital camera with a wireless chip for transmitting photos from anywhere, and a gaming device.
Wholesale Model: Developer buys airtime and data plans from Verizon, then sells them to you. Electronic billing only. Example: Wireless home security (if case some enterprising thief cuts the phone line, it goes wireless).
Custom model coming later, for say, digital music devices. They're willing to offer up their 3 million song catalog. (!)
Certification for Developers: Simple enough: Build a device, submit it to Verizon for network certification, they send it back and the developer registers it.
Activation for You: You buy it at Best Buy or Wally World and activate it online. This is where they roadblock non-certified devices—if the serial number isn't on the certified list, it won't activate, and you can't take it on the network. If it's a wholesale deal, where you buy data from the devicemaker, they take care of all that for you. (Obviously.)
Verizon CTO on stage. Interesting, the IP-based "core network" will be the same even after it transitions to 4G—the shift to LTE is just changing RF. Promises to be really aggressive on 4G since their EV-DO push paid off.
Finally, The Specs and Certification
Requirements are layered from industry standards to Verizon Wireless-branded apps—open devices fall just above industry standards. "Specification is focused on essentials" for operating on the network without harming it. They'll go live today at 11:30am at their online portal for open development.
There will be a fee for certification but they promise it'll be quick—just 4 weeks. It's pass/fail only. The more devices you send in, the quicker it'll be certified.
They won't specify the user experience at all—no more ugly red UI! Hurray!
If your device uses multiple wireless standards, like Bluetooth, Wi-Fi, etc.—they're all got to run at the same time without going wonky. LNP compliance is a must.
The Cert Process and Requirements
911 and location-based services are required. Data-only devices have to pick up the CDMA-2000 network.

Yep, four weeks from submission to cert—not too shabby at all. Developers have to register with Verizon. Certification is not good for life. Devices have to be re-approved every 36 months.
If your radio module isn't FCC-approved already, "don't bring it to our labs." So the 4-week cert process DOES NOT include dealing w/ the FCC. "Bring to us quality devices ready to pass on the first go."
Whoa, hold it! Four weeks is for certification. After the four-week cert, then it has another two weeks of "infrastructure interop testing," like with Alcatel-Lucent, and then another two weeks of field interoperability testing. So you're looking at eight weeks of Verizon testing, really.
Talking about where they've seen potential for innovation, Verizon CEO mentions the 700Mhz spectrum. Yep, they probably won it.
And that's it for the keynote!