Click to viewThough images have leaked here and there, not much was known about the LG VX10000 from Verizon Wireless. Sure, when open, it looks like the QWERTY-obsessed LG enV, but when closed, it's got way more of a Prada—or dare I say iPhone?—vibe. More details and full gallery after the jump.
G/O Media may get a commission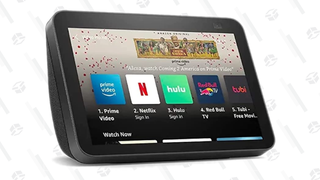 I'm excited about this phone, which will probably land in the $250-$300 range when it hits in mid November. It's much more of an engaging piece of technology than the enV ever was (in part thanks to a bigger WQVGA screen). Also, as a touchscreen device, it's closer to iPhone than Chocolate, though it does incorporate some snazzy force feedback. Using flicks and drags, you can scroll through long lists of contacts with your thumb, tap on selected parts of HTML webpages using a thumbnail view and swipe through menus and media playlists easily. OK, it's not Apple—not yet near—but it's a good start.
Since it's a Verizon media powerhouse, it has V Cast Music and Video, plus the new MediaFLO streaming TV (where available). On the sideloading front, it will take MP3s, WMAs and non-DRM AACs. And it supports microSDHC cards up to 8GB.
Do I love it? Not sure yet, but I'm definitely interested in giving it a try.
LG's Voyager vs. enV Sizemodo:


From the fact sheet:
The Voyager™ by LG from Verizon Wireless

The LG Voyager* is the first phone from Verizon Wireless that features a large external touch screen. Packaged in a lateral-clamshell design that hides a full QWERTY keypad, The LG Voyager is exclusive to Verizon Wireless and comes packed with a number of cool features, including a HTML browser for enhanced Internet browsing, full V CAST-capabilities - including V CAST Mobile TV, V CAST Music and the ability to play .mp3, .wma and unprotected .aac files, and V CAST Video. These capabilities, coupled with Verizon Wireless' high-speed wireless broadband network, make downloading music or surfing the Web while on-the-go quick and easy.
Other features mobile multimedia addicts will love include:

Speakerphone

VZ Navigator

Picture, text, video and instant messaging

Bluetooth stereo for headsets and speakers

Built-in stereo speakers

2.0 megapixel camera

Expandable microSD memory slot of up to 8 GB