NOAA's El Niño Southern Oscillation (ENSO) discussion center released its latest predictions today and, well, are you ready for some El Niño? Because wet weather is almost totally certainly coming to the Western US. The question is, how much?
Warmer than normal ocean temperatures in the Pacific create an El Niño event, which began to build earlier this spring—shoving the jet stream way north and pushing moisture to the east. Each month the climatologists update their predictions for how much longer the conditions will stick around. Today's revised estimates say there's a "greater than 90% chance" that El Niño conditions will persist in the Northern Hemisphere this winter and an 80% chance they will last until the spring of 2016.
Although El Niño conditions are very likely, there's no way to tell how powerful a punch it will deliver, weather-wise, to places like California. But that dark red spot of exceptionally high surface sea temperatures off the coast of South America is hinting that it could be at least as strong as the last huge El Niño, in 1997, reports the Mercury News:
That year, an ocean area that scientists call the "3.4 region" along the equator near South America that is considered a key indicator of El Niño trends was 1 degree Fahrenheit warmer than normal from April to June. Over the same months this year, the water there was 1.6 degrees higher than average.

San Francisco received 47 inches of rain the winter of 1997-98, double its historic average and the most since 1862.
G/O Media may get a commission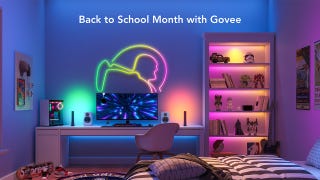 Back to School
Back to School Month with Govee Sale
So yes, a 90% chance that El Niño persists will almost certainly mean wetter weather for the Western US, all of which is pretty much completely on fire right now. But will it be enough to end the drought in one season? Probably not. Two more things have to happen. First of all, it has to rain A LOT and for a very long time. The rains that ended Australia's historic Big Dry happened over a course of a few years (and were interestingly also related to El Niño—what makes them wet makes us dry). Secondly, it has to be cold enough for a great deal of that precipitation to fall as snow: What really needs to be built back up is that non-existent snowpack.
All of this talk about big freaking weather events led NOAA blogger Emily Becker to ask a very good question: How come we name tropical storms and hurricanes but we don't name El Niños? She thought a good name for the 2015-2016 season's extra-ferocious event would be the ass-kicking "Bruce Lee."
I think we should name it after Chris Farley.
[NOAA, Climate.gov]
Follow the author on Twitter at @awalkerinLA