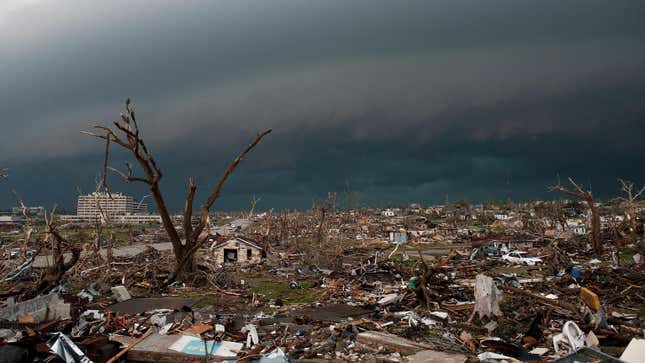 When the tornado first appeared on the horizon, residents of Joplin, Missouri gathered on front porches and peered out windows, trying to catch a glimpse of the storm. "Growing up in this area, you get a sense that when there's a tornado coming, it's a duty to go outside and go out and see it," said Del Camp, chief clinical officer for the Ozark Center, a behavioral healthcare provider with practices across Southeastern Missouri. "That is not treating a tornado with the respect that we came to realize it definitely deserves."

Oscar Issac on How Hope Plays into Leo's Arc
The tornado tore through with an intensity of EF-5, the highest rating possible for a tornado on the Fujita scale and the most intense ever seen in the Joplin area. It crushed concrete walls and twisted cars and semi-trucks around tree trunks. Basements where people took refuge were laid bare when homes were ripped off their foundations. "The things that we thought we could control, you were stripped of," Camp said.
In all, the now infamous Joplin tornado killed 158 people. That was in 2011. Nearly 12 years later, survivors are still struggling with the mental toll of the natural disaster. In the tornado's wake, Camp has seen people struggle with anxiety, PTSD, substance abuse, and depression. "They're not able to enjoy life. They're not going to go to their kids' ball game, because they think the weather is going to get bad. Some are struggling to keep their jobs," Camp said.
It's a familiar narrative. From the Paradise Fire to winter storm Elliott, natural disasters, fueled by climate change, are becoming more severe, more erratic and more frequent. Tornadoes like the one that ripped through Joplin are increasingly occurring in deadly clusters, in times of year when people least expect them. In 2021, EF-4 tornadoes left a wake of destruction throughout Kentucky just weeks before Christmas—well outside of tornado season. People struggle with the mental-health impacts of these events years after the news cycle moves on.
In Southeastern Missouri, the Ozark Center has adopted an innovative approach to help survivors heal: Virtually reality exposure therapy, or VRE. It involves using virtual reality to take them back in time, to the night of the storm. And experts across disciplines, from psychology to climate change science, say similar technology will be critical in helping us adapt to a warmer, more inhospitable planet—and maybe even turn things around.
---
For the roughly 100 clients at the Ozark Center who have experienced VR exposure therapy, the therapy begins in a suburban home with granite countertops and pine floors. Windows look out on dark skies and lashing rain. Inside the virtual world, the graphics are clunky—like something out of the Sims 2. But to the tornado survivors, that doesn't matter, Camp said: "The purpose of this is to give the mind enough to play with. The mind takes over at a certain point."

Psychologists first started doling out fear as a treatment in the 1950s, psychologist Jonathan Abramowitz wrote in the book Exposure Therapy for Anxiety. The first exposure therapies took place IRL: If you had a phobia of flying, your psychotherapist might help you book a flight. Fear of dogs? They might introduce you to a room full of bouncing retrievers. Today, the most common form of exposure therapy is imaginal—where a therapist has you recount the traumatic event or feared situation through story-telling, wrote psychologist Jeremy Bailenson in his book Experience on Demand: What Virtual Reality Is, How It Works, and What It Can Do.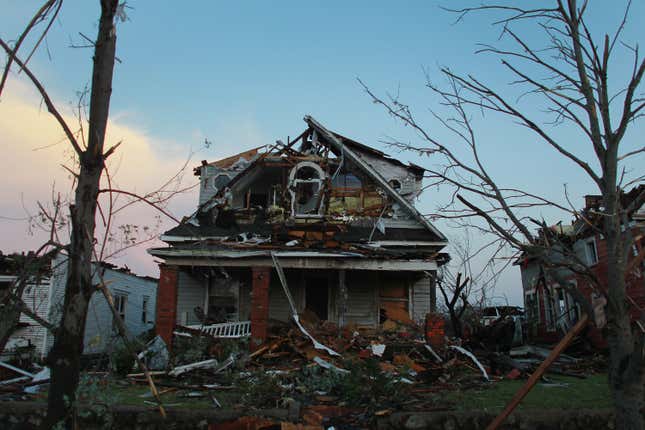 But bringing fears to life isn't always practical. After all, a therapist can't summon a storm. Even narrative exposure therapy has its drawbacks. Between 30% and 40% of people don't respond to it—perhaps because imagination just doesn't compare to the real thing. Or maybe because it's daunting to call something to mind that you actively resist thinking about. So in the 1990s, psychologists began developing VR simulations to help these experiences feel real, without having to conduct a therapy session on a plane, in a room full of dogs, or in the middle of a tornado.

And survivors of a natural disaster don't need to re-experience that exact event to relive it. Even the mere suggestion of a virtual storm, viewed through a virtual window from within the safety of a virtual house, is often enough to activate that response and send them back to the scene of their trauma. Experiencing a life-threatening event primes your amygdala, a region of the brain that identifies and processes threats, to recognize cues associated with that event and respond to them as immediate threats, even when they're innocuous.
Samantha Gilgen, an Arkansas-based clinical psychologist who previously worked at the Ozark Center, remembers one client who swore they saw a tornado as they peered out the window in the storm house—even though the VR simulation involved only rain and wind. "That tells you how effective VR is at transporting people into their memories," Gilgen said.
Scientists don't completely understand how exposure therapy works. The answer might have something to do with the brain's ability to override the amygdala's automatic response to "dangerous" stimuli. Normally, the prefrontal cortex, the brain's decision-making center, tells the amygdala when it's interpreting danger where there is none, like when the storm it's reacting to is virtual rather than real. But sometimes, in the wake of a life-threatening event, the amygdala and prefrontal cortex stop talking to one another, said Matthew Price, a clinical psychologist at the University of Vermont who researches technologies to help victims of traumatic events, including VR. "Those mental breaks kind of wear out," said Price.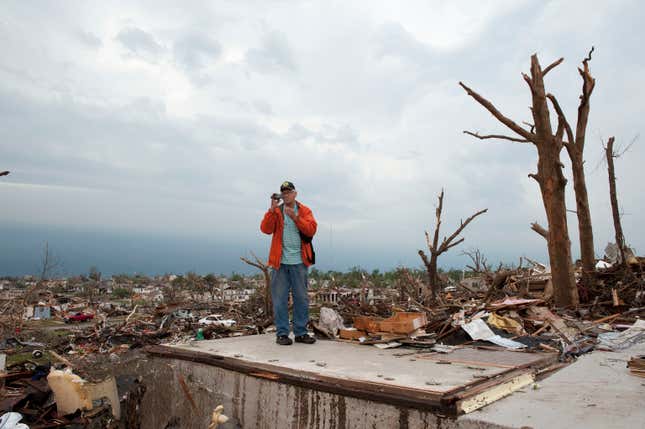 The theory behind exposure therapy is that, by experiencing a feared stimulus enough times, the prefrontal cortex can begin to associate stimuli—rattling windows, lashing rain—with safety rather than danger, Price said. Then, it can start letting the amygdala know that it's okay to calm down.

When it comes to helping people recover from their trauma, the therapy appears to work equally well. For a 2018 study published in the journal Behavioural and Cognitive Psychotherapy, scientists randomized 36 adults with a fear of storms into two groups: one that received a single VR exposure therapy session and one that received a session of progressive muscle relaxation. For adults who received the therapy, their average fear, on a scale of 1 to 100, decreased from 52 to 14. In the progressive-muscle-relaxation group, average fear dropped down to only 42. Gilgen recently saw a client go from a fear score of 100 just sitting in the living room of the VR simulation—"the most fear you can imagine"—to a 20 out of 100 after a few months of therapy, comparable to jitters before a big date.
---
Virtual reality doesn't just have the potential to help us recover from the effects of climate change. Experts say it could act as a kind of prophylaxis, exposing us to the effects of climate change before they occur and helping us adjust.

Chris Field, a climate scientist at Stanford University, recently began thinking about developing a VR simulation to help people cope with, and adapt to, the constant stress of wildfire in California. Field imagines a kind of game where people can learn about and make decisions necessary to adapt to the increasing severity of wildfire, like prescribed burns and managed retreat from fire-prone suburbs. He sees VR as a tool not just to help calm people's anxiety in response to a past experience but to help people adapt and build resilience in the face of an uncertain future.
Stephen Sheppard, a professor of landscape planning at the University of British Columbia, developed a similar tool, which he debuted in Vancouver schools. His game, Delta II, simulated sea-level rise in the Vancouver suburb of Delta. Players were able to wander familiar streets, all flooded with seawater, and participate in making decisions for the community, such as whether to retreat from particular neighborhoods or raise off-shore dikes. Kids who played the game didn't finish it despondent—in contrast, they reported an increased sense of agency to do something about climate change. One classroom was inspired to give a presentation at city council, imploring local leaders to act on the climate emergency.
"I think virtual reality can be a cathartic release," he said. "The power of the visuals is to take people into their own futures, in a way where they feel they've got agency."
It's that sense of agency that has made VR exposure therapy so effective for the survivors of the Joplin tornado. In a changing world, where individuals have so little control, VR has the potential to alter how we relate both to past experiences and to those that have yet to happen.
Isobel Whitcomb is a science and environment journalist based in Portland, Oregon. You can find their work, which covers drought, conservation, social justice, and more, in Sierra, ATMOS Magazine, and Slate, as well as at IsobelWhitcomb.com and on Twitter at @IsobelWhitcomb.