Vizio's feeling confident enough about their VF551XVT 55-inch LED-backlit TV they're showing it off against Samsung sets now (though these kind of fights are rarely fair) and offering some harder specs.
The price has creeped up $200 from what they'd announced in January to $2199, and the date's slipped a bit to the tail-end of summer: Vizio's promising late August/early September. The TV uses 960 white LEDs in 80 clusters for backlighting (vs. a tri-color or edge-lit LED setup), so we're interested to see how it'll do against some of the other affordable local-dimming TVs using white LEDs, since it's at least $200 cheaper.
G/O Media may get a commission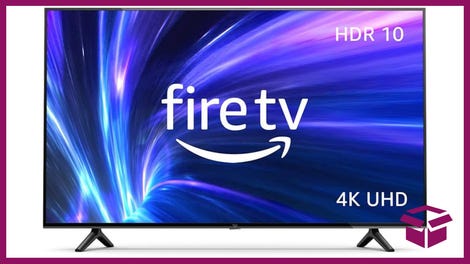 42% Off
Amazon Fire TV 50" 4K Smart TV
In the comparison shot here, the VF551XVT (right side) is stacked against an unnamed edge-lit Samsung LED set (left side). Supposedly both have been color calibrated, though the Samsung running in "movie mode" was seriously blown out, and the Vizio is running in "home mode," so make of it what you will. (Or rather, not much.)
If you wait until December, for the same price you can get the same set running their version of Yahoo's widget platform, which has a bunch of new widgets like Rhapsody and Twitter. Amazon streaming video was up and running, though a bit slow to start—presumably it'll get better by launch.
No mention of possible delays caused by their recent import ban, but I guess we'll see when we get there. [Vizio]