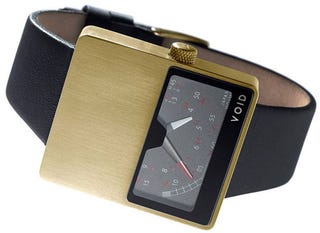 If you think about it—really think about it—or even half-assedly think about it—this Void VO2 Retrograde watch isn't so different from an iMac.
But whereas an iMac* focuses on its glass screen accented by a tiny strip of aluminum, this Void centerpieces its brushed stainless steel—the informationless void of the watch, if you will—as much just as much as its glass-covered speed dial watch face.
Void's design admits that it's only half for utility, saving the other half completely for style.
The Void VO2 watch is available now for $200. But if you prefer a digital face to an analog one, check out the Void V01.[Watchismo via boingboing]
*I thought my iMac comparison was somewhat brilliant before realizing I'd probably unconsciously plagiarized it from my source. Smooches, Rob.