Yesterday we tasked you with picking the most important gadget of the year by voting in a free-for-all, March Madness-style tournament. You've been heard! But now it's time for Round 2, and you've got to start making the tough decisions.
After one round, we've had a few upsets, but most of the early favorites are still alive. That could change in a hurry with some heavy favorites matching up with each other this go-'round.
As a quick reminder, the gadgets were seeded by where we sort-of-kind-of expected them to land, and will be advancing through their remaining matchups based on those seeds—the same way it works in the NCAA.
G/O Media may get a commission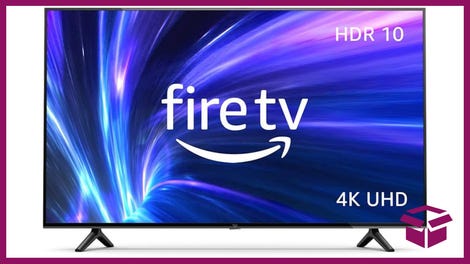 42% Off
Amazon Fire TV 50" 4K Smart TV
iPhone 4S vs. MacBook Air (2011)
An early brawl between Apple flagships (iPhone vs. MacBook) should turn fanboys on each other.
Kindle 4 vs. Nook Simple Touch
Lumia 800 vs. Nintendo 3DS
The Nintendo 3DS was the slimmest winner from round 1 (50.53 percent to 49.47), and meets the best and prettiest and I-want-that-est Windows Phone.
Samsung Galaxy Nexus vs. PlayStation Vita
The for-the-moment Android flagship rolls on against the someday-soon future of handheld gaming.
The matchup that would probably differ most starkly in unboxing videos.
Canon S100 vs. Lytro Camera
The S100 pulled the upset of Round 1 by edging out the HP TouchPad (55 percent to 44), but now it's got the LIKE WHOA of the Lytro Camera to deal with.
Amazon Kindle Fire vs. Asus Zenbook (2011)
Affordable tablet, meet affordable Ultrabook.
Galaxy Tab 10.1 vs. Samsung UND8000
The Samsung Civil War: Tablet versus Television
---
Join us every day this week as we—no, you—crown the most important gadget of the year, playoff style.