Every year, thousands of new gadgets emerge out of busy factories dotted along the eastern edge of the world: shrink-wrapped, matte or glossy, plastic armies marching to line the shelves of Best Buy and the warehouse floors of Amazon.
A hundred or so are worth talking about. A dozen or so we'll remember in a few year's time. A couple really matter. But only one is the most important gadget of the year. And it's up to you to pick it.
Here's how it works: You vote for the most excellent gadget in each bracket, and the winner moves on to the next round. Wash, rinse, repeat each day this week until we crown a champion, NCAA playoff-style. And just like March Madness, the gadgets are seeded (roughly) by where we expect them to fall—but the real fun's in the upsets.
iPhone 4S vs. Lacie Little Big Disk

The mighty iPhone against the fastest hard drive.
G/O Media may get a commission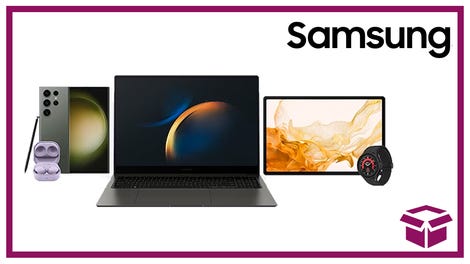 24 hour deals
Discover Samsung - Daily Deal
Chevy Volt vs. Nest Learning Thermostat
The most technologically badass car a regular person can buy up against the thermostat that learns what temperature you like.
Nook Simple Touch vs. Sonos Play 3
The most comfortable eReader versus the affordable audio lifechanger.
PlayStation Vita vs. Sharp Elite PRO-X5FD HDTV
Über-expensive handheld gaming system and the über-expensive TV.
iPad 2 vs. Wicked Laser Krypton

The only tablet allowed to look like a tablet against the super powered death laser.
Sony HMZ-T1 3DTV Headset vs. Asus Zenbook (2011)
The future (of looking nerdy) up against the affordable ultrabook.
Amazon Kindle Fire vs. Samsung 950 3D Monitor

The cheap iPad competitor and the best 3D display.
Windows Phone's great Scandinavian hope takes on the junior varsity Grados.
Lytro Camera vs. Roku LT
Seriously unbelievable how the heck does this work wundercamera against the Apple TV-gunning Roku.
Samsung Galaxy Nexus vs. Wacom Cintiq 24HD
The Google flagship takes on the giant Wacom.
Galaxy Tab 10.1 vs. Verizon Samsung LTE Hotspot
The tablet that launched a thousand lawsuits against the best mobile internet hotspot.
Canon S100 vs. HP TouchPad
Canon's shiny new point and shoot fights HP's FIRESASLE TOUCHPAD.
Kindle 4 vs. Olympus PEN EP-3
The reigning champion of ereaders against the best Micro Four Thirds camera.
Fuji Finepix X100 vs. Samsung UND8000
Beauuuuuuutiful camera tries to out-beautiful beauuuuuuuuutiful TV.
Nintendo 3DS vs. Apple Thunderbolt Display
Glassesless 3D gaming against the Thunderbolt display that's basically a whole computer.
MacBook Air (2011) vs. Vaio Z (2011)
The best and prettiest low-profile laptop against its beefiest (and most expensive) challenger.
Join us every day this week as we—no, you—crown the most important gadget of the year, playoff style.