The Wicked Laser odyssey of horror continues. First, they offered an underwhelming laser you couldn't even buy. Then, they stuck two together. And now? A green one that's twenty times brighter, twenty times more pointless, and twenty times as awesome.
Like
The S3 Krypton is twenty times as bright as its blue predecessor, which was already shockingly, dangerously bright. It's not more powerful—both emit a full watt of power—but the green light's wavelength is vastly more visible. Wicked Laser claims an 85 mile range, which means it could penetrate the Earth's atmosphere—the thermosphere, no less!—and go into fucking space. Hypothetically, at least. You'll forgive me for not being able to verify that claim myself. Essentially, the Krypton is just 20x the reckless fun of the Arctic. And yes, it is extremely, extremely bright. The dot is blinding. The beam is visible in full daylight. It hurts your skin. It hurts your friend's skin. Zap.
G/O Media may get a commission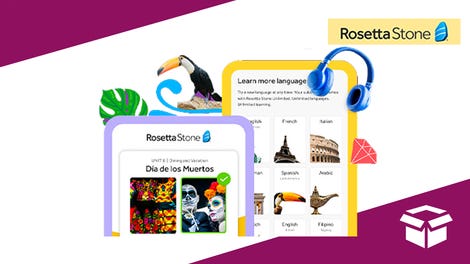 Extra 20% off
Rosetta Stone Lifetime Subscription - All Languages
No Like
Like the other Wicked Lasers, this thing is completely, paradoxically useless. According to its own safety manual, you can't do anything with it. You can't use it for presentations, lest you blind everyone in the room with you. You're not supposed to look at the beam, or the dot, or any reflected light from either. You're not supposed to shoot it at stars, or planets, or use it as a gun sight. You definitely aren't supposed to shoot it at your friends or cat. What are you supposed to use it for? I don't know. Wicked Lasers doesn't say. I can only fathom uses that result in blindness, pain, arrest, or at the very least, high risk of one. It's also—god christ—one thousand dollars.
Last Word
I'm not even sure if I can in good conscience tell you to buy this. I'm terrified of it. My roommate made me put it away. I slept anxiously knowing it was in my apartment. It's a giant, metal, $1,000 liability. But the mere idea of it is so stupendous, so insane, bizarre, and incredible—wield photons, mortal!—that I can't help but love it. That said, do not do anything risky with it. Don't shine it at yourself, others, or anything flying in the sky. Don't be stupid.
Note: Wicked Lasers, after last year's shit-up with the Arctic, wants to say sorry. And that you can trust them again!
We have the real-time inventory system as you can see on the site, so users know how many are in stock (or not). Once we run out of stock, we will not accept pre-orders until we get firm dates from our manufacturing center (which will take several weeks).
Let's hope they learned their lesson.
---
You can keep up with Sam Biddle, the author of this post, on Twitter, Facebook, or Google+.