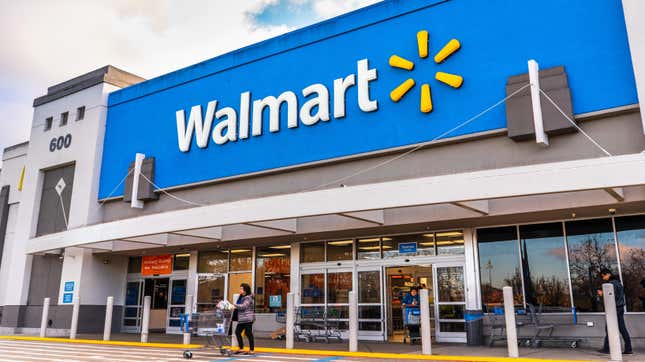 As the music industry struggles with AI's role in the creative and copyright process, it looks like the retail industry might be ready to welcome artificial intelligence with open arms. Walmart is apparently using AI to bargain with suppliers for the best prices on some of its necessities—and the suppliers seem to love it.

Netflix Passwords, ChatGPT Can't Detect AI, and No More CoTweets | Editor Picks
According to a report from Bloomberg, the retail giant has been using a chatbot developed by California-based Pactum Inc., a company that specializes in autonomous negotiation software. Walmart can tell the software the products it needs and the budget it has, and the Pactum AI will communicate with human sellers to get Walmart the best deal. Bloomberg likens the Pactum software to ChatGPT, the viral AI chatbot from OpenAI that was released last fall, and as the outlet details, Walmart's experience with the Pactum AI is going swimmingly.
"Some [vendors] really like it and are like, 'This is the best way to do it,'" said Walmart senior VP for international operations Darren Carithers in Bloomberg. "But I would relate that to people using self-checkout in stores. Some customers love it, but guess what: Some customers want to go to a manned checkout and see a person."
Three out of four suppliers have told Walmart that they prefer to negotiate with an AI instead of a human, Bloomberg reports. Carithers told the outlet that the store has reached deals using AI with 68% of suppliers since beginning the program in 2021. Bloomberg also reports that Walmart has saved an average of 3% on the contracts its negotiated via Pactum's AI—that can amount to huge savings for a billion dollar company. That said, Walmart is apparently only using the AI to negotiate with vendors that supply the company with essentials like shopping carts, and has not yet begun using the AI to negotiate prices on in-store goods.
The AI revolution has posed a lot of questions about how artificial intelligence will intersect with the economy and workforce. New research from Stanford University and Massachusetts Institute of Technology has found that 14% of employees that used ChatGPT in their workflow saw an increase in productivity—with the least experienced and least skilled workers completing tasks 35% faster. At the same time, OpenAI CEO Sam Altman revealed earlier this month that the company is not releasing ChatGPT-5 anytime soon.
Want to know more about AI, chatbots, and the future of machine learning? Check out our full coverage of artificial intelligence, or browse our guides to The Best Free AI Art Generators, The Best ChatGPT Alternatives, and Everything We Know About OpenAI's ChatGPT.