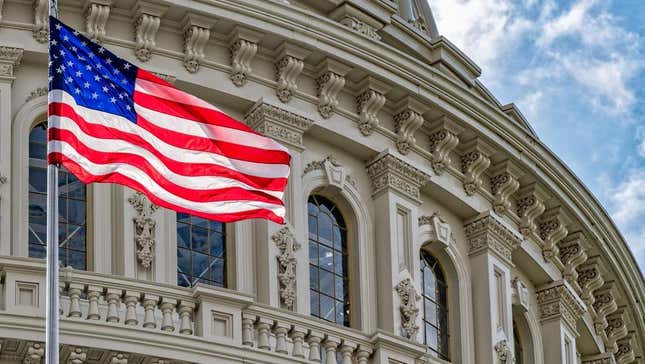 Big Tech companies are facing possible federal regulations from Congress after two senators released a proposal on Thursday to sue or force platforms to stop operating if they violate consumer privacy and spread harmful content online. Sen. Elizabeth Warren (D-Massachusetts) and Sen. Lindsey Graham (R-South Carolina) came together in a bipartisan act to file the Digital Consumer Protection Commission Act in an attempt to keep artificial intelligence and platforms like Amazon, Google, Meta, TikTok, and Twitter, in check.
Is This the End of Apple's Lightning Cable?
If passed, the senators say the legislation will provide safeguards for Americans to ensure children are protected from "sexual exploitation, cyberbullying, and deadly drugs," Warren and Graham wrote in a New York Times op-ed piece. They blamed social media platforms for creating a space that promotes eating disorders and suicide, adding that Big Tech has done nothing to combat the problems young users face online. The lawmakers also argue that there should be regulations around how companies use their data for targeted advertising and respond to any risks imposed by generative AI.
From the op-ed:
Congress is too slow, it lacks the tech expertise, and the army of Big Tech lobbyists can pick off individual efforts easier than shooting fish in a barrel. Meaningful change — the change worth engaging every member of Congress to fight for — is structural.


...

Americans deserve to know how their data is collected and used and to control who can see it. They deserve the freedom to opt out of targeted advertising. And they deserve the right to go online without, say, some A.I. tool's algorithm denying them a loan based on their race or politics. If our legislation is enacted, platforms would face consequences for suppressing speech in violation of their own terms of service. The commission would have the flexibility and agility to develop more expertise and respond to new risks, like those posed by generative A.I.
"For too long, giant tech companies have exploited consumers' data, invaded Americans' privacy, threatened our national security, and stomped out competition in our economy," Warren told CNN. "This bipartisan bill would create a new tech regulator and it makes clear that reining in Big Tech platforms is a top priority on both sides of the aisle."
The Federal Trade Commission (FCC) and the Department of Justice (DOJ) will work alongside the commission to enforce the terms laid out in the bill and would require all "dominant platforms" to be based in the U.S. to ensure it doesn't violate anticompetitive and anti-consumer laws. "We need a nimble, adaptable, new agency with expertise, resources and authority to do the same for Big Tech," the senators wrote. 
"For years I have been trying to find ways to empower consumers against Big Tech," Graham told The Verge. "I have heard too many stories from families who feel helpless in the face of Big Tech. Stories about children being bullied to the point of committing suicide. Human trafficking. Exploitation of minors. All the while the social media platforms look the other way."
Lawmakers have been pushing for legislation that would regulate Big Tech companies but have faced continuous roadblocks caused by America's extended protections of free speech laws, making platforms that primarily contain posts, messages, news reports, and videos increasingly difficult to regulate.
The contingency against regulation grows when people raise questions about who will have the final say about what can and cannot be said online. "You're either asking the government to have some control over what is allowable speech, or you're taking a company and putting it in the very powerful position of becoming an arbiter of speech," Ethan Zuckerman, an associate professor of public policy, communication, and information at the University of Massachusetts Amherst told TIME last year. "And neither of those is really comfortable within the U.S. constitutional tradition."
"Enough is enough. It's time to rein in Big Tech," Graham and Warren wrote in the op-ed. "And we can't do it with a law that only nibbles around the edges of the problem. Piecemeal efforts to stop abusive and dangerous practices have failed."
The pair concluded, "No company, no industry, and no CEO should be above the law. These reforms will ensure that the next generation of great American tech companies will operate responsibly while remaining on the cutting edge of innovation. It's time for Congress to act."