It was the con that, it seemed, confounded a lot of people. Press shut out of panels, celebrities turned away from parties, comic publishers vowing never to return and 125,000 fans all in one building for four days without end. Every year, San Diego Comic-Con ends with people griping that it has gotten to be too big and that something has to change, but was this the year that lived up to the complaints?
It's easy to think that this year's SDCC was a poorly-ran, over-attended mess if you've been paying attention to some of the press complaints that have leaked out from the show:
Anyway, we are posting this after midnight because there is no filing room. We were directed to an outlet in the hallway for all our computing needs. We promise to never bitch about the burnt gratis coffee in normal press rooms again.
Wait, sorry; that was just press whining. I meant press complaints:
[A]t Comic-Con, the press pass is essentially a complimentary pass that grants access to nothing that isn't covered by a regular four-day badge. This policy worked fine as recently as four or five years ago, before the crowds hit six figures and there was far less press covering far fewer mainstream events. But when folks from Variety, the L.A. Times and countless other legitimate press outlets who have busy schedules of events and panels to cover are told to stand in line for an hour or two with everyone else just to get in to a panel, it interferes with those outlets ability to cover the event and - by interfering with their ability to do their job - makes them testy, angry and overall unhappy with the show.
G/O Media may get a commission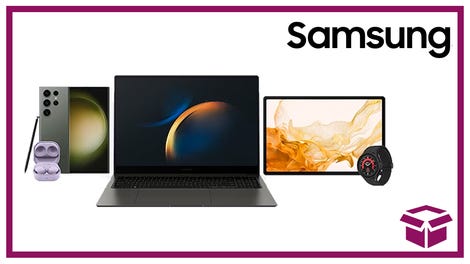 24 hour deals
Discover Samsung - Daily Deal
It wasn't just those waiting in line who found themselves unhappy with the show, however; con guests weren't so happy, either:
"It's really hard getting into the parties," explained Colin Ferguson, who plays U.S. Marshal Jack Carter in the Sci Fi series "Eureka."

Sedan-sized balloons promoting "Fringe" carried this come-on: "Imagine The Impossibilities." OK, here's one: crossing the Gaslamp, by limo or cattle car, without becoming mired in gridlock. And once you reached party central, you had to run the name-checking, ID-inspecting gauntlet. The list keepers took no chances even, it turned out, if you were a guest of honor.

"With all the restrictions," said Ferguson, who was due at the EW/SF shindig, "it takes 15, 20 minutes to get to the parties you are supposed to go to."
While the Washington Post wasn't impressed with the sea of hype ("Comic-Con is all about the buzz. The kind of buzz you get when living in a vacuum," they wrote, despairingly), The Hollywood Reporter was just one of many places to openly wonder whether Comic-Con Jumped The, uh, Fridge?:
There is talk that despite the high numbers of conventiongoers, or maybe in spite of them, Comic-Con as a measure of geek cool may have reached a tipping point.

Critics are pointing to the scheduled appearances by tabloid mainstays Paris Hilton, who will join Thursday night's panel for Lionsgate's "Repo! The Genetic Opera" as well as host a party, and fellow party girl Kim Kardashian, who is supposed to hit DC Comics' party Friday night before appearing at a "Disaster Movie" panel Saturday. When Comic-Con becomes fodder for the Us Weekly crowd, has the event nuked the fridge? Folks wonder.
Sure enough, when Jaime King feels as if there's too much Hollywood hype, then something's definitely out of whack:
Slowly but surely the entertainment community is taking over to promote their projects here even though they have absolutely nothing to do with comics. What's next? A panel for 'Deal or No Deal'?
Comic book retailer Chuck Rozanski foresees disaster:
San Diego is about to lose its crown as the top comics show in America. With fewer than 100 real comics booths left in the entire show, this convention is now a primarily media event... The people on the San Diego committee have been so busy sucking up to Hollywood that they let their core group of comics dealer support wither and die. Is it any wonder that they took the comics characters off of the banners they traditionally place on the lampposts around Sand Diego, and instead have a new motto of "Celebrating the Popular Arts?"
That feeling was compounded by the news that IDW Publishing announcing midway through this year's convention that they won't be at next year's. Publisher Ted Adams explained:
The show has never been a profit center for us. It's a marketing cost. I think it's reasonable to expect that a comics publisher has to have a marketing cost associated with attending Comic-Con. I don't expect it's reasonable to expect that the show is going to be a break-even or a profit center.
(It's worth reading other comic pros' reactions to that news to see a much less downbeat assessment of comic publishers importance at the con.)
Comic-Con International's Director of Marketing David Glanzer tried to respond to some of the criticism in a recent interview:
You know companies sometimes think of our event as a marketing opportunity. And while that's certainly understandable, we don't look at our event as a marketing opportunity, we look at our event as much more than that. So if it's just somebody who wants to spend money and take X amount of booths, that isn't something that we would entertain. We want to make sure we have a diversity of content on the floor and also in programming. This year we have even more programming than we have in the past, and we try to make sure it's diverse... The decision to stay in San Diego was made knowing that we were going to have to forgo growth. A major part of that reason was because there has been talk of expansion of the convention center... We haven't seen any movement on an expansion, and that has us very concerned. If nothing happens, as in a groundbreaking or some other solid movement, by 2010, we're going to have to explore options.
That means we're in for potentially two more years of sold-out passes and Hollywood taking over the con, right? Well, maybe not; movie industry eyes are undoubtedly going to trained on Paramount's big three geek-friendly 2009 releases (Star Trek, GI Joe and the second Transformers movie) to see whether the studio's lack of presence at this year's con affected both buzz and box office. After all, there wasn't a Watchmen-esque Dark Knight presence at last year's con, and that seemed to turn out alright... As comic artist Aaron Alexovich notes, there are other - potentially cheaper - ways to tell (more) people about your project:
The engine behind all this insane expansion is the big Hollywood machine that rattled and churned and got itself twisted around in the direction of "geek culture" a few years ago. Which is great; more attention for the comic world is a good thing. But I can't help but wonder when the great Hollywood behemoth is going to realize you don't need to hurl a million dollars into Hall H to sell Watchmen to nerds. Nerds, as it turns out, can occasionally be found on the internet.
Additionally, with so many media-noses out of joint after this year's con (Personally, I thought it was fun to post stories while sitting on the floor of the hallway, but then, I also secretly wanted a fedora with a card in it that said "press," so you can pretty much ignore my opinion), it's not impossible that next year may also see a smaller press turnout, as well. Will 2009 be the year that San Diego Comic-Con begins to move back towards some semblance of comprehensibility for everyone attending?
Ask us again this time next year.
Flickr images by Andy Castro (Signage) and ColorBlindPicasso (crowd).