The world can be a pretty crappy place, but one thing everyone agrees on is that making the dreams of sick kids come true is incredibly awesome. And that's what recently happened for an eight-year-old Iowa boy named Braeden Rios.
Rios, who suffers from bronchomalacia, has been a Ghostbusters fan for his whole life. So the For the Win Project, with the help of Sony Pictures, flew him and his family to Los Angeles, where he became a Ghostbuster for the day. It all began with a call to action via a phone call from Ray Stanz himself, Dan Aykroyd. Here's a quick video recap.
In addition to everything you see above, Rios and his family were greeted by a video that included special messages from Ghostbusters directors Ivan Reitman and Paul Feig. The superfan also got to use props from the original and rebooted films, have a full photo shoot and film shoot, and more. Then, on June 8, For the Win arranged a screening for Rios and his family back in their hometown to rewatch the whole experience.
Finally, here's Rios' unique Ghostbusters poster, a staple of the For the Win Project, which was created by co-founders Jaimie Trueblood and Jesse Wilson
G/O Media may get a commission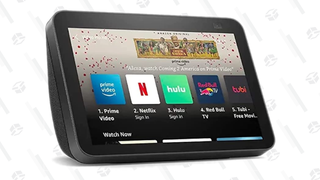 Now that is awesome.
And here's the trailer for the whole event.
For more on this organization and this one-of-a-kind experience, visit their website or Facebook.
Update: We added the trailer and the name of the other co-founder.