It's a dream of busy transit riders to be able to quickly and conveniently pay fares with the one thing that we always seem to have handy—our phones. In today's Android Pay demo at Google I/O, we got to see the experience that will soon be reality for Tube-riding Londoners.

As part of Android Pay's arrival in the UK, Google introduced a partnership with Transport for London that will allow riders to use the app's NFC technology for transit fares. While some cities have been testing mobile NFC ticketing, London's a leader with system-wide mobile payments apps. (TfL riders can already use Apple Pay and Samsung Pay.)
Using actual TfL turnstiles onstage, senior director of product development Pali Bhat showed how riders simply tap in and out of turnstiles with their phones, with the fare deducted automatically from their bank or credit card on file. "For those of us who have had a Hillary Clinton moment in subways," joked senior vice president of ads and commerce Sridhar Ramaswamy. Har har.
Besides the ultimate convenience of not having to juggle a card or constantly add value, Android Pay is able to charge passengers more accurately for where they actually traveled. For subways that charge per journey or zone based on distance, Android Pay is smart enough to calculate the rate depending on when and where riders tap in and out. And although this is not a problem for some transit systems, in London if you don't "tap out" at the end of your journey, you get charged the maximum fare. Android Pay lets you tap out remotely.
G/O Media may get a commission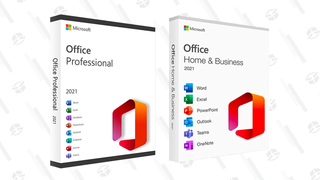 89% off
Microsoft Office Professional 2021 Lifetime License
Besides making transit transactions painless for passengers, there are a slew of advantages for this type of payment on the transportation agency side. The system won't need to install or maintain as many expensive ticketing kiosks, keeping infrastructural costs down. And TfL will be able to collect a ton of very nuanced data about ridership this way, which will almost certainly lead to more efficient service.
Down the road, the technology could eventually be universal, so passengers wouldn't ever have to worry about learning the ticketing systems in every city they visit. The overall transit experience will be much better everywhere, which is why the American Public Transportation Association called for the switch to NFC payments earlier this year.
Of course, paying with Android Pay today (or any other NFC system) requires that cities have the right turnstiles installed. A handful of US cities are experimenting with NFC payments. Other cities, like Los Angeles, already use a similar contactless fare reader like TfA does and can easily make the switch. But many of the biggest transit systems, including New York City, still do the swipe cards. The MTA recently said that mobile payments wouldn't be possible for at least five more years.
Updated to note that TfL already supports Apple Pay and Samsung Pay.