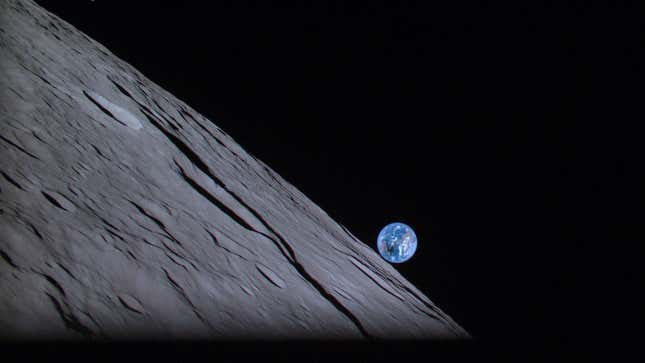 Tokyo-based company ispace is hoping to make history on Tuesday by landing the first private mission to the Moon's surface and deliver its many payloads.
Astronomers Could Soon Get Warnings When SpaceX Satellites Threaten Their View
Update: April 25, 1:58 p.m. ET: It appears that Hakuto-R M1 has crashed on the Moon. More details about this unfortunate outcome here.
Update: April 25, 1:05 p.m. ET: The Hakuto-R M1 lander touched down on the lunar surface at 12:40, although it is not yet confirmed whether it was a soft or hard landing. We are waiting to find out the status of the spacecraft.
Original article follows.
The Hakuto-R Mission 1 (M1) lander will attempt to land on the Moon on April 25 at 12:40 p.m. ET. The celestial landing will be aired live through ispace's YouTube channel, and you can also tune in to the nail-biting action through the feed below. The live feed is scheduled to begin at around 11:00 a.m. ET.

Hakuto-R M1 launched on December 11, 2022 on board a SpaceX Falcon 9 rocket from Cape Canaveral Space Force Station in Florida. The spacecraft took a loopy, energy-efficient path to the Moon. In March, the spacecraft successfully entered lunar orbit as it prepared itself for the historic touchdown.
If M1 manages to stick the landing, Japan's ispace will become the first private company to land on the Moon. In 2019, Israel's private Beresheet lunar lander attempted to land on the Moon but ended up crashing on its surface.
The M1 lander is the inaugural mission to ispace's lunar exploration program, Hakuto-R. The lunar lander is designed to provide a low-cost delivery service to the Moon, deploying payloads on the lunar surface.
The first mission will attempt to deliver its own payload to the Moon, including the 22-pound (10-kilogram) Rashid rover built by the United Arab Emirates and a transformable ball-like robot, named SORA-Q, developed by the Japan Aerospace Exploration Agency (JAXA) and the TOMY toy company. The M1 lander will also serve as a stationary probe for exploring the surface of the Moon.
On January 20, Hakuto-R got as far as 855,000 miles (1.38 million kilometers) away from Earth, making it the "farthest privately funded, commercially operating spacecraft to travel into space," the company said in its statement.
We can't wait to watch the action unfold live, possibly setting new records for the private space industry.
For more spaceflight in your life, follow us on Twitter and bookmark Gizmodo's dedicated Spaceflight page.