Still reeling from the events of Game of Thrones Season Three? Exorcise your Red Wedding demons with the cast and creators of Game of Thrones, including George R.R. Martin, as they look back on this past season.
The Game of Thrones Comic-Con panel was held Friday in the San Diego Convention Center's massive Hall H. (Thankfully, this year, it was moved from the much smaller Ballroom 20.) The cast and crew talked about the game-changing events of Season Three, as well as the arcs their characters experienced this past season. The only spoilers here are through Season Three. They do not talk about what's ahead for the characters in Season Four.
This video begins after the panel kicked off with a brief "In Memoriam" for our deceased characters. Here are a few of the highlights:
05:00: In response to moderator Elvis Mitchell's calling author George R.R. Martin a "heartless bastard," Martin replies, "I have many characters, so killing a few, there's always more. I'm creating new characters. There's jobs, opportunities for actors and actresses. And I should say in my defense that David and Dan have turned it up to eleven. They've killed many characters that are still alive in the books, so I'll only take some of the bloodthirsty blame here."
07:08: Richard Madden talks about crying on the flight home after filming the Red Wedding.
G/O Media may get a commission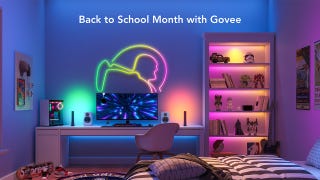 Back to School
Back to School Month with Govee Sale
09:14: Peter Dinklage explains why he doesn't read the books.
10:10: A bit about Jon Snow and Ygritte's relationship.
14:40: A wild Jason Momoa appears!
15:18: David Benioff and D.B. Weiss talk about filming the Red Wedding, including Michelle Fairley's performance and the composition of "The Rains of Castamere."
21:07: John Bradley talks about Sam's newfound strength and his desire to emulate Jon Snow.
27:13: Peter Dinklage talks about Tyrion's relationship with Tywin and what it's like film scenes with Charles Dance.
29:56: George R.R. Martin once vowed that when the Red Wedding episode aired, he'd be in a country that didn't have television. It didn't pan out.
31:04: How Ned Stark's death was a test for the Red Wedding. David Benioff's mom loves spoilers.
33:27: Emilia Clarke talks about Daenerys' journey back to self-confidence.
40:06: George R.R. Martin talks about the possibility of prequel and spinoff books.
45:42: Do the actors know anything about their characters that we don't?
The one thing this doesn't include is a brief deleted scene that takes place between Tywin Lannister and Grand Maester Pycelle before Tywin's first small council meeting. While Tywin fishes outside the castle, Pycelle approaches him, apparently assuming that now that Tywin is the hand of the king, Pycelle may once again join the small council. When Tywin threatens Pycelle, the Maester pretends to be flustered into stuttering, but Tywin sees through his senile act. When Tywin asks why Pycelle wants everyone to see him as a senile old fool, Pycelle tells him that some flowers in the garden seek to grow tall, only to be plucked. Pycelle doesn't want to be the tallest flower; he just wants to stay in the garden a little longer. Tywin seems to understand this, and says that while Pycelle won't rejoin the council, he can serve Tywin in other ways. It's a nice scene, one that reinforces Tywin's ability to read people and call out their bullshit, but Benioff and Weiss were never able to find room for it.