The new animated Starship Troopers movie is the closest thing to a true sequel to the Verhoeven film — and it's the nearest thing we've seen yet to Heinlein's original vision. And now you can see for yourself — here's an exclusive look at the first 10 minutes of Starship Troopers: Invasion.
Watch Carmen and Carl reunite, and a crap load of bugs flit from space and stab a bunch of soldiers. Who knew Neil Patrick Harris had turned into such a dick?
Here's a synopsis:
A distant Federation outpost protected by the Starship John A. Warden comes under attack by bugs and the team on Fast Attack Ship Alesia is assigned to help evacuate the survivors and bring military intelligence safely back to Earth. Before the attack ship can rendezvous with the starship, Carl Jenkins, now at the ministry of Paranormal Warfare, takes the starship on a clandestine mission and goes missing in the nebula. The battle-hardened troopers are then charged with a rescue mission that may have much more sinister consequences than they ever could have imagined.
G/O Media may get a commission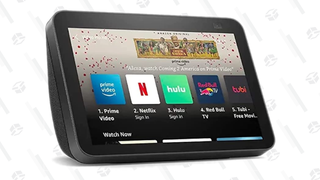 Starship Troopers: Invasion is available now on iTunes before its 8/28 Blu-ray and DVD release.