This Friday, the second phase of Marvel's four-series deal with Netflix begins with Jessica Jones. But if original plans went ahead, we might have seen a very different version of the show. First of all, we would've seen it four years ago—on ABC itself.
Speaking at AOL's Build Series yesterday afternoon, producer Melissa Rosenberg revealed that plans for Jessica Jones—then still known as AKA Jessica Jones—have been afoot at Marvel since 2010. The company, looking to make its first step into television even before Agents of SHIELD was a twinkle in anyone's eye, planned to launch Rosenberg's first adaptation of Alias on the Disney-owned ABC network in 2011.
But, like several other planned TV series at that point (including a new Hulk show, an adaptation of Cloak and Dagger, and even a series based around Mockingbird), production stalled and Marvel mulled over attempting to try the project out ever year, until the Netflix deal was announced in 2013. Rosenberg seems pretty happy about the move after all these years:
Had I fantasized about the perfect place for it [Jessica Jones], it would have been Netflix.
Naturally, the show would've been much more muted in tone and content compared to its current vision on a service like Netflix—but another interesting change Rosenberg added was that Jessica almost had a completely different member of her major supporting cast. In the Netflix show, Rachael Taylor plays Trish Walker (better known to comic fans as Patsy Walker, the superhero Hellcat), Jessica's closest friend, but in the ABC series, Jessica's friend would have been none other than Captain Marvel herself, Carol Danvers. At the time, Carol was still Ms. Marvel rather than Captain, but naturally after her huge success in the comics under the new pseudonym, as well as an option for a movie in 2019, the series could no longer use her.
The more things change though, the more things stay the same. According to Rosenberg, even back in 2010 David Tennant—who at the time was looking to break into American TV following his departure from Doctor Who—was being considered for the show's big villain, the Purple Man:
With David Tennant, he had been the person we wanted for [the villain] Kilgrave, but he wasn't available at the time. So we went through all the lists and we talked to all different people and then by the time I actually came around to shooting it, he was available again so we jumped on him like mad people.
G/O Media may get a commission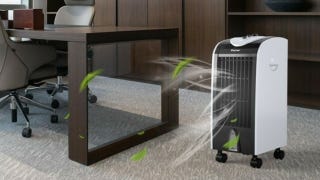 Save $10
Evaporative Portable Air Conditioner Cooler with Filter Knob
Man. Looking at how sinister Tennant is in the role today, could you imagine something like that hitting so soon after leaving the role of the Tenth Doctor? Crazy!
All things considered though, judging by what we've seen of the Netflix series, it's probably for the best that we've had to wait this long to see Jessica make her way to live action. Seems like the wait's been worth it!
[Via TechInsider]