At Comic-Con, your io9 correspondent received an exclusive, unparalleled look into the psyches of Venture Bros. co-conspirators Doc Hammer and Jackson Publick. Do they prefer fangs or stingers? The venom's coming no matter what. Clearly, this is the most important interview we've ever published.
The guys were doing press for From The Ladle To The Grave: The Story of the Shallow Gravy — a 15-minute documentary-style special about Hank and Dermott's band that will air at the end of August — when I confronted them with this pressing hypothetical. I posed the question to Doc first.
Would you rather be locked in a room full of wasps or cobras?
Wow. I'm not sure the operating procedure of a wasp. They're like bees, but worse?
G/O Media may get a commission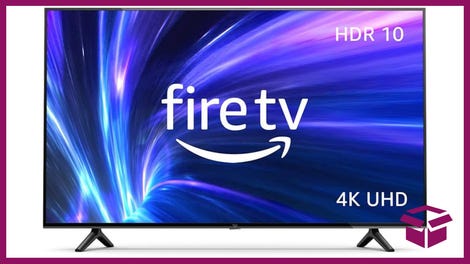 42% Off
Amazon Fire TV 50" 4K Smart TV
They're like less pleasant bees, and I'm not talking about friendly wasps that build houses.
But you can't leave them alone?
They're minding their own business.
Is there anything in this room?
There is a single stool in this room.
Cobras. What do the cobras want with me? I'd stand on the stool and I'd be able to see the cobras coming. I'd be alert, and I don't think cobras want anything to do with me, unless I'm running, screaming, and stepping on cobra. I'd sit on the stool until someone rescued me. How long am I in this room?
Two or three hours.
Then cobras.
If you had to have a celebrity in the room, including a clone of yourself, who would you choose?
On the single stool?
Yes, on the single stool.
I would have somebody that I would like to know because I'm on the single stool. I'm not afraid of the cobras. They're not going to be bugging me, they'll do that "get in the corner where it's slightly warmer" kind of weirdness. Maybe a Kat Dennings, and then we'd be able to get to know each other on the stool.
That's a deft handling of this herpetological deathtrap.
Unless the cobras despised me, but I'd still say cobras. Insects could crawl into my clothing, and I think I would be fine and I'd sit back in my stool and [slaps hands together]. The sting at the base of my spine would be really uncomfortable and I'd be worried about the celebrity or the historical personage.
[About 10 minutes later, Jackson Publick comes on over and I pose him the same pressing question.]
Geez.
They're mean cobras. The wasps are mean too.
Well, I hate wasps, but I can't really be killed by them. I'm not allergic to them. We just had a giant wasp on the corner of my block. If you cut the corner sharply, it would fly into you. It was like three inches. I thought it might be a hummingbird. You'd watch other people, like a woman with a baby carriage come and you'd scream, "DON'T TURN THE CORNER!" Wasps are horrible and they fly. The stool is of no use to you in the wasp scenario. I'd like to think that I could grab a cobra by the neck and squeeze out some venom and build up a tolerance and in two to three weeks I could walk out of there.
[NOTE: I failed to tell Jackson about the impending rescue party.]
I'd swing one of the cobras willy-nilly and brush the other ones away. Then I'd eat said cobra.
True, I'm not sure these wasps are edible.
You can't live off of wasps.
If you had to have a celebrity in the room, who would it be? Clone of yourself included.
I'm not really a celebrity.
Well, there's only one Venture Bros, and you happen to make it.
Norman Mailer. He could fight them.
---
SOME OTHER STUFF IO9 LEARNED AT COMIC-CON THAT HAS NOTHING TO DO WITH COBRAS OR WASPS
- Doc Hammer described The Venture Bros. as...
A tree fort operation, it's people making something they really, really love and everybody that watches it thinks, 'I'm the only person that likes this.' But there are millions of people who watch this, and it's the coolest thing in the world. We've done something honest.
- I asked Doc whether we'd see an entire Shallow Gravy album:
We're releasing an EP with multiple versions of their song [...] I like versions more than remixes, an acoustic version or orchestral version, instead of doing a song and putting more snare on it.
- I then asked him if "Jacket" (the Shallow Gravy song) would get a shitty Ibiza-style dance remix à la the Bryan Adams back catalogue:
We might do one kind of dance remix. Personally, it's not really like them [...] I understand the joke of that, but I'd be pouring my heart into something I don't really love.
- Doc explained his sartorial (and by extension, life) credo:
It's getting as far away as you can from fashion and getting entirely into style. You become somebody who augments a classic instead of somebody who jumps on bandwagon, grows a beard, puts a bra strap around his head, and wears a scarf around his neck. Style is the thing I champion, to understand how a man should dress and tweak that. Inside the constraints you give yourself is the abundance of freedom.
- Jackson on the extremely tentative plans for Season 5:
What piqued my inspiration was writing the finale. We were pretty burnt out, but when we wrote the finale, we accidentally came up three really awesome episode ideas. One of them is full-form and ready to be written, but we're not writing that one because it would be too easy. We're idiots, but I can't wait to write that one. It's a great idea, we were ticking on one word and kept saying it in Dr. Venture's voice until it made a story.
- Jackson's quit smoking and is quite smitten with living in Park Slope, Brooklyn. He does not get recognized by the populace, but Doc Hammer will on occasion as he is (in Jackson's words) "a unicorn."
- Jackson admitted that "Guess Who's Coming to State Dinner?" and "Careers in Science" are the episodes of the show he considers the worst, but he doesn't think they've ever made an outright bad episode. He also noted that the finale was initially a half-hour, but they were able to rewrite it "because it felt icky."
- Venture is a 24-hour gig, but Jackson's been freelancing on a gig he "really can't talk about."
- In a separate, non-exclusive roundtable interview, James Urbaniak admitted that he has used his Rusty Venture voice for telephonic shenanigans:
I was doing an episode of The Office and John Krasinski came up to me. He said he was a huge fan of the show and came up to me very sheepishly and said, "I'm so embarrassed to ask you to do this, but would you leave a voicemail for one of my friends as Dr. Venture?"
- Also, James couldn't perform his Doc Venture voice the day he learned his wife was giving birth to twins. An unwitting Jackson asked him to "up the negativity that day."
The Venture Bros. Special — From The Ladle To The Grave airs on August 28 on Adult Swim. Photos via Adult Swim.