Is Zack Snyder's son playing Robin in Batman v Superman? The next season of Arrow could be drawing on a famous comic book storyline. The future of the Terminator has been put in doubt following Genisys. Plus, new footage from Mission Impossible: Rogue Nation and Fantastic Four. To me, my Spoilers!
Captain America: Civil War
A new (and, as of writing, not yet verified) Twitter account claiming to be the Russo Brothers has posted multiple images claiming to be teasers from the set of the movie. Notable images include a glance of what appears to be the "Sokovia Accords", the laws put into place to govern Superheroes that seemingly replaces the Superhero Registration Act from the Civil War comic story line—plus what appears to be several images of parts of the Spider-Man suit. As the account is unverified, take these with a pinch of salt. [/Film]
G/O Media may get a commission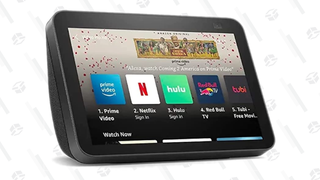 ---
Sharknado 4
Syfy has ordered a fourth entry in the Sharks-in-a-tornado franchise, as well as encouraging fans to use twitter hashtags to decide the fate of Tara Reid's character April, whose fate was left uncertain at the climax of Sharknado 3. [TV Line]
---
Batman v Superman
Rumors circulating from Heroic Hollywood that Zac Snyder's son Eli will play the former (and, as of the movie, deceased) Robin in a flashback scene have been boosted by an instagram picture posted yesterday of Snyder with his son, with the caption "Boy Wonder?".
---
Terminator
The planned sequels to Terminator Genisys have been put into doubt, following the financial underperformance of the first film—with an undisclosed source from Universal telling THR the studio "will definitely need to see the holds globally to confirm that people like the film" before considering future films.
---
Toy Story 4
Don Rickles has signed on for the sequel to play Mr. Potato Head, and begins recording in September:
They just signed me to do the fourth Toy Story. We start [work on it] in September, and I'm very delighted with that. … "When John [Lasseter] approached me for the first one, I said, 'I don't do comedy with cartoons, dummies and toys. Leave me alone.' And [John] said, 'No, you're gonna love this!' Then he told me the money and how nice it was going to be and, I said, 'Yeah, I can give it a try.' All of a sudden it's going on 17 years.
[/Film]
---
Mission Impossible: Rogue Nation
The Syndicate hunt down Ethan Hunt in a new clip.
---
Fantastic Four
Physicist Dr. Michio Kaku introduces a series of shorts looking at the scientific reasoning behind the movie's dimensional travel and superpowers.
---
X-Men Apocalypse
High resolution versions of the images released in Entertainment Weekly last week have been released—go to the link for more. [CBR]
---
Knights Of The Round Table: King Arthur
Here's Charlie Hunnam lounging in a boat for Entertainment Weekly (ostensibly as King Arthur).
---
DC's Legends Of Tomorrow
Showrunner Phil Klemmer has stated that the series will have an anthology format, but will be telling standalone series of story arcs rather than standalone episodes:
It's an anthology show. This is not designed to go forever. This season is meant to be standalone… I mean not as anthological as 'True Detective.' But not everybody will be continuing on this journey. The sort of central premise of time travel and Vandal Savage is totally up for grabs. This is meant to be a season that is tightly serialized that, when it's over, you can't go home again. It's not going to begin Season 2 with us all hopping back on the same ship and like 'Let's get Vandal! Let's get him for real this time!' This is not traditional episodic television.
[CBR]
---
Wynonna Earp
An adaptation of Beau Smith's IDW comic series about Wyatt Earp's great granddaughter battling supernatural threats is being developed for Syfy. [Coming Soon]
---
Arrow
Marc Guggenheim discusses the casting of Baron Blitzkereig, in particular the character's Nazi origins:
We took the name Baron Reiter without any intention of turning him into Baron Blitzkrieg... Baron Blitzkreig is the evil Nazi super villain. Baron Reiter is not going to become Baron Blitzkreig in the show.

In fact, when people meet this character, he's not German, he's not a Nazi, he doesn't subscribe to any Nazi philosophies. We were attracted to an organization that actually in the comics had been associated with Deathstroke called Shadowspire. In the comics, Baron Reiter became associated with Shadowspire.
[CBR]
The second episode of season four will be titled "The Candidate", sparking rumors that the series is going to adapt the storyline from Judd Winick's Green Arrow comics where Oliver Queen runs as a candidate in the mayoral elections for Star City while still enacting vigilante justice:
The rumor was furthered by the announcement that Jeri Ryan has been cast as Jessica Danforth, a "friend of the Queen family with political ambitions" who appears in the same episode. [CBR]
---
Fear The Walking Dead
Here's a new promo picture of Alycia Debnam-Carey and Frank Dillane as Alicia and Nick. [TV Guide]
---
Zoo
Here's two new clips from "Blame it on Leo".
---
Supergirl
Finally, Supergirl takes flight in a new poster.
---
Additional reporting by Gordon Jackson and Charlie Jane Anders. Top image: Supergirl.