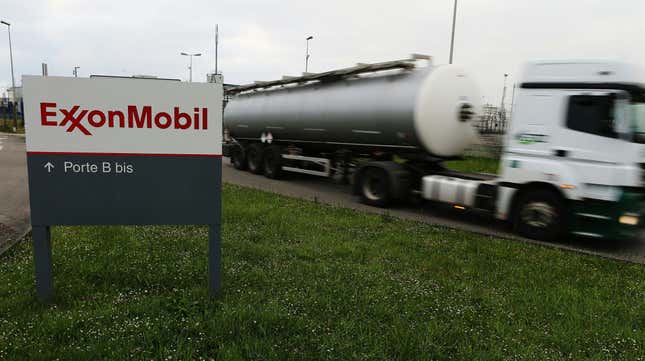 A senior Exxon lobbyist was caught on tape admitting that the company has been running a behind-the-scenes campaign to combat regulation on plastics and PFAS, a video released Thursday shows. The tape is the second installment of an undercover investigation conducted by Unearthed, the investigative arm of Greenpeace UK, and it confirms environmentalists' worst fears.
Rainn Wilson Would Love to Play ____ in Live Action | io9 Interview
An Unearthed reporter posed as a recruiter on the search for lobbyists for a major client and managed to land Zoom calls with senior Exxon staffers, including its senior director of federal relations, Keith McCoy. In the May meeting, McCoy admitted that Exxon employed the same tactics it had previously used to derail climate policies in its effort to fend off "comprehensive regulations" on plastic.
"It's just like on climate change, right," he said in the video. "So when climate change came, well it's here, but well when it started, you started to have conversations to say, 'well, you can't completely change the electric grid from coal and gas into wind and here's why.' It's the same conversation: 'You can't ban plastics because here's why,' or 'you can't recycle or you know, legislate 100% recycling because here's why.'"
With these tactics, McCoy said that Exxon has been fighting against legislative efforts to restrict the use of a group of chemical compounds collectively known as PFAS, which are highly toxic and don't easily break down in the environment or the human body. Stunningly, he admitted that Exxon itself manufactures products based on PFAS, including a fire fighting foam, something the company had previously denied.
To avoid having these efforts associated with the energy giant's "public face," McCoy said the company pushes this agenda through trade associations, including the American Petroleum Institute and the American Chemistry Council, instead of doing so directly.
"We think if word got out that ExxonMobil manufactured those chemicals, that ExxonMobil uses those chemicals, it's a talking point. You know, it becomes 'the ExxonMobil chemical,' and that is just going to hurt the effort," he said.
When Judith Enck, former Environmental Protection Agency regional administrator and founder of advocacy group Beyond Plastics, saw the tape, she said, "holy cannoli." But though the footage was shocking, she said she felt no one should have been surprised.
"I'm happy that the public gets a glimpse behind the curtain," she said. "But it ultimately just confirms what we've known for years, which is that Exxon and other fossil fuel companies are deceiving the public. They want to see more production of plastics despite all of the environmental and public health harm that goes along with it. So the revelations were not surprising to me, but it's still startling to hear their playbook."
Enck has spent years raising the alarm about how as nations eschew oil and gas in favor of renewables and encourage electric vehicles, energy majors are increasing plastic production in an attempt to secure a substitute market. That's a primary reason, she said, that the U.S. rate of plastic production is increasing so rapidly. American production of the most common plastic, polyethylene, is on track to increase more than 40% by 2028, according to one estimate. And a recent report found that Exxon is the single biggest contributor to the world's plastic waste.
"The fossil fuel industry is losing their transportation fuel market and they're losing their electricity market, so they have shifted to plastic production in a big way," she said.
McCoy said that Exxon has been working closely with the American Chemistry Council to create model legislation on issues related to its plastics business. One successful strategy Exxon has used, McCoy said, has been to push for a government study of the health impacts of PFAS to delay legislation.

"Lo and behold we got a study, we got it passed, and that completely lowered the temperature, there's been very little talk about PFAS," he said.
McCoy didn't say exactly what study he was referring to, but Enck recognized the strategy immediately. "The American Chemistry Council was very involved in getting a new law on the books called the Save Our Seas Act at the federal level," she said, referring to a piece of legislation signed into law last year. "The name sounds good, but what did the Save Our Seas bill actually do? Propose as a study to delay legislative action."
Among the worst provisions in the Save Our Seas law was one directing the National Academies of Sciences, Engineering, and Medicine to investigate chemical recycling, a misleading term that actually refers to the toxic process of converting plastic to fossil fuels through gasification or pyrolysis (the application of intense heat). In the Unearthed video, McCoy said that the company was "very, very focused on" expanding chemical recycling, specifically mentioning a gasification facility at Exxon's Baytown, Texas plant. Thirteen state legislatures have also passed legislation to boost chemical recycling. McCoy's admissions raise questions about the origin of those bills.
Plastic production and disposal both emit hundreds of millions of tons of greenhouse gases, which contribute to climate change, and wreak havoc on public health. Every minute, one dump-truck load's worth of plastic also ends up in the ocean, where it kills wildlife, carries diseases, and releases carcinogens.
World leaders have given oil companies a seat at the table in crafting climate policy, even welcoming them into international climate talks. The Unearthed report indicates that Exxon has pushed to receive the same treatment when it comes to plastic regulations and that their lobbying has seen successes. As the world grapples with what to do about plastic production and pollution, policymakers should be on high alert for Exxon's bullshit and shut them out of negotiations.
"I just think this segment should be a wake-up call for lawmakers," said Enck. "It's not a surprise that Exxon wants to continue to perpetuate more production of plastic ... but elected officials and regulators need to look behind the curtain when dealing with trade groups and ask whose interests they're really representing. The answer is, certainly not the public's."