A few weeks ago, I tested almost every one of Apple's wired charging solutions to find out which one was best. Job done, right? Well not quite, because this year's crop of iPhone's are Apple's first handsets to have built-in wireless charging too! Then, to make things even more confusing, Apple's most recent software update for iOS 11.2 came along and changed the amount of juice Apple's iPhone's could suck up wirelessly. So to figure out what's really going on, we tested a range of wireless chargers priced from $12 to $90 to see how much cable-free charging you're really getting for your money. And don't worry, in the process we found one that stands well above all the rest.
How We Tested
The testing process was fairly straightforward. We took all three iPhones capable of wireless charging (the iPhone 8, iPhone 8 Plus and iPhone X), and drained them until their batteries were completely dead. Then we placed each phone on top of the wireless pads to recharge them. Since iPhones automatically turn themselves on during the process of recharging, all we had to after that was record battery levels after 30 minutes, and then again after one hour. All chargers were plugged into the same set of outlets, and for the one charger that didn't come with its own charging brick, we used an Apple power adapter that came with an iPhone X. Each result comes from charging up a phone twice, and recording the average of those two numbers.
The one wrinkle in the equation, is that after testing all the chargers on iPhones running iOS 11.1, Apple pushed out iOS 11.2 which raised the amount of wireless energy iPhones could accept from 5 watts up to 7.5 watts. So we ran through our tests again a second time. It was a bit of a pain, but at least now we have an almost complete picture of how wireless charging works on all the 2017 iPhones.
Our Test Subjects
Similar to traditional wired chargers, wireless chargers aren't all the same. Power outputs generally range from 5 watts up to 9 or 10 watts. The cheapest wireless charger we tested was Ikea's $12 Rallen pad, followed by the $19 Anker PowerPort Wireless 5 Pad—both of what output just 5 watts. The next two chargers we tested are ones sold by Apple (both in store on on the Apple site): Belkin's $60 Boost Up Wireless Charging Pad and Mophie's $60 Wireless Charging Base, which both feature power outputs rated at up to 7.5 watts. The final wireless charger we tested was Samsung's premium convertible fast charging stand, which goes for $90 and features an adjustable base and a 9 watt power output.
G/O Media may get a commission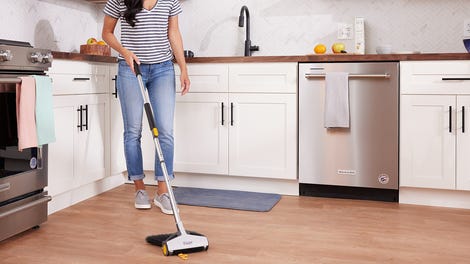 BOGO 50% Off
Flippr - BOGO 50% Off
The Results
For phones running iOS 11 or 11.1, the results are quite clear. Across every charger, the iPhone 8 Plus and iPhone, with their larger batteries only received between 15 and 17 percent charge after half an hour, before hitting between 31 and 34 percent after 60 minutes. Meanwhile, the standard iPhone 8 faired slightly better, hitting up to 25 percent battery in 30 minutes, and topping out at 50 percent after 60 minutes when using Samsung's 9-watt charging stand. This meant as far as charging speeds go, regardless of price or max power output, wireless charging speeds were essentially the same on iOS 11 and 11.1.

However, that all changed when iOS 11.2 came out. The results of our second round of testing shows very clear differences between wireless chargers that cap out at 5 watts, versus the more expensive chargers than can push out 7.5 or 9 watts. In some cases, the Belkin, Mophie and Samsung wireless pads were able to recharge the phone 50 to 70 percent faster than before, even when using the exact same device and charger.

Interestingly, despite have the same price and power output, we found that Mophie's charger tended to recharge phones slightly faster than the Belkin charger. Also, despite costing $30 more than the Belkin and Mophie, Samsung's wireless stand wasn't actually any faster, though that is to be expected since the Samsung's higher capacity is mostly wasted on pushing out extra juice above Apple's 7.5 watt limit.
Another thing to note, is that unlike the results we got when testing the phones on iOS 11.1, the numbers post iOS 11.2 were much less consistent, especially as it pertained to the Belkin and Mophie chargers. We're chalking this up to the each charger having a different size "sweet spot." The further away you place a phone's wireless charging coil (which is located beneath the Apple logo on an iPhone) from the dead center of the charging pad, the less electricity the phone can suck in. When the phones were capped at 5 watts, it seems there was plenty of excess electricity spare, which made hitting a wireless charger's sweet spot with the phone less critical. But after the wireless charging limit was upped to 7.5 watts in iOS 11.2, it seems like the Mophie and Samsung chargers were much less picky about how close to enter the phone was placed on the pad. Meanwhile, Belkin's pad was much more picky, which led to less consistent battery charging results.
What You Should Do About It
The first thing you should do if you care about wireless charging is upgrade to iOS 11.2, which could improve your iPhone's charging speeds just by installing some software. And if you're looking for the best charger to pair with an iPhone, you want to check and make sure it's Qi compatible (not PMA) and can push out 7.5 watts of wireless power. Based on our testing, Mophie's $60 Wireless Charging Base offers a solid balance between price and performance.
However, even with the right setup, it's important to remember that wireless charging is still only about as good as the weak pack-in wired charger that Apple's puts in every iPhone box. With one of Apple's 29-watt USB-C power bricks (or an equivalent third party option) and a USB-C to Lighting Cable, you can get over 50 percent battery in just 30 minutes, a good deal faster than 19 to 35 percent you'd get from a wireless pad.

That's OK though, because wireless charging is more about convenience than speed anyways. It's the ability to set your phone down and top it off while you're working, knowing that if you need to grab it and go, you'll have a full battery to work with. Or consider being able to set your phone down on your nightstand to charge overnight, without needing to fumble around for cords in the dark. Wireless charging is by no means an essential requirement for phones (though it's becoming quite standard), and as far as luxury features go, it's pretty cheap. Our goal for these tests is trying to help people make sure they are spending their money wisely.
Unfortunately, Apple's wireless charging story isn't done yet, as its upcoming AirPower standard could change things again when Apple releases its first official charging pads sometime next year. But until then, this is it.