A Predators set report includes cryptic hints. Christopher Nolan explains Inception's origins. You'll never guess who has a Thor cameo. A Star Trek star wants alien sex. Paranormal Activity 2 gets a director. Plus Doctor Who, Haven and Walking Dead.

Predators:
A report on a set visit includes a description of the hunting camp, which you glimpsed in the trailers:
As we enter, the dense jungle opens up to reveal the camp area, which looks to be where the Predators prepare and skin their prey. Carcasses are strung up, and sharp, tusklike bones jut out of the ground. Director Nimrod Antal wanted a creek of blood to run throughout, and there's a large metal spike jutting up from the ground, covered in alien markings. It looks like someone or something could wind up being impaled on it, and makeup FX creator Greg Nicotero seems to verify that later in the day.
Also, it's definitely not the Predator home planet — it's their game preserve planet, as you've probably already gathered. At first, when the humans arrive there, they believe they're still on Earth, just in a weird jungle. Also, "the primary game is not who you go into the theater thinking it is." And here's a new pic. [Fangoria]


Inception:
Christopher Nolan explains where the idea for this "heist" movie came from. How did he think of the idea of stealing an idea?
Well, I stole it. It's a little risky putting yourself out there again stealing ideas, yes. It really came about as a result of…I don't remember specifically where the idea came from except that once I started exploring the idea of people sharing a dream space-entering a dream space and sharing a dream. That gives you the ability to access somebody's subconscious. What would that be used and abused for? That was the jumping off point. And clearly being able to extract information from somebody's brain would be the obvious use of that because obviously any other system where it's computers or physical media whatever, things that exist outside the mind, they can all be stolen…up until this point or up until this movie I should say, the idea that you could actually steal something from somebody's head was impossible. So that, to me, seemed a fascinating abuse or misuse of that kind of technology.
G/O Media may get a commission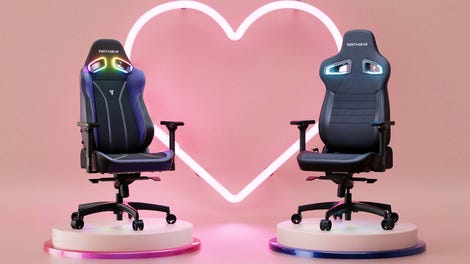 Up to $150 off
Vertagear Gaming Chairs
And he talks about how he didn't film the movie in IMAX, but he shot key sequences on 65 mm film and some other sequences on VistaVision, so it'll look spectacular in IMAX. He doesn't sound interested in making it 3-D. [Collider]
Star Trek 2:
Digital Spy asked Simon Pegg what he'd like to see Scotty do in the second movie, and he responded: "I'd like to have sex with a green woman!" And then he clarified that that was what he'd personally like to do, not what he wanted Scotty to do. "I say things and then regret them immediately." So will Pegg get his green-hued wish in the next Trek? Probably not, but you never know. [Digital Spy]
Transformers 3:
Michael Bay is still refining (heh) the script for this sequel, and the filming in Chicago will account for anywhere between two weeks and two months, says Chicago Film Office chief Rich Moskal. Given that Chicago is a city that lets people blow shit up — as evidenced by The Dark Knight — you can expect to see "very high-octane stunts and effects" shot in the Windy City, Moskal says. [NWI.com]
Thor:
Don't think we've posted this yet. J. Michael Straczynski, who writes the comic, did a brief cameo in the movie. He writes:
It was supposed to be just a ten second deal, but director Kenneth Branagh decided (against the evidence) that I can act, so he kept putting me in more bits. We'll see what ends up on the cutting room floor, but it was a lot of fun... All I can say is that it was something drawn from my tenure writing the Thor comic...so basically I've finally disappeared into my own narrative. Knew that would happen one of these days.
[Facebook]
Toy Story 3:
Posters showcasing the movie's new characters, some of which I'm pretty sure we haven't featured before. [IGN]


Paranormal Activity 2:
The sequel will be directed by none other than Tod "Kip" Williams, best known for The Door In The Floor. [Cinematical]
Twilight:
In other director news, Stephen Daldry (Billy Elliot, The Reader, The Hours) is in the running to direct Breaking Dawn, joining Sofia Coppola, Bill Condon and Gus Van Sant on the list of unlikely candidates. I am hereby starting a rumor that Terry Gilliam will direct this film. [L.A. Times]
Haven:
Syfy announced the stars of its upcoming series, based on Stephen King's novella "The Colorado Kid." Emily Rose will play FBI Agent Audrey Parker, who stumbles on a small town called Haven, Maine on a case, only to discover this small town has served as a haven for people with supernatural abilities. Lucas Bryant (Dollhouse) will play Nathan Wuornos, the local cop who becomes Audrey's partner and who is rebelling against his overbearing father, the chief of police. Eric Balfour plays Duke Crocker, the charming free spirit who's a jack of all trades and lives on a boat, and who may be hiding a dark agenda. [ShockTillYouDrop]
Doctor Who:
There are four or five things in the season opener that are hugely significant for the rest of the season, says star Matt Smith, and one of them may be the bit where Prisoner Zero says, "Silence will fall." That line is "certainly significant" and something that will "weave in and out" of all the episodes that follow. It may be like the "Bad Wolf" or "He will knock four times" of this year, in fact. He adds that when you see episodes 12 and 13, you'll realize, "'God, [Steven Moffat] had a plan, and a brilliant plan, and it's worked. How has he managed to connect that with that?' The way he's managed to play with time is extraordinary." And things will get much darker for the Doctor, he says.
Meanwhile, Karen Gillan says there's "a huge arc" for Amy across the season. And Moffat says that he deliberately throws the Doctor in the deep end in "The Eleventh Hour," putting him in a situation where things keep getting worse and worse, until finally he's only got 17 minutes left to save the world, with no friends and no equipment. "Can he still do it? Well, yes he can!" [Wales Online]
Also, Smith says the new TARDIS interior has a library among other rooms. And the new Doctor starts out clumsy and reckless and becomes more assured as the season goes on. [BlogtorWho]
Want to hear something weird? There's a specially recorded "radio trailer" for the new season, in which the Doctor bursts in in the middle of ABBA. [via BlogtorWho]

V:
Here are three new sneak peeks from tomorrow night's episode. [TheVSite.Info]

There's a pretty hilarious interview with Elizabeth Mitchell, in which she says "my maternal instincts might take a violent turn." When she finds out what's been going on with her son and the aliens, she's going to have a very "quick-trigger temper" about it and "there will be a great deal of violence." This may include Erica going up to the alien mothership to get her son back. She's slowly learning to trust Ryan, but she still has scenes where she's cold and "witchy" towards him. Meanwhile, she's getting closer to Father Jack, including a hint of illicit sexual tension. And regular people take longer than you might imagine to start doubting the motives of the Vs. [TV Guide]
If you've found Erica's son Tyler a bit frustrating, it sounds like actor Logan Huffman agrees with you. But he says the character starts to gel in the next episodes:
You come to find out why he is what he is. His relationship with his mom, you're going to see a lot of ups and downs because there's going to be this huge reveal about what might make Tyler so special that the V's could use it. There's something very strange on earth about Tyler and there's something very strange going on with the V's and Tyler. So his relationships are going to move into a lot of different directions. I love it because you get to see why he's actually quite a tormented person and that he had something very, very traumatic and something very physical happen to him in the past that kind of messed him up and caused, he believes, his parents to breakup. So it's all his fault and basically all I can say is that he didn't talk to anybody for six months. We'll find out.
And he says it gets really interesting between Tyler and Anna, and we'll see "more range" from him. [Daemon's TV]
The Walking Dead:
AMC has announced its first casting for this series. Jon Bernthal will play Shane, the best friend of the main character Rick Grimes, who has yet to be cast. [The Hollywood Reporter]
Supernatural:
Here's what happens in the show's 100th. episode "Point Of No Return," airing April 15:
SUPETRNATURAL'S 100TH EPISODE STUNS WITH AN OLD FRIEND AND A SACRIFICE - Dean (Jensen Ackles) begins to think the only way to stop Lucifer is to say yes to Michael, but the angels decide they don't need him anymore. Dean, Sam (Jared Padalecki) and Castiel (Misha Collins) are horrified at the angels' new game plan and take on Zachariah (guest star Kurt Fuller) to prevent an all out war on Earth. Meanwhile, a familiar face returns. Phil Sgrricia directed the episode written by Jeremy Carver
I'm guessing that "familiar face" is somebody who doesn't survive the episode. [SupernaturalTV]
Here are a few clips from Thursday's Heavenly episode, "Dark Side Of The Moon," which will feature Young Sam, Ash and Pamela Barnes. [BuddyTV]

And here are the titles of the remaining episodes of the season:
5x16: Dark Side of the Moon
5x17: 99 Problems
5x18: Point of No Return
5x19: Hammer of the Gods
5x20: The Devil You Know
5x21: Two Minutes To Midnight
5x22: Swan Song
And a new promo for Thursday's episode:

Fringe:
This week's new episode has a different structure than usual, since the whole thing is a conversation between Walter and Olivia, punctuated by those 1980s flashbacks, which tell "a chillingly clear tale." There's no adult Peter, Astrid or Broyles in the episode. And at the end, you'll be left with the question, "What do we do now?" [NY Daily News]
And here's what happens in the April 15 episode, "White Tulip," co-starring Peter Weller:
When passengers aboard a commuter train appear to have died a still death, it seems that a switch was flipped because all cell phones, mp3 plyers, laptops, batteries and bodies have been drained of power. As the Fringe team assembles at the bizarre crime scene, Peter remains suspicious that something is amiss with Walter, who is struggling to keep the unimaginable a secret. When the investigation leads them to Alistair Peck, a very powerful man who has tremendous energy with severe consequences, an ironic set of circumstances surface.
Caprica:
Reader Siczar met Magda Apanowicz, who plays Lacy, and she told him some stuff about the second half of the season. Lacy gets a "proactive" storyline, and we'll definitely visit Gemenon and Tauron, both of which have a single environment per planet. The show built greenscreen sets for Gemenon and Tauron, so they won't look like Vancouver. And Gemenon is tropical. [Thanks Siczar!]
You're going to see Zoe and Tamara interact again, but it may not be what the audience expects, says Alessandra Torresani. "We both are in the V club, so we might definitely meet up at some point." Also, Sister Clarice has a big part to play in the ending of season one. [TV Guide]
Sam Adama's marriage to Larry is never going to become a huge issue, says Sasha Roiz. But we'll see more of Larry serving as a support system for Sam, and there's an episode where Sam questions his loyalties to everyone in his life, including Larry. And Larry has some discomfort with being married to a mobster. Also, there'll be a major storyline between the Adamas and the Graystones coming up. [Out via CapricaTV]
Chuck:
After the season's 13th episode airs on April 5, the show will air reruns for a couple of weeks, before starting the extra six episodes that were added on to the season's original 13. (Those six episodes will form a kind of mini-arc, not a continuation of the current 13-episode arc.) [ChuckTV]
Here are new U.S. and Canadian promos for tonight's episode. [SpoilerTV]

Smallville:
Here's what happens in episode 9x18, "Upgrade":
BRIAN AUSTIN GREEN RETURNS AS METALLO AND CLARK IS INFECTED WITH RED KRYPTONITE - Zod (Callum Blue) continues to pose as "The Blur" and asks Lois (Erica Durance) to investigate one of Tess' (Cassidy Freeman) secret labs.... An explosion rocks the lab, and Lois is rescued by John Corben (guest star Brian Austin Green) who was a subject of multiple experiments. While investigating the explosion, Clark (Tom Welling) is exposed to red kryptonite. And infected Clark takes Zod to the Fortress. Tess turns to Chloe (Allison Mack) for help and they send in Corben to stop Clark from revealing all his secrets.
And here's a clip from episode 9x16:

True Blood:
Another new character joining the show this season:
HOLLY: A thirtysomething (presumably single) mother of two, Holly applies for a job at Merlotte's and creeps Arlene out with her oddly prescient observations. Very strong recurring in season 3 with a possible series regular upgrade in season 4.
[EW]
Stargate Universe:
Now that we've gotten to know the characters, we'll see them in more of an action-adventure, jeopardy situation, which may address people's complaints about the first half of the season, says producer Brad Wright. But latex-faced, English-speaking aliens are never part of the show's plan. (The new aliens are 100 percent CG and really cool.) There's a huge arc for Ming-Na's character coming up. [Chicago Now]
Riverworld:
I think some of these stills from the Syfy miniseries are new. [OSCK]


Lost:
EW's Ausiello Tweeted that a surprise pregnancy he teased in his spoiler column could be happening on Lost or Smallville, among a few other TV show candidates. [Twitter]
There are some more new set reports via Ryan's Transmission Podcast. Kate, Sawyer, Jack and Hurley are on the beach, and Jack pulls a backpack out of the ocean, then they all follow him. In another beach scene, Kate is bleeding and Jack sews her up. Also, on another beach, Lapidus and Miles are hanging out when Claire comes out of the jungle with a gun. And there was a scene at Locke's basecamp with Locke, Jin, Sun, Sawyer, Kate and Claire.
Off the island, they rebuilt the Flightline Motel, where Locke's dad stayed at one point, and Hurley was there driving his yellow Hummer. Sayid had a fight scene where he jumps on Hurley's yellow Hummer, and then Shannon jumps out. Sawyer had a scene in a rehab hospital with Juliet, and another scene with Kate. Desmond and Juliet also had a scene at the rehab hospital. Also in the rehab hospital: Locke, who's there with Helen. Jack shows up and tells Locke he has to have faith. [Lyly Ford]
And here are some almost impossible to make out pics of the aforementioned filming, along with a picture of Young Jacob from the big Jacob/MIB episode. [SpoilersLost and Hawaii on Flickr via Lyly Ford]


Additional reporting by Kelly Faircloth.