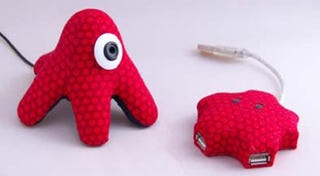 If you want to throw some crazy shapes on your work table, maybe you'd be interested in United Pepper's Lilli and Oscar, two recyclable peripherals made from sustainable materials such as sand and paperboard. Lilli is a 1.3-megapixel webcam and Oscar a USB hub.
Your green credentials will remain intact as, not only are they made in an Fairtrade workshop in Vietnam (I'm not going to ask how they got here, by indigenous goat, I hope) but they come in recycled packaging. Price is not so friendly, however*. $60 for the the all-seeing Lilli, $40 for the pluggable Oscar, and they're out in the UK next month. [Hippyshopper via Shiny Shiny]
*That means they must have been brought by the goats, then.