As the hosts in Delos' luxury resorts continue with their plans for a mass robot uprising, Westworld is becoming a more expansive, complicated realm—especially with the introduction of Shōgun World, a new park styled to look and feel like feudal Japan. But it's important to consider that, on quite a few levels, the very idea of this park is rife with potentially problematic, racist ideas.
The vast majority of Michael Crichton's original Westworld from 1973 is set in the titular setting, where guests are invited to live out their wildest fantasies about living on the frontier. That film also made mention of Medievalworld and Romanworld, parks with their own drastically different themes. Rather than creating modern takes on the latter two parks, however, Westworld's co-creators Jonathan Nolan and Lisa Joy made the interesting decision to go with a world that's only briefly mentioned 1978's Futureworld.
Nolan and Joy have said that the choice to introduce Shōgun World was largely influenced by their shared love of Japanese film and a desire to explore the narrative similarities between classic samurai movies and American Westerns.
When we see Shōgun World, it's almost certain to be visually stunning. Westworld's production team have given assurances that they're absolutely going to nail the park's aesthetics (which are inspired by various points in Japanese history). But how Westworld handles the guests who've elected to visit Shōgun World is a question that looms over the entire series. From what little we know about the newest park, it isn't just a Japanese Westworld with a new coat of paint on it, according to HBO's official description—it's actually a step up in terms of the violent delights that guests can partake in:
"For those for whom Westworld is not enough, the true connoisseur of gore can indulge their fantasies with the slash of a katana. Modeled after Japan's Edo period, Shogun World offers a chance for guests to embrace their inner warrior, in a landscape of highest beauty and darkest horror. Let your true self take shape in the land where self-discovery is an art form."
G/O Media may get a commission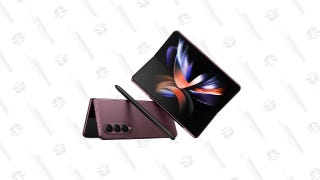 Save Up to $300
Galaxy Z Fold4
There's a charitable way to interpret Shōgun World's marketing... and then there's the subtextual messaging that's conveyed by phrases like "a landscape of highest beauty and darkest horror" which gets more problematic the more you sit down and think about just what all that entails.
There are plenty of non-violent things to do in Delos' parks, like just chilling out and basking in the foreignness of being in a world virtually divorced from the current century, but that sort of leisure activity has never featured prominently in Westworld. For the sake of the story that the show's telling (see: robot uprising), violence and death have been integral parts of pushing the plot forward and that's likely to continue when we get to Shōgun World. For reasons that should be obvious, this raises more than a few significant concerns.
Though Asian representation in Hollywood is on the rise, the industry as a whole still has a rather glaring problem when it comes to introducing hordes of nameless (and often faceless) Asian actors whose sole role is to end up being hurt or killed in some sort of conflict involving white people (see: Daredevil, Iron Fist, Ghost In the Shell, etc.).
Rinko Kikuchi is joining Westworld's cast as a Shōgun World host geisha named Akane, but it's curious that Kikuchi's casting was announced so late into the lead-up to the season's premiere, which could be interpreted either as her character having a small role or HBO keeping things hush-hush. In either scenario, though, it's perfectly logical to assume that what we see of Akane's life in Shōgun World could be filled with pain and suffering, something that takes on a significance when you remember what kind of show Westworld is.
Given parts of Westworld's premise, there are more than a few ways that Shōgun World could—and maybe will—end up coming across as an the go-to destination for the wealthy to spend a couple thousand dollars in order to have the chance to kill, rape, and maim people who, to them, are foreigners.
So far, we've seen that all manner of guests visit Westworld, but it's impossible to ignore the fact that the bulk of Westworld's core characters and the ancillary visitors we've seen have been predominantly white. Narratively, it would make sense that non-Japanese guests will eventually find themselves fighting with Shōgun World's hosts, but in terms of optics, the show has to be very careful about the way that it either valorizes or condones that violence.
Thankfully, Westworld is in the perfect position to incorporate that kind of commentary into the season with relative ease. Delos' hosts are, in a very literal way, an enslaved class of sentient beings in the active process of claiming their freedom and agency by force.
The exact rhyme and reason to Maeve and Dolores' killing sprees haven't been revealed just yet, but it would make all the sense in the world for them to cross paths with Akane, for Kikuchi to get her own well-developed storyline, and, ideally, ally with them in their fight for liberation. It would be absolutely fantastic for Shōgun World's awakened hosts to come to the conclusion that their entire reason for existence is to indulge the racist, culturally appropriative desires of the guests. Because Shōgun World isn't really meant to be a precise facsimile of what the actual Edo Period was like—it's designed to feel "authentically Japanese" in order to sell all of the fantasies there are to be had within the resort, including murder.
Nolan and Joy have expressed their excitement to share a Shōgun World-centric Westworld episode dropping later in the season that takes place almost entirely in Japanese, and it very well could be amazing. Here's hoping that the show manages to stick the landing instead of shooting itself in the foot.