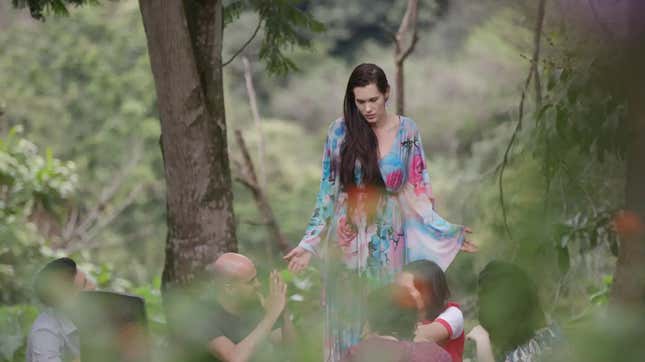 Teal Swan is an internet spiritual guru who produces hypnotic self-help YouTube videos aimed at people who are struggling with depression and suicidal thoughts. Many of her videos share unorthodox messages about mental health with her hundreds of thousands of fans who follow her on Facebook and Instagram, and in person.
Chat GPT-4 Worth the Upgrade? | Future Tech
In April 2017, I noticed that Teal Swan's videos kept popping up in my YouTube recommendations bar. The videos took on a wide variety for topics, from internet addiction to nervous breakdowns to cryptocurrency. 
When I finally clicked one, I was both transfixed and unsettled. I started looking into the effect she has on her followers, and why she's being accused of promoting suicide and running a cult. I went deep within her online devotee communities and traveled to her retreat center in Costa Rica to try to understand this new spiritual movement taking root on the internet. There, I met many of her dedicated volunteers working for her spiritual startup—basically a digital media company creating more content to spread her teachings.
This podcast ended up going places I couldn't have anticipated. From a decade-old police investigation in Utah to a qigong healing center outside of Beijing, and all the way back to the Satanic Panic of the 1980s.
Today, you can listen to the first episode of The Gateway here.
The Gateway is available wherever you get your podcasts, including Apple Podcasts, Stitcher, Spotify, Google Play, iHeart Radio, or TuneIn. Subscribe now, so you can hear the next episode as soon as its available next week.

You can also listen to new episodes one week early and ad-free on Stitcher Premium. For a free month of listening, go to stitcherpremium.com/gateway and use promo code 'GATEWAY'.
The Gateway is hosted by Jennings Brown, produced by Jessica Glazer and Emily Pontecorvo, and edited by Bari Finkel of Pineapple Street Media. Mandana Mofidi is the Fusion Media Group Executive Director of Audio. Editorial oversight provided by Kelly Bourdet. Original score and mixing by Hannis Brown. If you have any tips you'd like to share, please email us at thegateway@gizmodo.com.
If you or someone you know is having suicidal thoughts, please call the National Suicide Prevention Lifeline at 800-273-8255 or text the Crisis Text Line at 741-741.