Which of the contradictory rumors about Episode VII's ending do you believe? A major star could play Amanda Waller in Suicide Squad. Dean DeBlois explains the questions How to Train Your Dragon 3 will address. William Shatner joins Haven. And the next Harry Potter film gears up production. Spoilers now!
Top image: Arrow
Suicide Squad
A new and totally unconfirmed rumor says that Olivia Pope herself, Kerry Washington, is being talked about for the role of Amanda Waller. [Mike the Film Guy via We Got This Covered]
---
Star Wars
Happy Monday! Let's dig into the usual set of Star Wars rumors: We've got the usual suspects — the teaser trailer and rumored concept art— and a new rumor about the end of The Force Awakens. The first ending rumor comes courtesy of 4Chan:
>Luke goes mad because he discovers he f***ing can't control himself. He destroys everything around and kills people with his powers, unconsciously. He leaves his friends and lives in solitude on Mon Cal in a fortress of some f*** old sith lord because the dark side that clouds the place puts him in chains.

>Luke is now a Yoda + Paul Atreides, he f***ing sees the future, sees the past (that's why the "flashback" scenes were filmed) and he's basically a mentally unstable god.

>Nobody wants to have anything to do with him, but Han's son (Adam Driver) wants to use Luke's power for his own evil means.

>Luke has a premonition about the destruction that Han's kid will bring in the future and decides to kill him.

>Han is obviously mad as f*** at Luke.

>There's a huge fight. It's everyone vs Luke (Luke has his father's red lightsaber here, so it's obviously visually implied that he's the bad guy). This fight is epic as f***.

>"But Luke isn't the villain! But everybody thinks he is! Oh no, such a twist! Such darkness! It's like ESB all again!"

>Han kills Luke, because Luke allows him to, "he trusts him".
This contradicts the earlier rumor we heard that Luke kills Han, and that the "trust him" part is actually Han telling Luke to trust Adam Driver's character. More at the link. [via Nerd Reactor]
G/O Media may get a commission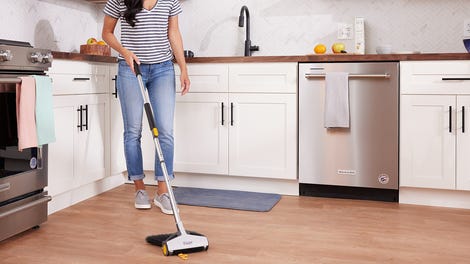 BOGO 50% Off
Flippr - BOGO 50% Off
The teaser trailer is now rumored to be premiering in a very small number of theaters over Thanksgiving. On top of the sources telling Slashfilm this, Reddit adds a few more details, which claim that the teaser will be shown in front of every film in those 100 theaters. Furthermore, the Reddit reports claim that the agreement to show the teaser trailer requires the theaters to show Big Hero 6 as the earliest film of the day. [Slashfilm, Reddit]
And on to some rumored concept art, which is of some space pirates. The main pirate has a goatee and long stringy hair. His clothing in one bit of art is described as "very weird" and is made up of mummy wrappings and bits from a chrome Stormtrooper's armor. There's another design for his costume, which appears more often and is therefore more popular:
This one has a metal plate on his chest armor which is technical with a tube coming off it and lots of "stuff" that probably does "stuff." Its mostly obscured by his blue "trench coat." It is a trench coat in style, but it has wide shoulders that do not cover the arms (he has under clothing that covers his arms). There is a slit in the back that makes an upside down V that gives him mobility. The blue "frock" looks like something Chancellor Palpatine might have worn, but clearly the pirate wears it as a status symbol amongst his men, like Hondo would have. His undershirt is gray and he has blue bracers on. One of the bracers is spiky, almost crow-like. His pants are grey and his boots are a greenish gray that match his undershirt. He has two big riffles that cross like an X on his back.
Sources claim to have seen another bit of art showing five pirates, the first dressed in black leather pants, black boots, goggles, and a duster. The second is a short, fat pirate also dressed in black, with a brown cloak with a large clasp, and he has a claw for a hand.
The third pirate looks like a 1976 drawing of Montross (below) with reworked goggles and a piece of new technology on his right side. He has a rifle on his back.
Fourth is a tall, skinny pirate with a lot of gear on his chest and a backpack with tubes and a pole sticking out of it. The final pirate has a black cloak with a hood up, a slit in the back, a bandolier, and a white lightsaber. [Making Star Wars]
---
Pirates of the Caribbean 5
Disney is reportedly in the final stages of negotiating with Brenton Thwaites to play the British soldier Henry in the film. [Deadline]
---
How to Train Your Dragon 3
Dean DeBlois explained how Cressida Cowell's book will impact the events of the third movie:
Having read Cressida Cowell's first book, the element that were most compelling to me were the opening lines. It was Hiccup, as an adult, reflecting back on a time when there were dragons. Just by concept there's something really compelling and emotionally powerful to the idea that this trilogy will complete with the dragons somehow going away, why they went away, and what the mystery is that surrounds that. Could they come back? Who caused it? What transpired? All of that is very compelling to me.
---
Krampus
The Christmas horror film from Michael Dougherty is in negotiations with Allison Tolman (Fargo on FX) and Emjay Anthony (Chef) to get them in the film. [The Hollywood Reporter]
---
Fantastic Beasts and Where to Find Them
J.K. Rowling has finished the script for Fantastic Beasts and Where to Find Them, and David Yates will begin filming next year. [The Telegraph]
---
Paddington
Go here for the rest of the character posters. [Coming Soon]
---
Arrow
The big Flash/Arrow crossover is coming, and The Hollywood Reporter has a number of things to look out for. Grant Gustin explained why the first part is called "The Flash vs/ Arrow":
Barry encounters a metahuman whom Flash star Grant Gustin teased "gets in Barry's head, and he gets whammied. Barry's not himself in The Flash vs. Arrow. It was really fun; I got to play a different character, essentially, who was losing his mind. Some truths come to the surface that wouldn't have otherwise, because Barry's been brainwashed, and that's the reason the fight ensues."
There also going to be a big emotional moment for Oliver in The Flash episode, which was set up in Arrow. Caitlin will help Felicity with the murder of Sarah Lance. A former ARGUS agent will target Lyla for revenge, and that may cause John Diggle to go to the flash. Said David Ramsey:
Diggle has always been the guy to protect the people he loves, in a human playing field. So he doesn't know how to respond [now]. The Flash changes the playing field. We're going to see Diggle embrace The Flash's powers, because he's going to come to need them.
We may also finally see Cisco get serious: the cast says that the grimmer countenances of the Starling City crew will affect The Flash characters. Finally, EP Andrew Kreisberg explained that Laurel's transformation into Black Canary will take focus in the new year:
Laurel appears in the Arrow episode. She's not as present in these episodes, but that is because we've been building up to her appearance as the Black Canary. We sort of said that Sara was the Canary, but Laurel is the Black Canary. Episodes 10, 11 and 12 are a three-part trilogy that are about her. And episode 13 I think I can spoil, is called 'Canaries.' For fans of Laurel and for fans of Katie [Cassidy], they're going to get more than their fill after the winter break.
---
Gotham
Here are some New York Comic Con interviews with Sean Pertweee (Alfred) and executive producer Danny Cannon . [Buddy TV]
Here are a bunch of videos from tonight's episode, "Lovecraft." [via Comic Book Resources]
---
Haven
William Shatner will guest star in five episodes in 2015, appearing as a "pivotal character that has the potential to forever impact the fate of the town of Haven and its troubled residents."
---
Childhood's End
Mike Vogel (Under the Dome) will be in Syfy's adaptation of the Arthur C. Clarke story. He will play Ricky Stormgren, a midwestern farmer who is the sole Earth representative to an alien species who apparently wants to aid humanity. He is descibed as "struggl[ing] with his new-found fame as a blue collar prophet, facing the weight of the entire world looking to him for answers." [Entertainment Weekly]
---
Beauty and the Beast
The rumor that the show's returning for a 22-episode third season has been debunked, with Austin Basis saying that the schedule still only has 13 episodes. [SpoilerTV]
---
The Flash
Here's a comic preview for the next episode. [via SpoilerTV]
Here are featurettes on the two STAR Labs characters, Caitlin and Cisco. [via SpoilerTV]
---
Constantine
Here's the description for episode six, "Rage of the Caliban":
When a young boy is taken over by a malevolent spirit, John must put aside his misgivings over exorcising a child and convince the parents that their boy is not all that he seems.
See photos from the episode here. [Coming Soon]
Here's the synopsis for the seventh episode, "Blessed Are the Damned":
A SMALL TOWN PREACHER MYSTERIOUSLY GAINS THE ABILITY TO PERFORM MIRACLES - While in art class, Zed (Angélica Celaya) has a bizarre vision of snakes that lead her and John (Matt Ryan) to a small town where a preacher has mysteriously gained the ability to heal his congregation. Harold Perrineau also stars. Christopher Johnson, David A. Gregory, Juliana Harkavy, Megan West and Patrick Carroll guest star.
---
12 Monkeys
Here's a new promo. [SpoilerTV]
---
Sleepy Hollow
Here are two sneak peeks at tonight's episode:
---
Agents of SHIELD
Here's the synopsis for episode 2.10, "What They Become":
"What They Become" - Coulson and Whitehall's forces meet in an explosive confrontation that dramatically alters everyone's fates. Meanwhile, Skye discovers shocking secrets about her past, on the Winter finale of "Marvel's Agents of S.H.I.E.L.D.," Tuesday, December 9 (9:00-10:00 p.m., ET) on the ABC Television Network.

"Marvel's Agents of S.H.I.E.L.D." stars Clark Gregg as Director Phil Coulson, Ming-Na Wen as Agent Melinda May, Brett Dalton as Grant Ward, Chloe Bennet as Agent Skye, Iain De Caestecker as Agent Leo Fitz, Elizabeth Henstridge as Agent Jemma Simmons and Nick Blood as Lance Hunter.

Guest starring are B.J. Britt as Agent Antoine Triplett, Adrianne Palicki as Bobbi Morse, Henry Simmons as Alphonso "Mack" Mackenzie, Ruth Negga as Raina, Patton Oswalt as Billy & Sam Koenig, Reed Diamond as Daniel Whitehall, Kyle MacLachlan as The Doctor, Jamie Harris as man and Hunter Seagroves as Hydra agent.
Go here for more photos from episode 2.09, "Ye Who Enter Here." [SpoilerTV]
---
Penny Dreadful
Here's the press release for season 2 and the first photo:
LOS ANGELES, CA – (November 21, 2014) – SHOWTIME is giving viewers the first look photo from the highly anticipated second season of the network's drama series, PENNY DREADFUL currently in production in Dublin, Ireland for a 2015 debut on the network.

John Logan, series creator and executive producer, says, "This season Vanessa (Eva Green) and Ethan (Josh Hartnett) face new challenges, and old enemies, and turn to each other for solace. Their intimacy grows as they are forced to confront their demons together."

This season, Vanessa and Ethan form a deeper bond as the group, including Sir Malcolm (Timothy Dalton), Dr. Frankenstein (Harry Treadaway), and Sembene (Danny Sapani), unite to banish the evil forces that threaten to destroy them. Meanwhile, Dorian Gray (Reeve Carney), the Creature (Rory Kinnear) and Brona (Billie Piper) are all waging battles of their own. Patti LuPone will guest star as a mysterious character of great importance in Vanessa's past. Helen McCrory returns as Evelyn Poole (a.k.a. Madame Kali), the seductive spiritualist who will pose a unique threat to our protagonists this season, along with Simon Russell Beale, who is back as eccentric Egyptologist Ferdinand Lyle. Additional guest stars include Douglas Hodge as a Scotland Yard investigator; Sarah Greene as Poole's powerful daughter, Hecate; and Johnny Beauchamp as a man with a singular past.

PENNY DREADFUL is a drama series created, written and executive produced by three-time Oscar nominee John Logan (Hugo, The Aviator, Gladiator) and executive produced by Logan's Desert Wolf Productions, along with Oscar winner Sam Mendes (American Beauty, Skyfall) and Pippa Harris (Revolutionary Road, Call The Midwife), both of Neal Street Productions.
---
The Vampire Diaries
Here's a description for episode 6.10, "Christmas Through Your Eyes":
ALL ALONE ON CHRISTMAS — With the holidays approaching, Bonnie (Kat Graham) attempts to replicate her favorite traditions, while reminiscing about happier times with her friends. Not able to return home to Mystic Falls for her favorite time of the year, Caroline (Candice Accola) is surprised when Sheriff Forbes (guest star Marguerite MacIntyre) brings the holidays to her at Whitmore College. Meanwhile, after discovering that Jo (guest star Jodi Lyn O'Keefe) has gone missing, Alaric (Matt Davis) turns to Damon (Ian Somerhalder) and Elena (Nina Dobrev) for help, while Liv (guest star Penelope Mitchell) and Luke (guest star Chris Brochu) find themselves at odds when Tyler (Michael Trevino) approaches them with a risky plan. Elsewhere, Jeremy (Steven R. McQueen) helps Matt (Zach Roerig) carry out a plan to take down Enzo (Michael Malarkey) but grows concerned when Matt takes things too far. Lastly, Stefan (Paul Wesley) is forced to break some devastating news to Caroline. Michael Allowitz directed the episode written by Caroline Dries (#610). Original airdate 12/11/2014.
Head to the link for more set photos showing Nina Dobrev and Paul Wesley. [Just Jared]
---
The Originals
Here's the synopsis for December 8th's holiday episode, "The Map of Moments":
A HOLIDAY REUNION — When Rebekah (Claire Holt) notices an unusual change in Elijah's (Daniel Gillies) behavior, she asks Klaus (Joseph Morgan) and Hayley (Phoebe Tonkin) to meet her at their safe house, reuniting them with baby Hope. After reliving memories of being the odd man out, Kaleb (guest star Daniel Sharman) opens up to Davina (Danielle Campbell) about his resentment towards his siblings and sheds some light on a spell he created in 1914. Meanwhile, when Cami (Leah Pipes) discovers Esther's (guest star Sonia Sohn) plan will put her life in danger, she demands answers from Vincent (guest star Yusuf Gatewood), who remains steadfast in his convictions. Elsewhere, Esther makes an unlikely alliance that could prove dangerous for Klaus, and Hayley makes a decision that could change her relationship with Elijah forever. Lastly, while Elijah continues to struggle with the lingering effects of being captured, Rebekah and Klaus devise a plan to take their mother down once and for all. Leslie Libman directed the episode written by Marguerite MacIntyre & Julie Plec (#209). Original airdate: 12/8/2014.
---
A.D.
Here are the first photos from NBC's Biblical miniseries from Mark Burnett. [SpoilerTV]
---
The 100
Here's the synopsis for episode 2.07, "Long Into an Abyss":
THE THIRD WAY — Abby (Paige Turco) is determined to find a way to protect her people from a coming attack by the Grounders, even if it means heading into unknown territory and leaving some captives behind. A worried Bellamy (Bob Morley) convinces Clarke (Eliza Taylor) to go with him to the drop ship, where he and Octavia (Marie Avgeropoulos) reveal a dangerous secret. Clarke comes up with a bold new plan to stop the Grounders' attack, leading Abby to a desperate decision. Meanwhile, at Mount Weather, Jasper (Devon Bostick) and Monty (Christopher Larkin) begin to question the motives of their new friends, while Dr. Tsing (guest star Rekha Sharma) conducts a deadly experiment to determine how to make use of the captives. Thomas McDonnell, Ricky Whittle and Isaiah Washington also star. Antonio Negret directed the episode written by James Thorpe (#207). Original air date 12/10/2014.
---
Supernatural
Below's the description from episode 10.09, "The Things We Left Behind":
CASTIEL REUNITES WITH JIMMY'S DAUGHTER CLAIRE — Castiel (Misha Collins) finds Jimmy's daughter Claire (guest star Kathyrn Love Newton) in a group home and she convinces him to break her out. After she runs away from him, Castiel calls Sam (Jared Padalecki) and Dean (Jensen Ackles) to help find her before she gets in trouble. Meanwhile, Crowley (Mark A. Sheppard) faces his biggest challenge yet. Tim Andrew directed this episode with teleplay by Jenny Klein and story by Jenny Klein & Phil Sgriccia (#1009). Original airdate 12/9/2014.
Additional reporting by Charlie Jane Anders and Diana Biller