Man of Steel may have found Superman's dad. Steven Moffat weighs in on Doctor Who's potential hiatus, while a possible writer for the Star Wars television show is revealed. Plus a seriously unexpected romance on True Blood!
Is AI Moving Too Fast? | Future Tech
Spoilers ahead...
Top image from Green Lantern.
The Dark Knight Rises
According to an inside source, Liam Neeson was on set this past Monday to film a scene as Ra's al Ghul. If this did indeed happen, it's unknown whether this was a flashback - Josh Pence has already reportedly been cast as a younger version of Ra's - or set in the present, suggesting Ra's somehow escaped his death at the end of Batman Begins. Warner Bros. has declined comment on this latest rumor, so take this all with a grain of salt until we know more. [Hitfix]
---
Man of Steel
Russell Crowe is reportedly in talks to play Superman's Kryptonian father Jor-El. With production due to start in the near future, Jor-El is one of the last roles still to be cast, although the filmmakers are reportedly also looking for a well-known name to play Superman's biological mother Lara. [Variety]
G/O Media may get a commission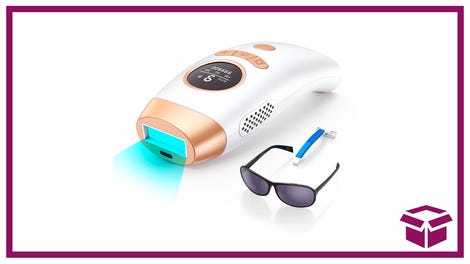 58% Off + Coupon
IPL Hair Removal Device
---
Green Lantern
Ryan Reynolds offered this update on the sequels:
"There's such a rich history with this character, so you get really excited about the possibility [for a sequel]," he added. "The inevitable war between Hal and Sinestro is something that will have to be dealt with in the second movie for sure, but there's always subplots and a lot of other interesting things going on that are setting up a possible third film..."
Here are two new TV spots.

---
Star Trek 2
J.J. Abrams's latest non-answer about the movie's status comes this close to confirming the release date has been pushed back:
"I would say it's not an impossibility to do it, but the studio agrees the most important thing is that the movie be good. No one wants to make something that makes its date but isn't necessarily worth your time. I want to make sure that whatever we do and whenever it comes out that it's something that people will have a great time watching. We've been discussing everything. The most important thing is how do we do something that we get excited about and that is worthy of the audience."
---
Transformers: Dark of the Moon
Here's a new TV spot. [TFLAMB]

Here are some more promo images. [TFW2005]
---
Harry Potter and the Deathly Hallows: Part II
Here are some more posters. [/Film]
---
The Hobbit
Here's a poster that shows the movie's title in the familiar Lord of the Rings font. [SpoilerTV]
---
Conan
Here's a new TV spot. Khal Drogo lives!

---
The Crow Reboot
The legal dispute between the Weinstein Company and Relativity Media is close to being resolved, so this project is probably going ahead. Feel free to react to that news however you like. [Deadline]
---
Doctor Who
Steven Moffat weighed in on the recent reports that a full season would not air until 2013, suggesting that the full story still hasn't quite come out:
"Dr Who: misquotes and misunderstandings. But I'm not being bounced into announcing the cool stuff before we're ready. Hush, and patience."
Meanwhile, Sam Hodges, the Head of Commissioning for BBC1 and fiction who announced the 14 episodes in the first place, offered another update:
Situation stays the same - 14 episodes commissioned, starting in 2012. How they will play out will be revealed at a later date.
---
Star Wars TV Show
Matthew Graham, co-creator of Life on Mars and the writer of the recent Doctor Who two-parter "The Rebel Flesh"/"The Almost People", is reportedly one of the writers who worked on the 50 hours worth of scripts George Lucas has been talking about recently. When asked about this rumor, Graham confirmed he had worked on something "unbelievably cool" for LucasFilm and that his contract had come to an end, but that he couldn't say anything more. [Den of Geek]
---
True Blood
A major character who has been exclusively heterosexual so far will enter a same-sex relationship at some point this season. [TV Line]
---
Supernatural
Executive producer Sera Gamble says that they might well do another meta episode in the vein of "The French Mistake", and it's simply a question of what the writers are able to come up with. She admits it will be hard to top "The French Mistake", though. [TV Line]
---
Falling Skies
Moon Bloodgood pretty much confirmed a romance between her character Anne Glass and Noah Wyle's Tom Mason, a relationship she described as "very honest and classy" and "gradual and organic." [Examiner]
---
The Nine Lives of Chloe King
Here are some photos and a trio of sneak peeks for the next episode, "Redemption." [SpoilerTV]
And here are some promo photos from episode 3, "Greenstar." [SpoilerTV]
---
Teen Wolf
Here's a sneak peek for episode 4, "The Magic Bullet."

Here's a description for episode 5, "The Tell":
There's another animal attack involving Lydia and Jackson, raising more questions about wild animals. Meanwhile, Scott and Allison skip school and Derek must deal with the werewolf hunters on his own.
[KSiteTV]
---
Additional reporting by Gordon Jackson and Charlie Jane Anders.