Things are going pretty well for Kyle, the pyrokinetic superhero of Alex Woolfson's webcomic The Young Protectors. He's on a successful young superhero team and he's got himself a great set of teammates. But he's also gay and very much in the closet. And, on the day he finally pokes his head out of the closet, he finds one of the world's most notorious—and handsome—supervillains on the other end.
Woolfson posts The Young Protectors under his Yaoi 911 imprint (which also features the scifi-themed webcomic Artifice), which focuses on action-adventure stories with romances between male characters. The Young Protectors opens with nearly 18-year-old Kyle, a.k.a Red Hot, making his very first visit to a gay bar. Even though he doesn't stay long, Kyle is pretty pleased with himself, until he realizes that his jaunt didn't go unnoticed. Silver fox supervillain the Annihilator spotted Kyle and his flaming red hair and extorts a kiss from the young hero, promising his silence.
Kyle gets along well enough with his teammates, but being gay is still a very secret component of his identity. With only the Annihilator to talk to about his feelings, Kyle finds himself opening up to a man he's long considered one of the world's most dangerous foes. As he gets to know—and finds himself increasingly attracted to—the Annihilator, he begins to wonder if maybe this "bad guy" isn't such a bad guy after all.
It may be a recipe for a May-December romance, but it's one that comes with complications greater than their considerable age gap. As Kyle finds himself on the precipice of adulthood, he has a lot of decisions to make about his place in the world. The superhero's life of simple blacks and whites were appealing to an earnest young man who grew up watching caped crusaders on the news, but his budding relationship with the Annihilator may force him to see the world of grays. It's not clear whether their relationship—or the Young Protectors as a group—will survive all the changes that are ahead for Kyle, but it's clear that this isn't just about Kyle growing into his identity as a gay man—it's also about him deciding who he wants to be as a human being.
In the meantime, though, we get a peek into the world of superheroes from Kyle's perspective: the not-always-heroic heroes, the tense alliances between government agencies and superheroes, and the erotica that Young Protectors fans draw of the (mostly male) members of the team. Kyle and his teammates live in it, but they're really only just beginning to discover it, and discover who they are at the same time.
G/O Media may get a commission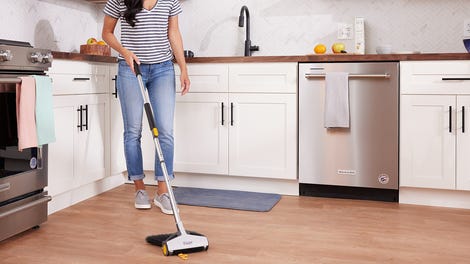 BOGO 50% Off
Flippr - BOGO 50% Off
The Young Protectors is written by Alex Woolfson, with pencils by Adam DeKraker and colors by Veronica Gandini.