On the back side of most gadgets, there's a string of hieroglyphs that look like the bottom line on the eye chart from hell. But this mishmash of symbols and letters is actually essential to international trade. Here's what each one means and why it's on there.
Underwriters Laboratories is an independent, non-profit "safety science company" that tests, analyzes, and audits a wide range of products sold in the US, Canada, and Mexico, to ensure that they meet their respective state and federal safety regulations . Most everything sold in North America—digital cameras, electric guitars, headphones, OLED displays—is tested by the UL for compliance with both the consumer protection regulations and international trade agreements. The UL mark is also used by insurance underwriters as an indicator of product reliability under normal operating conditions.
G/O Media may get a commission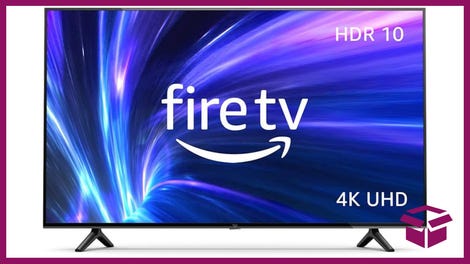 42% Off
Amazon Fire TV 50" 4K Smart TV
CSA International is another independent testing and certification company that vets consumer and industrial products. For plumbing supplies, HVAC systems, and electronics destined for US and Canadian markets, a CSA stamp indicates that the product meets or exceeds all applicable standards.
With the explosive growth of mobile computing, our airwaves are getting more and more crowded. So to ensure that your newest wireless gadget isn't causing electromagnetic interference with other devices, the Federal Communications Commission approves all commercial electronic devices that use radio-frequency (read: anything with a microprocessor). Gadgets either built in or destined for sale in the United States must abide by FCC Rules and Regulations, Title 47, Part 15, Subpart B.
This regulation is split into two classes:
Class A includes any industrial and business-class devices specifically designed for use outside of residential areas and where interference is less of an issue.
Class B includes anything marketed for home use—personal computers, tablets, cell phones, printers, stereos, home theaters, and the like.
Virtually every product crafted in, sold in, or imported to the European Union must carry a CE (Conformité Européenne, literally translated as European Conformity) mark. This designates that the product has met all relevant regulatory requirements for sale within the European Economic Area. While the mark itself doesn't denote a product's quality, as UL marks do, it does make importing goods to the EU a much easier task—it creates a single conformity requirement for all 27 member nations, rather than requiring manufacturers to get compliance certifications in each country. The four digit number next to the CE mark shows which third-party testing company actually carried out the certification (companies aren't allowed to self-certify).
Known officially as the CE R&TTE Directive "alert symbol," this indicates that a device violates the wireless regulations of one or more member countries. The iPhone, for example, violates a French regulation that all wireless devices, when used outdoors, operate within the 2.4 GHz and 2.454 GHz. As such, it is marked as a Class II device and is denoted with the exclamation point. Devices that do operate within these "harmonized frequency bands" are designated Class I and don't carry the alert symbol.
CE specifications also extend to how devices are disposed of when they've outlived their useful functionality. The WEEE (Waste Electric & Electronic Equipment) symbol denotes that a product meets requirements set by the EU for safe e-waste disposal. It should be recycled at a designated collection center rather than be thrown away.
While the CE mark acts as a catch-all for products destined for sale in Europe, some countries (like Germany) also require additional layers of testing and certification, and issue their own compliance markings as well. The "GS Mark with TUVdotCOM" also known as the "TÜV Rheinland GS Mark" indicates that a personal electronic product has been tested by an independent company, such as TÜV Rheinland (the European version of UL), and that it meets Germany's stringent safety regulations.
The China Compulsory Certificate (CCC) mark is a hybrid of the country's two previous safety certification systems: The CCIB, which governed basic consumer product safety, and the CCEE system, which applied to electrical goods. Now, virtually every consumer product manufactured in, sold in, or imported to China must carry this mark. Only a few non-electronic goods, such as automotive tires and agricultural tools, are exempt from this certification. Your iPhone, however, is not.
[BKSV - Wikipedia 1, 2 - CSA - UL - FCC - Intertek - CC Lab - WEEE]