With two of Supernatural's characters trapped in Purgatory at the end of this past season, could we see some familiar faces returning? And how will the separation of Sam and Dean affect the rest of the show? The Supernatural cast and crew were on hand at San Diego Comic-Con to tease the possibilities for the upcoming season. Minor spoilers.
Series showrunner Jeremy Carver, consulting producer Ben Edlund, Jensen Ackles (Dean), Jared Padalecki (Sam), Misha Collins (Castiel), Jim Beaver (Bobby), and Mark Sheppard (Crowley) were on today's panel, ready to joke around. Hall H, according to Ackles, is a lot like Purgatory with all its red lights. I suspect that this morning, Purgatory had a shorter line.
With the previous season just wrapped, there was no new footage to show, but the producers revealed a bit about the upcoming season. Much like previous stints in Hell, Dean's stay in Purgatory will be brief, and we'll see the scenes of Purgatory revealed mainly through flashbacks. When asked if we'll be seeing any familiar faces in Purgatory, Carver said that we'll meet up with some "real badasses" and hinted that "Purgatory makes strange bedfellows."
Sam and Dean will have to face the consequences of their separation. After years of being "emotional shut-ins," the pair will have formed their own relationships separate from one another, and will have to learn how to deal with each other's new relationships. Padalecki was asked whether Sam will get a romance this season, which he didn't deny. When Ackles was asked the same question, he quipped, "I think the only romance in Dean's life is the car."
Given that Beaver was on the panel, can we expect the return of Bobby? "It's Supernatural. Anything can happen." Beaver said, and then added that he's said that phrase roughly 7,000 times over the course of this week's convention.
G/O Media may get a commission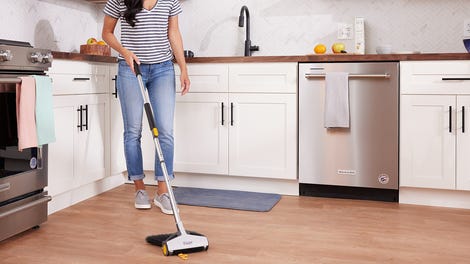 BOGO 50% Off
Flippr - BOGO 50% Off
There was no word on when Castiel will pop up again (despite the question being asked several times), but we do know that the boys and Crowley will be on the hunt for a power source that has already been hinted at. Carver says the Winchesters are getting less reactive and more proactive, "starting on offense." We'll also be seeing more mature Winchesters. Padalecki explained, "Now we get to see who they want to be, and we get to see who they are."
When asked if we're going to see God anytime soon, Carver said that they're moving away from the "heavy, heavy mythology," but that they are developing a little over-arching mythology that he hopes will carry forward for years to come.
In lieu of new footage, the panel ended with a gag reel. Apparently, everyone does a crazy amount of dancing between takes. Also, at some point, they've donned wigs and done a head-banging tribute to Wayne's World.